Hertford Art Society
Our aim is to encourage local interest in art by providing opportunities to practice, study and exhibit art.
Our membership of 120 people is a mix of beginners, enthusiasts, seasoned painters and one or two professional painters. What we have in common is an enthusiasm for art.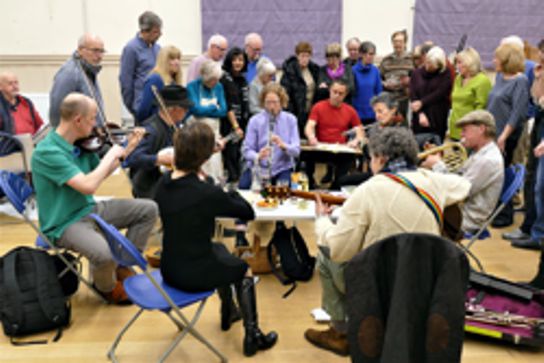 Movement in Art - workshop with Abel Kesteven
We meet pretty well every Tuesday evening. From early September to mid-May we run a Winter Programme in the United Reform Church Hall, Cowbridge, Hertford SG14 1PG. In May we switch to a Summer Programme of outdoor painting around Hertford and the local villages. In addition to the Winter and Summer programmes we hold Life Painting classes on the last Saturday of each month, a summer painting weekend in East Anglia, and two exhibitions – an Open Exhibition in May and a Members' Show in the autumn.
Not all of our Members are active painters – many come along to enjoy the talks, demonstrations and Critiques (where Members opt to bring in a painting or sculpture for comment by a visiting artist or teacher).
| | |
| --- | --- |
| Hertford Art Society inside Cowbridge Hall | Painting outdoors as part of the Summer Programme |
We welcome new members. Come along, even if the last time you picked up a brush was at school - most of us joined the Society as novices. There are no judgements or negative comments – even our Critiques are entirely supportive and constructive.
If you think you might be interested you can come to one of our Tuesday evenings as a Visitor to sample our Programme. If you know you want to join, you can do this by speaking to or emailing our Membership Secretary, or completing a Membership form – the grey column on the right of this page has contact and cost details.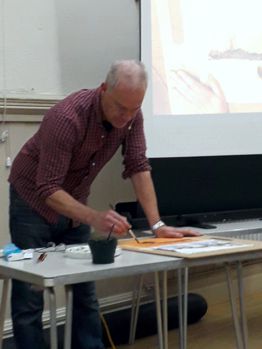 Demonstration - Painting in Gouache by Paul Fennell
The Hertford Art Society is honoured to have the following as President and Vice Presidents of the Society.
President
The Most Honourable The Marquess of Salisbury
Vice Presidents
The Lord Laming
HW The Mayor of Hertford
Dr Waring Robinson MB, BS, FSDC
Constitution of the Hertford Art Society
Based on the original document of 1953 and amendments thereto passed at Annual General Meetings, including 2015.