Hertford Choral Society - Rehearsal of "All That Jazz" at Sele School
- Drawing and painting the Choir and Musicians - 10th May 2022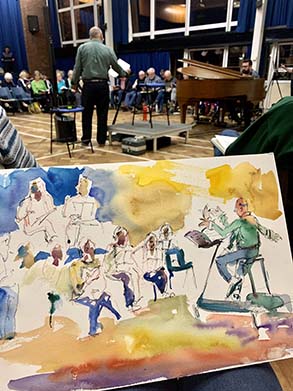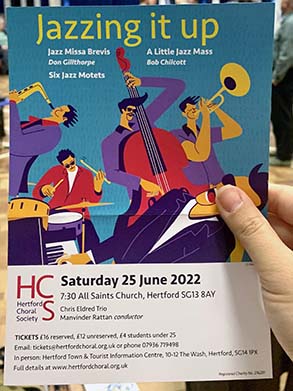 We were delighted to be invited to Hertford Choral Society's rehearsal session at Sele Farm School. Artists gathered to paint and draw the choir and musicians and to enjoy the programme of songs from "All That 'Jazz". This was the first session in the Summer Programme and was certainly rather different from the usual challenge of drawing and painting various scenes outdoors. The work produced was colourful and lively and echoed the terrific range of songs which will feature in the Choral Society's forthcoming concert. The Choir and musicians were warmly thanked for inviting us to this very enjoyable evening.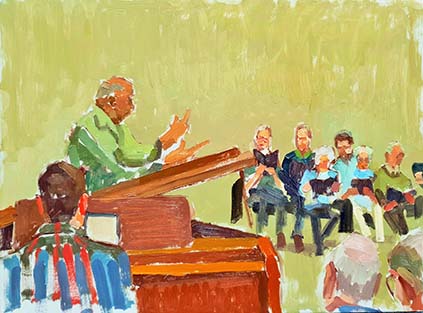 by Craig Alan Lee.
"All That Jazz" will be performed on Saturday 25th June 2022 at 7.30pm at All Saints Church, Hertford, SG13 8AY.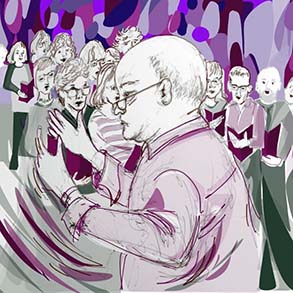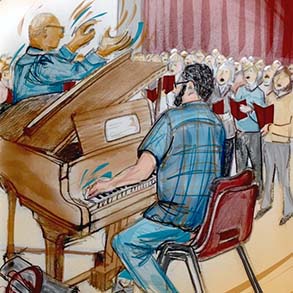 by Sally Steele.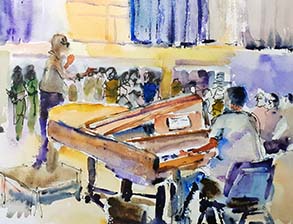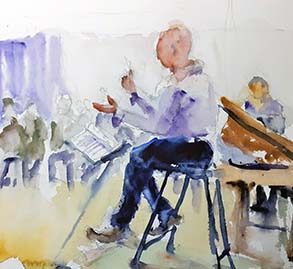 by Michael Radley.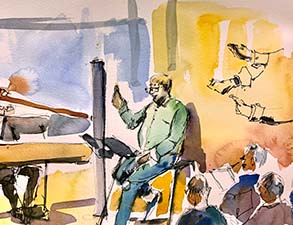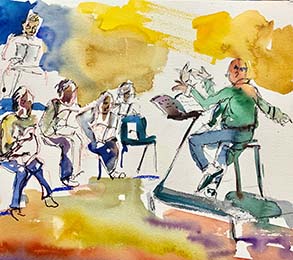 by Elena Russu.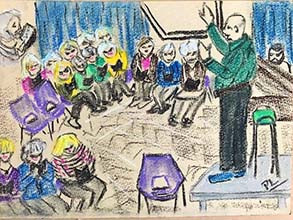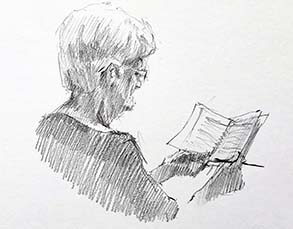 Left by Persis Limbuwala. Right by Chris Baker.
Summer Programme 2022
Each summer following the indoor Winter Programme and the Open Exhibition, Hertford Art Society Members enjoy painting and sketching out of doors on Tuesday evenings at various venues in the Hertford area.
Members usually meet at around 7.00pm (or beforehand by private arrangement) for sketching & painting, then gather socially in the suggested public house when the light fails. Any local artists from these villages or areas are welcome to come along for most of the outdoor painting sessions at local venues. Sessions which are "by invitation" are for Hertford Art Society Members. For information on Membership, please see details on About page of this website.
Life Workshops March - July 2022

Watercolour Demonstration of Seaside Landscape by Ian Michael McManus
19th April 2022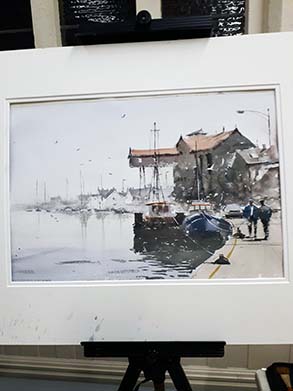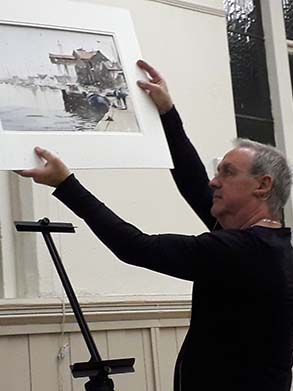 Ian Michael McManus is a Member of the Institute of East Anglian Artists and runs classes and workshops in Watercolour painting. His style is direct application of paint with no overlay of washes as he believes this gives the finished painting the quality of transparency which is so essential to watercolours. He describes himself as a "tonal" painter, working from light, through mid-tones to darks and he feels that this is more important to the success of a painting than colour.
Ian had sketched a view of Wells-next-the-Sea (from his own photo) onto a sheet of 140lb Saunders Waterford Rough paper using a Faber Castell propelling pencil with a 2B/2mm lead. He does prefer Arches paper but often uses Saunders also as it is less expensive. Both are cotton rag papers with an internal size, not on the surface. The paper is taped to a board at the top only. Ian's advice is that taping on all sides can leave unsightly run marks – taping just at the top allows excess paint or water to run clear of the painting and stops the paper buckling. He mentioned that he always leaves the pencil sketch as he feels it adds to the finished image and also that he does not wet the paper, he feels this gives no control.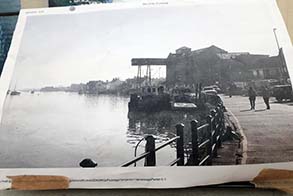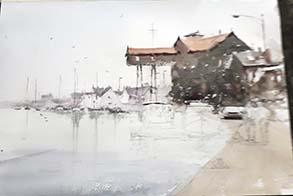 Ian begins with the lightest tones first and applies with a wash of a light grey tone over the entire sky, blending pale blue at the top. The sea is painted with a very pale grey for the distant water, gradually strengthening the mix with deeper tones of blueish grey in the foreground. He adds a warm tone for the walkway which has the effect of bringing it forward. Once the sky area is dry he paints the background across the bay in pale shades of soft brown with darker areas for roofs and boats, being careful not to add too much detail as this area needs to recede. He uses squirrel mop brushes in a range of sizes for the washes with a synthetic round No. 10 brush for detail such as masts etc. as this comes to a fine point.
Ian uses Windsor & Newton Artist quality watercolours in tubes and a large, plastic closing palette for mixing with the colours laid out in pans. His favoured colours include: Lavender, Burnt Sienna, Burnt Umber, Yellow Ochre, Buff Tint, Light Red, Cobalt Turquoise (very useful in making greens), Sepia and Neutral Tint and Verditer Blue (similar to Cobalt Blue but more transparent).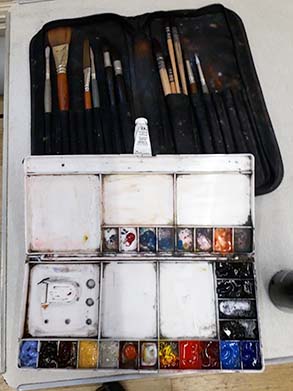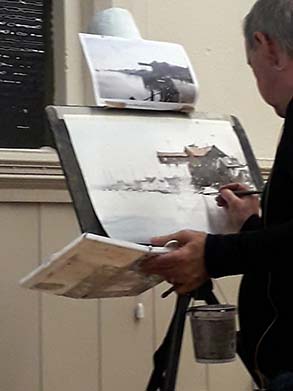 The roof of The Granary is rendered in a warm tan colour with darker tones for the main structure and supports. Areas are allowed to blend using wet on wet technique. Ian uses a water spray before adding strong dark browns. This complex building is simplified, the paint is allowed to run and small areas are left unpainted to indicate features. Using the synthetic brush, Ian outlines the figures and the parked car and adds extra detail to the Granary. The boats alongside the quay are next painted in the strongest dark tones, in warm and cool shades. Great care is taken by Ian to leave highlights of white paper on the boats and the very dark reflections in the water surface. He is then onto the final stages of adding detail to the parked car, portraying the figures standing on the quay, panting an ochre line on the edge of the quay, two bollard and some birds in the sky. Using White Gouache he adds ropes securing the boats, a mast, highlights on the shoulders of the figures and a white bird.
Ian gave tips and hints throughout this demonstration, reminding us to find a reason to connect elements within our work to lead the eye into and around the painting. He encouraged questions and comments as the work progressed. He stressed that tone is all important and his painting illustrates this beautifully with the moored boats and figures boldly placed at centre stage. All the other elements and the subtle use of colour give the image depth and balance.
This was a very instructive and enjoyable evening and very well received. Ian was thanked for giving us such an inspiring demonstration and for his advice on how to simplify aspects of a scene in order to achieve a successful watercolour painting.
Mixed Media Semi-Abstract Workshop with Carmen Renwick
12th April 2022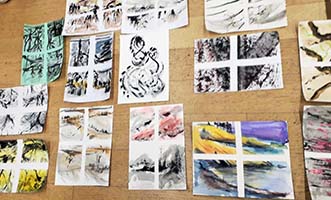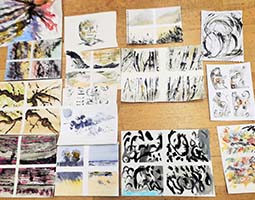 Carmen Renwick is an experienced artist and with a background in illustration & design, printmaking, painting, collage and mixed mmdia. She headed Art and Design at Swavesey Village College and taught the Arts in Special Education. She is currently enjoying working in mixed media on a larger scale. We were delighted to welcome Carmen for an experimental mixed media workshop.
We were asked to bring:
• Black or brown ink OR black and white acrylic paint
• Mark making tools – a selection of, say, sticks, string, feathers, bamboo, wood, toothbrush, scrubbing brush, old credit cards, combs, fork etc.
• Container for paint and inks so items can be dipped in to print with
• White paper - 5 sheets A4 - not too thin
• Paintbrushes, scissors, glue, water pot, masking tape
• One colour of another medium, e.g. pen, pencil or oil pastel
• A landscape photo for inspiration (e.g. something torn from a magazine)
Carmen had brought along interesting extras for anyone to use, including liquid charcoal and coloured inks. She gave a fascinating talk on her background. The exercises she planned for the evening were designed to be playful, to free up the way we approach our painting or drawing. Artists (herself included) can sometimes feel in a bit of rut, repeating themes because they have become familiar rather than because they inspire. Mark making with miscellaneous bits and pieces can give intriguing results and effects and lead one in a new direction.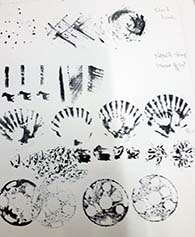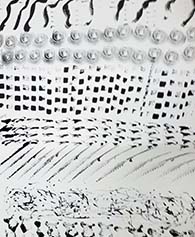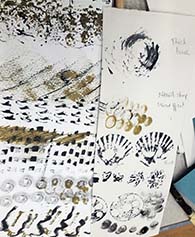 Our first task was to use ink or acrylic (in black or brown) to make a series of marks, in rows, on an A4 sheet, varying scale, using repeat patterns, random prints – anything really to make it interesting. We were asked to note alongside what had been used to make the mark. These sheets were then cut in half lengthwise and half passed to our neighbour who used this sheet for inspiration and embellishment. Some of the items made surprising and interesting marks.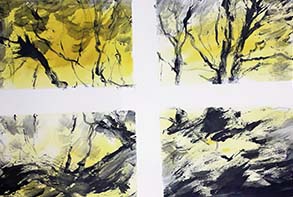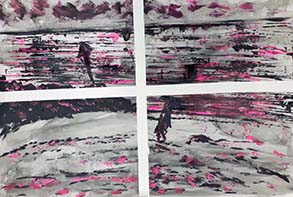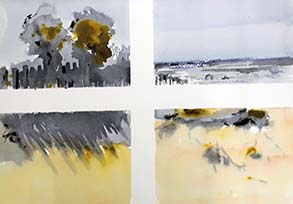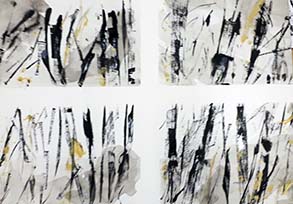 The main project involved taping across a sheet to divide it into quarters and then using inks in varying tones in a manner which worked across the entire sheet, either an actual scene or abstract shapes. Again various tools could be employed, along with brushes, gradually adding darker tones and lastly one colour to the image. Carmen gave encouragement and tips as, gradually, some very interesting paintings emerged. She felt that sometimes one of the quartet of images would give rise to a further, larger painting. They could be cut up and rearranged, collaged or form a starting point for a more abstract work. We were encouraged to go around to see how others were tackling the task and there was certainly a great variety of images. Everyone had their own approach and used their own imagination.
This was a very enjoyable workshop and was great fun. Carmen was warmly thanked for leading us along a very interesting path to, perhaps, more freedom in our artwork.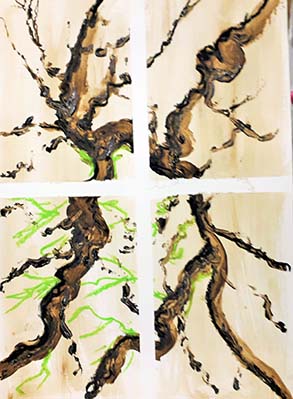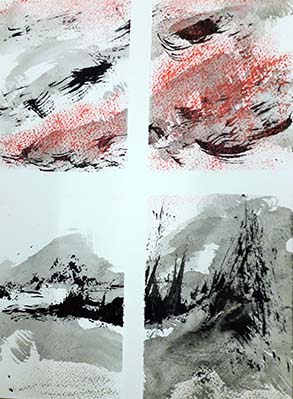 A musical evening with a klezmer group
Untutored drawing and painting workshop - 29th March 2022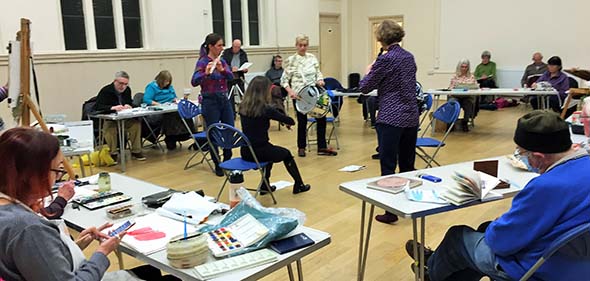 We were delighted to welcome Marianne, Adina, Jo, Karen, and Rachel for an evening of klezmer music (a variety of traditional Jewish tunes originating from Eastern Europe). There was flute, clarinet, accordion, percussion, and Marianne on violin.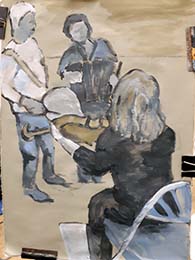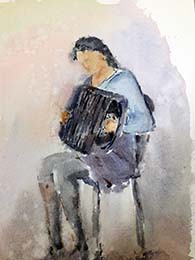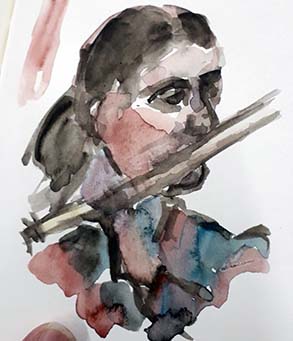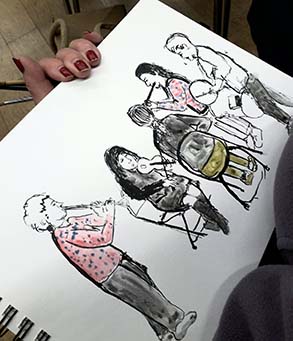 Artists were free to sketch, draw or paint in any medium of their choice. Some approached it like a clothed life drawing session, making drawings of the musicians and their instruments. Some felt like doing something rather abstract and 'painted the music', like Kandinsky. One Member was tempted to join in with a dance.
This was a magical evening with almost two hours of lyrical, moving music and the chance to observe, sketch, paint the musicians (and in one case to draw the music, with eyes closed!) and to just enjoy the experience. Members of the London-based Klezjammers, the musicians played from the heart. Their repertoire is tremendous - they play entirely from memory. They were thanked for sharing their music with us. It was joyous and the resulting variety of artworks full of life and movement.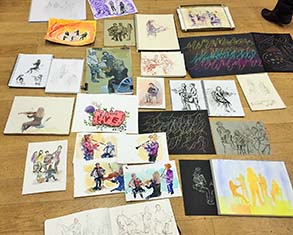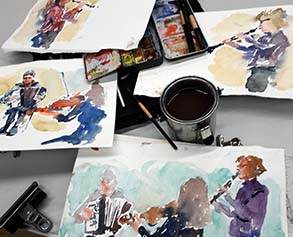 Display of painting illustrating Hertford Choral Society Spring Concert
Elgar's "Dream of Gerontius" – 26th March 2022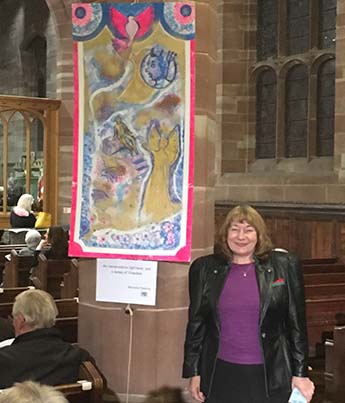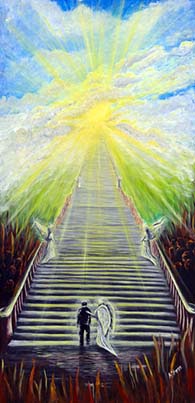 Each year Hertford Art Society illustrates Hertford Choral Society's Spring concert with large pictures hanging from the pillars lining the central aisle of All Saints Church, Hertford, where the concert is held. This year's challenge is Elgar's Dream of Gerontius - the surreal journey imagined by an old man contemplating death. There's no shortage of painterly images as Gerontius arises from his bed and is led by a guardian angel through various scenes to arrive in Purgatory.
Interpreting the scenes is not a straight-forward task. For a start it's not Gerontius who undertakes the journey, but his soul, which is a quite different kettle of fish. How does one paint a soul? Same as a living body, or something quite different? He is guided by a guardian angel of indeterminate gender. Given the times we live this is tricky stuff for us painters. For me an angel is unquestionably a young woman - flaxen-hair streaming out behind her. Moya also sees the angel as female, but choses a curly-haired brunette entirely harmonious with the picture's Arts and Crafts background. Persis by-passes the dilemma with an androgynous image; Alyson give us a neutral back-view.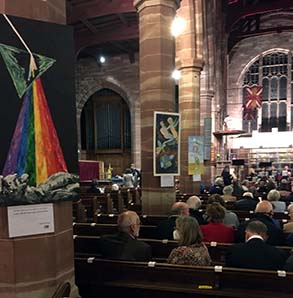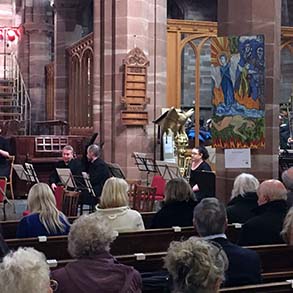 One thing we are pretty well agreed on is that both Gerontius and his guardian angel need to be in the picture. Well, all but one of us makes this decision. Janet has chosen the dramatic image of a prism uniting the disparate colours of this world into a single pure light leading to a better place. The other characters in the libretto are optional but the pictures that work best in my view are those busy with ancillary figures – the angelicals, the souls in purgatory, and best of all, the demons - 'hungry & wild, low born clods'. Marianne, Moya and Mitiko have all opted for a confusion of characters crowding onto their 4' x 2' boards, emphasising that our story is not a piece of reportage, it's a dream where images jostle each other for a place in the action.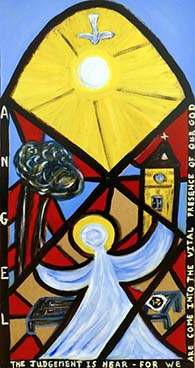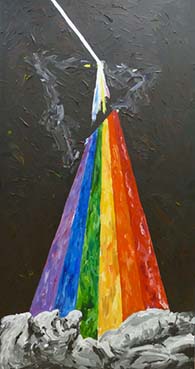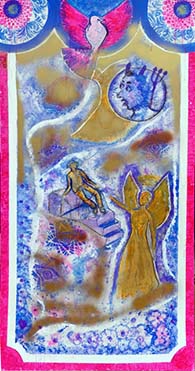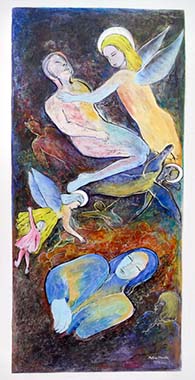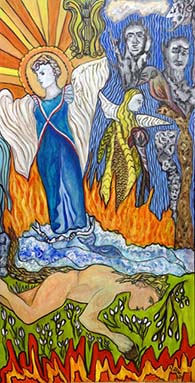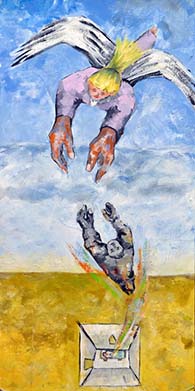 So plenty to chew on as we turn the words of Elgar's choral work into visual images. The pictures can be viewed at All Saints Church from 26th March, the date of the concert where they will probably remain hanging in for a couple of weeks thereafter. See www.hertfordchoral.org.uk for details of the concert.
Creating a clay animal
Workshop with Abel Kesteven - 15th March 2022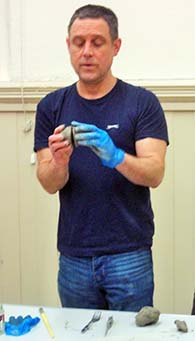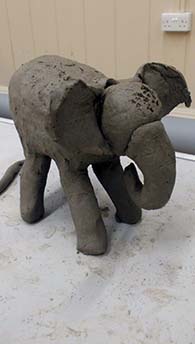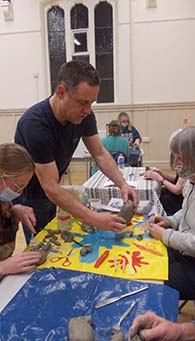 Abel Kesteven currently works in 4 different mediums. Pastel, painting/mixed media, monoprint making and sculpture, which is the topic of this Workshop. His drawing and painting is lively and he loves the challenge of drawing figures and animals in motion and trying to capture the essence of the scene in a semi abstract way. His love of animals shines through all his work and he finds using clay a very expressive medium to portray them. He exhibits and teaches extensively, focusing on therapeutic art sessions for adults with a variety of learning and health disabilities.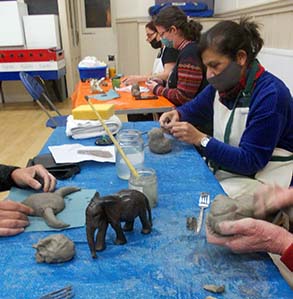 The Workshop began with a short demonstration of modelling an elephant. All of the models will require a hollow body. Taking a fist sized lump of clay Abel formed it into a ball which he then cut in half. Each half was then hollowed out into a pinch pot (sometimes called a thumb pot), literally using his thumb to gently mould the clay into two pots with even walls. The top edge of each pot was then hatched with a knife and wetted so that they could be joined to form the body of the elephant. A rolled out piece of clay was then placed in the join and, using a modelling tool, pressed and smoothed over the join. (A hole needs to be made in this hollow body to enable drying and, later, firing of the clay.)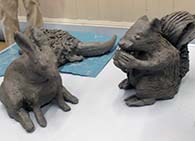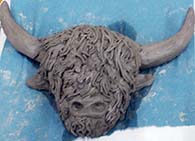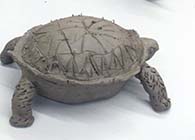 Abel then did the same again on a "mini" scale to form the head which he attached using hatching and wetting again. The clay used can be air dried and then painted. It becomes stronger if it is possible to fire it in a kiln. He then rolled a thick coil of clay in order to cut four legs of equal size, placed the body on its back to join these on. By some miracle (the clay was very soft) the elephant stood up! Ears and a trunk completed this demonstration and Abel then handed the evening over to the, slightly hesitant, audience.
Members had brought along a photo of a creature of some sort, there was quite a range each with its own challenges. Clay was handed out and so began a series of experiments – getting the body the right shape, attaching limbs, wings, tails, having the animal or bird stand up!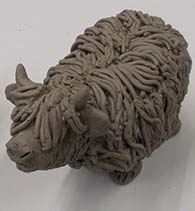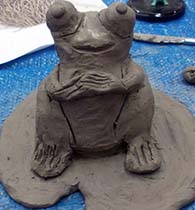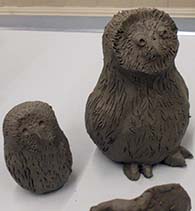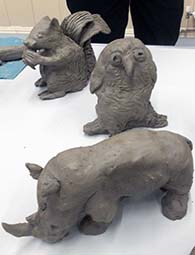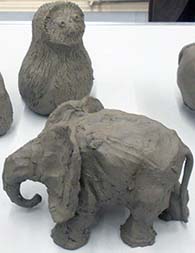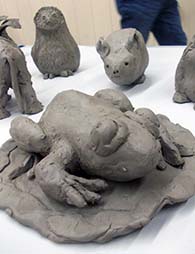 Abel passed around a couple of his own sculptures for inspiration. These were stoneware fired with subtle glazes. The otter with cubs was delightful. Abel moved around the room, giving tips, hints and praise – all of which were gratefully received as work progressed. Once the structure was in place details could be scratched into the soft surface to indicate fur or feathers. Everyone strived to give their creature some character and life. To our surprise, this actually worked and the final display of models showed extraordinary variety and some really skilful touches by artists, many of whom rarely, if ever, did any modelling in clay.
Abel was warmly thanked for encouraging and reassuring us in our efforts and for making this such a creative and enjoyable Workshop. The results were really impressive.
Street Scene in Acrylics Demonstration by Hashim Akib
15th February 2022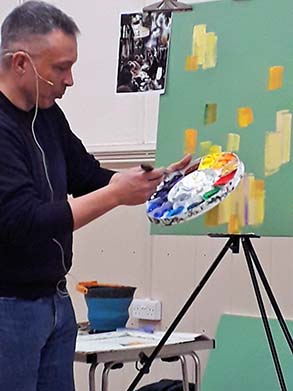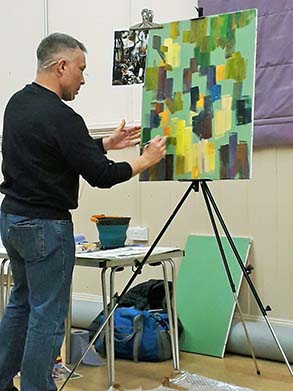 Hashim Akib started his career as an illustrator. He is an award winning artist and has published a series of books and DVDs on Acrylic painting techniques. He runs workshops and has demonstrations available to view on U-tube. Hashim is always a most popular visitor to our Society.
Hashim has prepared a canvas 24" x 30" primed with a base colour of Jenkins Green. (He always applies a base colour which can be seen, here and there, in the finished painting.) He uses Amsterdam acrylic paints (a mix of Artist and Student quality) which are set out in a large round sectional tray and a variety of large flat head brushes from the Daler Rowney Skyflow range. These brushes have a refined edge enabling fine detail to be painted with the edge of the brush.
The audience chooses an image of an outdoor café scene with strong backlighting. Hashim does no initial drawing. He begins by picking up colour from his palette with a 2½" brush, blending colour on a mixing tray and laying down large vertical strokes of paint in a variety of light, warm tones followed by darker shades, using rich colours. At this early stage there is no definition but the tones follow those in the photograph and gradually the areas of tone and highlights begin to give form to the image. Heads are carefully placed, although indicated with a simple mark. The edge of the brush enables fine marks to be added to define figures.
Hashim feels that one should be bold and confident in exploring the practice of painting, responding to how the work makes you feel. "Avoid the literal lines" he says. He likes to experiment and his style has changed and developed over his career.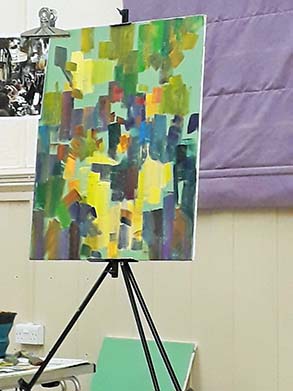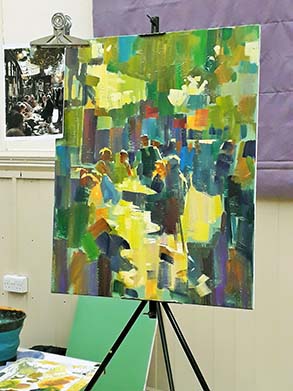 The blocks of colour form a background and areas are worked with small strokes with an 1½" brush to bring out shapes and silhouettes of the characters. Very fine marks are achievable with the edge of the brush.
Hashim enjoys working quickly and works mostly in his studio from photographs as design is an important factor. Colour features strongly in his work and he echoes chosen colours around the painting. He adds turquoise shades to the foreground and in other areas – these show light against the rich dark tones in the background.
Marks are added to represent objects in the foreground, table edges are defined, figures become bolder. Central characters are focal points and have extra "information" added. The atmosphere in this scene is critical and was created by the colours and tones of the underpainting.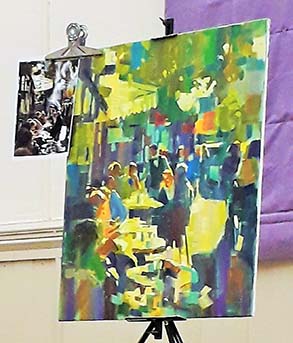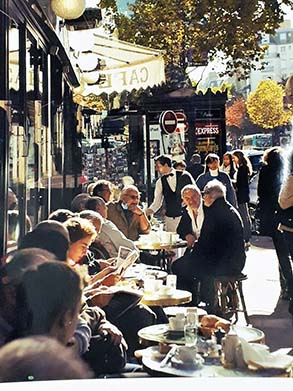 The final stage includes adding strong darks, taking decisions on what to keep and what to change, taking care with some details. He ends with white and lemon yellow highlights to add sparkle to the tops of heads, table tops and glassware. The completed painting is vibrant and lively with a gorgeous colour palette.
Throughout the demonstration Hashim shared tips and hints for creating a successful painting, entertained us with the ups and downs of his experiences and encouraged everyone to "be in the moment" and enjoy the act of painting to express our own individual response to the subjects we choose. This was an excellent demonstration and Hashim was warmly thanked for a very enjoyable and instructive evening.
Linocut Workshop with Jude O'Sullivan
7th December 2021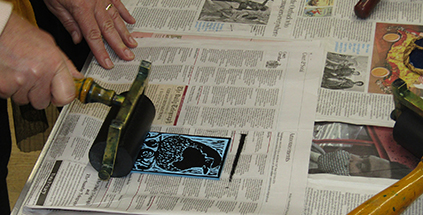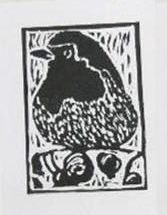 Jude O'Sullivan started her career as a graphic designer, then progressed to teaching graphics and printmaking in the Further Education sector. She currently runs classes in all forms of printmaking at Courtyard Arts in Hertford.
Jude had asked us to come prepared with a simple design drawn out to within a size of A6 (105mmx148mm) as well as an HB pencil, a biro and greaseproof paper or baking parchment to cover the wet prints for transport home. The aim of the workshop was to show how to prepare and print a simple design from soft cut Lino. We took our designs, traced them onto the blue lino (kindly suppled by Jude). There are many different colours, but blue is the softest. Jude equipped us with the soft cut lino plate, tracing paper, cutters, printing ink, roller and paper to print on.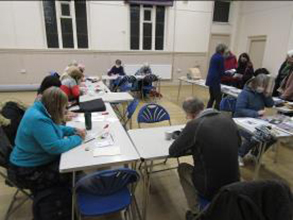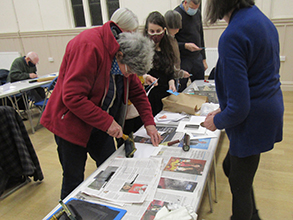 We went over the tracing with biro in order that the image would not rub off whilst cutting. Jude also supplied the cutting tools, roller and ink. Depending on your choice of cutting tool a variety of marks can be made, from very fine lines to larger marks allowing areas to be cleared more quickly. It takes practice and concentration as you are working to leave the correct bits of lino intact. The biro marks certainly helped with this.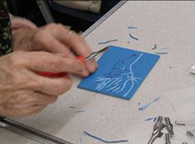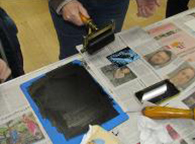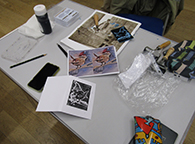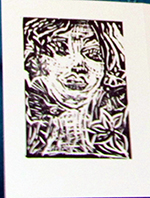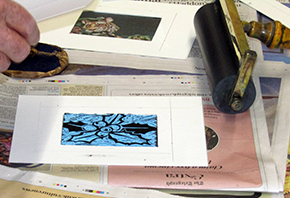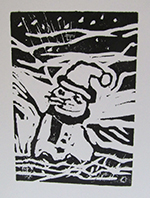 The next stage was loading the right amount of ink onto the roller and then onto the linocut. (This workshop used only black printing ink.) We were able to do some test runs before committing the print to the cards. This enabled any small corrections to be made. She had prepared packs containing one sheet of A4 soft cut Lino, a small roller, one tube of black ink and a pack of cutters for sale were ideal for anyone who would like to continue making plates and printing at home.
Jude supplied us with cards to print our images one, some of which she had already collaged with gampi paper (Japanese tissue, which is strong). This made our cards much more exciting as you can see from the images. Jude gave tips and advice throughout and was warmly thanked for running this interesting and challenging workshop.
Demonstration by Roger Dellar
An Interior in Oils - 30th November 2021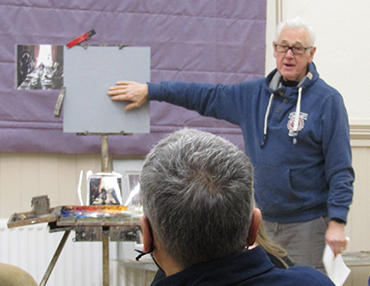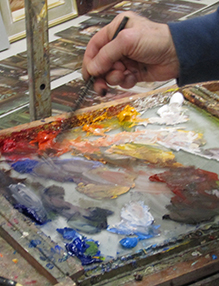 We were delighted to welcome Roger Dellar back for a further demonstration. Roger is a member of The Royal Institute of Oil Painters, The Royal Institute of Painters in Watercolour and The Pastel Society and an active member of the Wapping Group. Roger teaches students in various venues and on holiday courses. He has a keen interest in people and their behaviour and is fascinated by the way the play of light transforms a subject.
Roger introduced us to his favoured materials: a board primed with gesso tinted a mid grey, his large palette with warm and cool versions of the three primary colours, burnt umber and Titanium white, painting medium of linseed oil blended 50/50 with Damar Varnish, a range of brushes and white spirit for cleaning. Roger favours three quarter length brushes as he feels that long brushes create too much distance and "wobble" when using.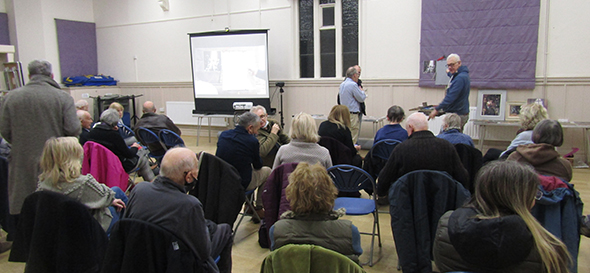 A photograph of a lunch party was the chosen image. There was strong back lighting from a tall window leaving many of the figures in dark tones with light silhouettes and the shot was from the end of a rectangular table, providing acute angles of perspective. The first stage was for Roger to draw the main elements using a thin Burnt Umber mix and a fine brush. This was followed by blocking in some of the strong dark elements. Roger works from "lean" to "fat" with the underpainting worked in thin layers. Throughout the demonstration Roger explained his approach and method of working while entertaining us with anecdotes of his experiences in tutoring students, painting plein air and the various characters in the photograph of the lunch he had attended.
Having laid down the dark tones, Roger began placing the lights, using warm and cool tones. This detailed the layout of the table and the forms of the figures around it. He worked around the painting and continued to add additional dark and mid tones, defining the heads and figures. He laid the paint on lightly with bold strokes and worked for some time on the window in the background, first with pale yellow shades and then settling for cooler tones. This area was broken up with a hint of a plant in the window.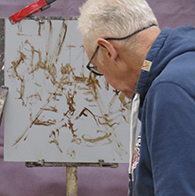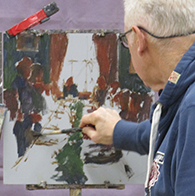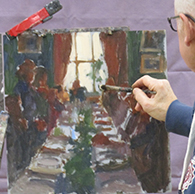 Partway through the process, Roger used a rubber tipped shaper to etch into the paint, definite faces, edges of figures, redrawing some elements to assist when continuing to paint. He emphasised the need to step back and evaluate how the tones and forms were working.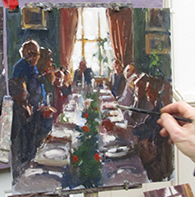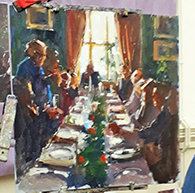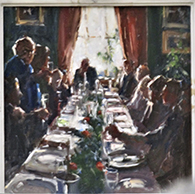 As the painting progressed Roger applied the paint in thicker strokes. He used warm shades on the curtains around the window, echoing these shades in faces and hands. A fine brush defined the edges of transparent glassware, candles etc. and the centre table display was enhanced with red baubles. Gradually the painting came together. The strong light is a feature of Roger's style of painting and really brought life to the painting and form to the figures. The final version was full of life and subtle colour.
Roger was warmly thanked for this demonstration and for sharing his expertise with us. This was a very enjoyable demonstration. Roger's enthusiasm and the energy he brings to his work is really inspiring.
Painting birds with water-based paints
Workshop with Suzy Drake - 16th November 2021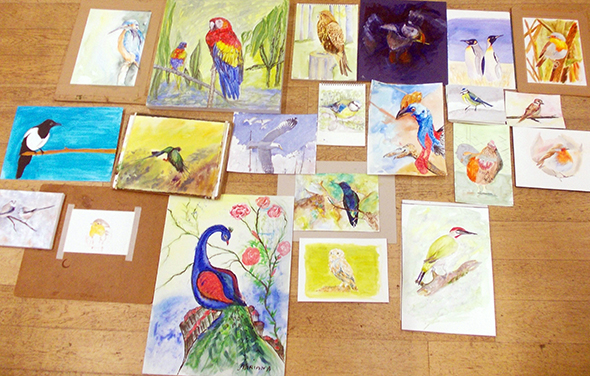 Suzy Drake is a Mixed Media Wildlife Artist who exhibits regularly, works on commissions for different clients and also teaches a wide range of art/craft subjects to different ages and abilities. Suzy has a degree in scientific illustration and her work is inspired by wildlife and landscape, using a range of technique and media which convey her love of the natural world and the abstract qualities of shape, pattern and colour in that world.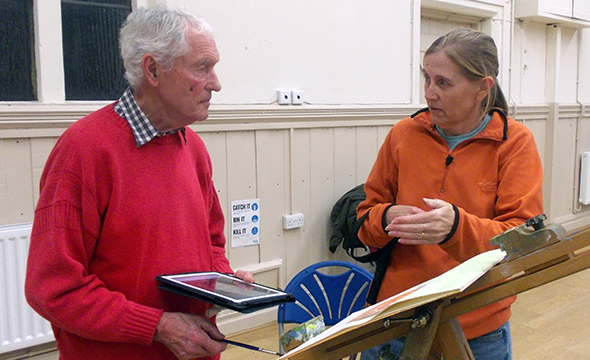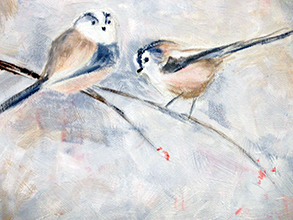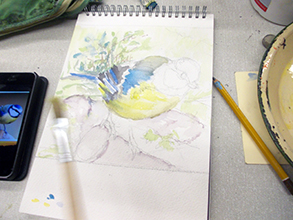 We had been asked to bring our chosen medium and prepare for the workshop with a photograph of a bird sketched on watercolour paper or a suitable surface for acrylics. Suzy began by showing us a selection of her work and talking about the importance of the space around our chosen subject. She finds it helpful to work with both the background and the subject rather than just focusing on the subject (in this instance, birds) and then "filling-in" the surrounding paper as a bit of an afterthought. Suzy also recommends plenty of thinking time both ahead of starting work and during the process.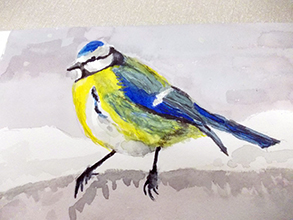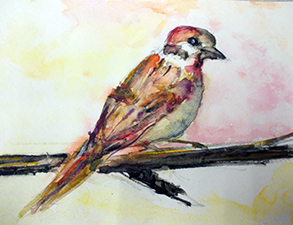 During the workshop Suzy spent time with each artist giving helpful tips and advice. Painting birds was quite a departure for many of the artists but it was challenging and interesting. The images below show the colourful work at various stages.
Suzy was warmly thanked for running this enjoyable Workshop and for sharing her expertise and enthusiasm for working in this field.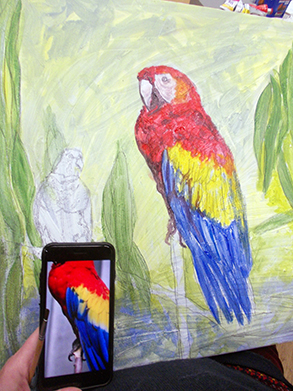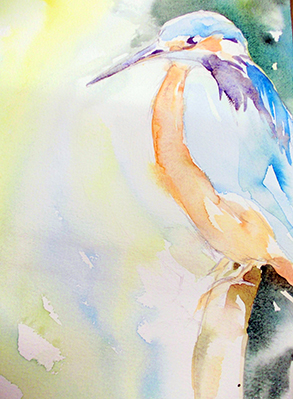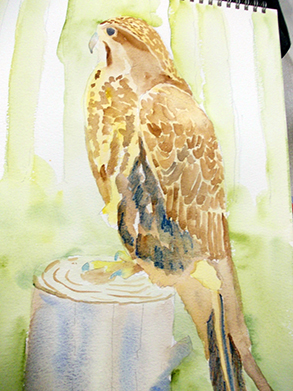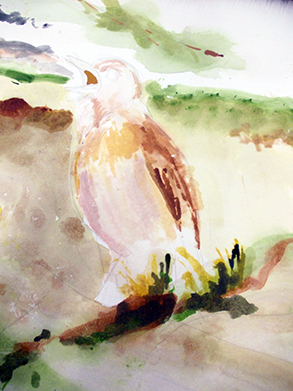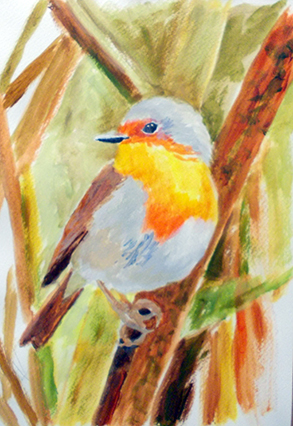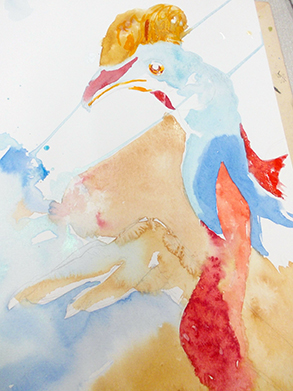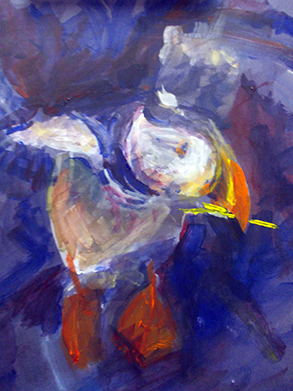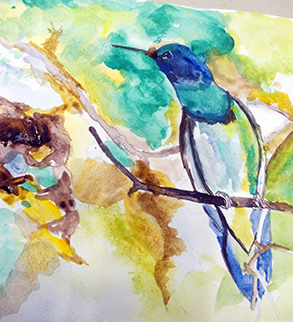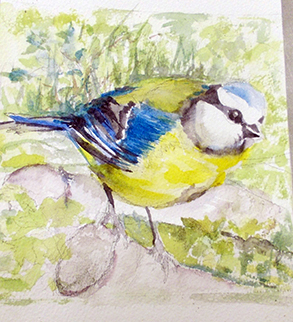 Pre-Halloween Still-life workshop
Working on black paper - 26th October 2021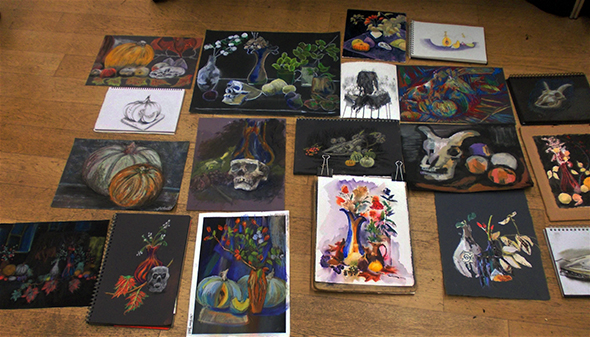 This untutored Workshop was organised by Marianne Dorn and a stunning still-life tableau was set up against a black fabric backdrop which contrasted brilliantly with bright pumpkins and autumn fruits, colourful vases, leaves and berries and, for extra drama, skulls - animal and human.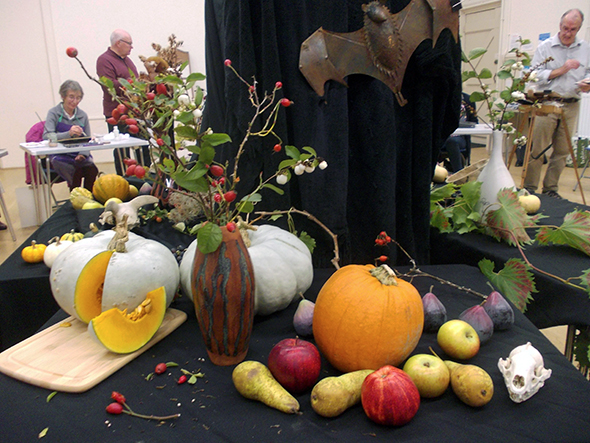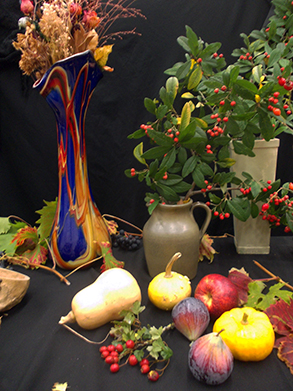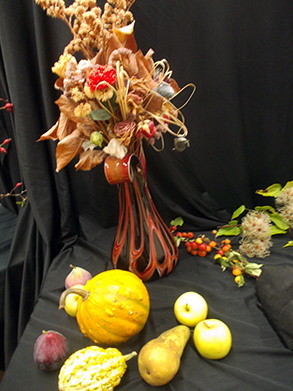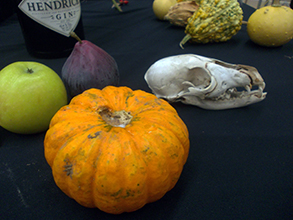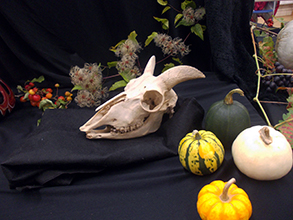 We had been encouraged to work on black paper or black supports (optional). For paints or collage, working on canvas or board prepared with a layer of black paint was suggested.
Members were free to work in any medium of their choice and these included:
Charcoal and chalk
Collage
Acrylic or other opaque paint – Perhaps include black paint!
Coloured pencil
Pastel (soft or hard/conte)
Oil pastel
It would be fun to experiment with other opaque craft materials to paint or print with or white & metallic pens or markers.
Working on a black ground is challenging. The image can either be built up in subtle tones or one can simply "go for it" using bright colours initially and then perhaps dialling them back with darker colours or black or grey pastel, for instance, to create form. This was an absorbing and stimulating Workshop and the resulting paintings and drawings were colourful and dynamic. This definitely an approach worth exploring further.
Marianne was thanked for organising this very interesting and enjoyable Workshop.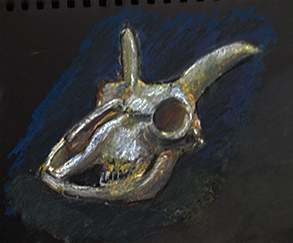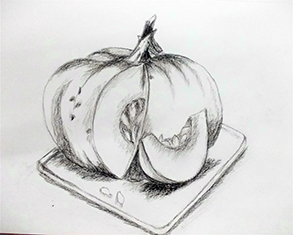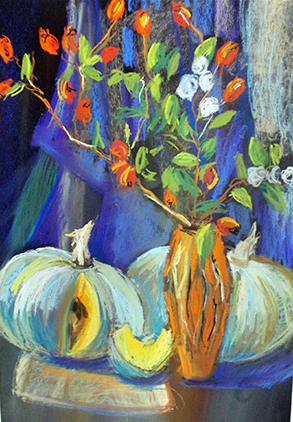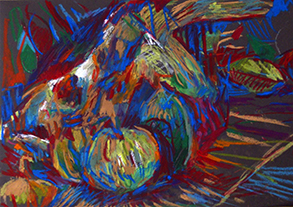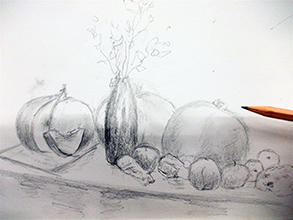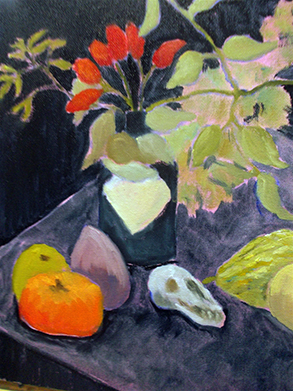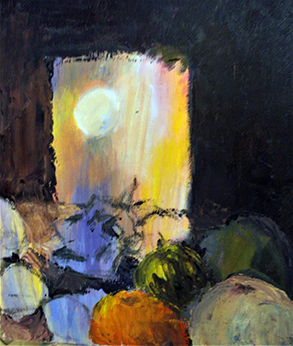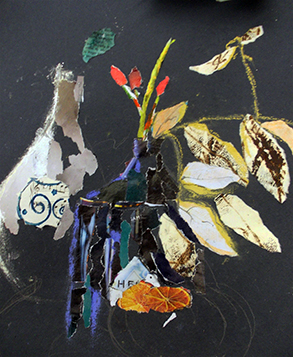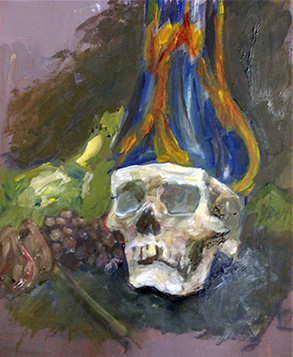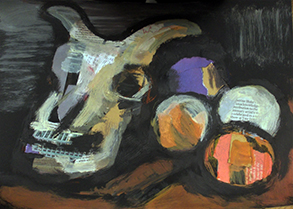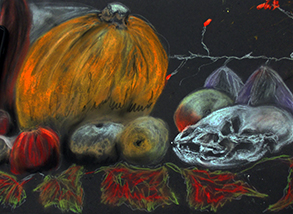 Still Life Workshop with Jan Munro
28th September 2021
Jan Munro is based in Hertfordshire and works in many mediums, including acrylics and pastel. She has exhibited widely, runs workshops and on-line tutorials and is a member of the Pastel Society. She remarks on her website "It's about design for me. I love combining colours, working on placement of tone, making my marks, doing what I love, I want to look beyond the reality."
The aim of this workshop was to explore the arrangement of tones, shapes and patterns and make a simple still life from a coloured painted base and collage. The still life was imagined and the plan was to produce a still life with flowers.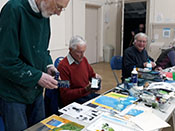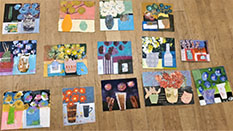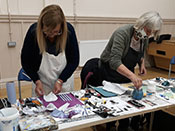 Having already prepared our supports (mount board or thick paper) with gesso we were able to go straight into painting the entire surface with our chosen hue which would then ultimately be the colour of our flowers. This was followed by some random colourful or patterned pieces of collage which would become the vase and a cup. A toning or contrasting colour of paint was added to the upper part of the painting and then the paint lifted to reveal some flower shapes in the original chosen shade.
The next step was to paint into the negative spaces in order to reveal the shape of the vase and cup. It was important at this stage to carefully consider the tonal values.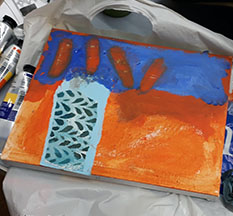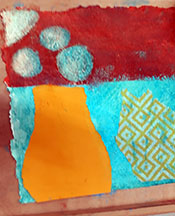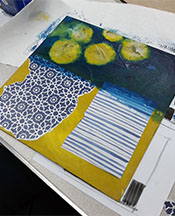 At this point it was time to stand back and consider. More collage, some scratching into the paint, refining the flower shapes, adding oil pastels, more negative painting, stencils, or splatters. All sorts of possibilities to progress with but always considering the overall tones and design.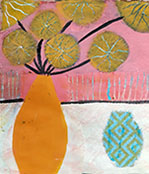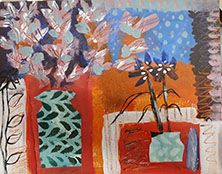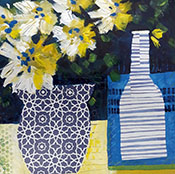 We had a fun, messy and constructive evening. Some fabulous and incredibly varied work was produced.
A great evening and well supported. We thanked Jan for her skills and enthusiasm. She is an excellent artist and teacher.
Summer Programme 2021
Sketching and Painting at local venues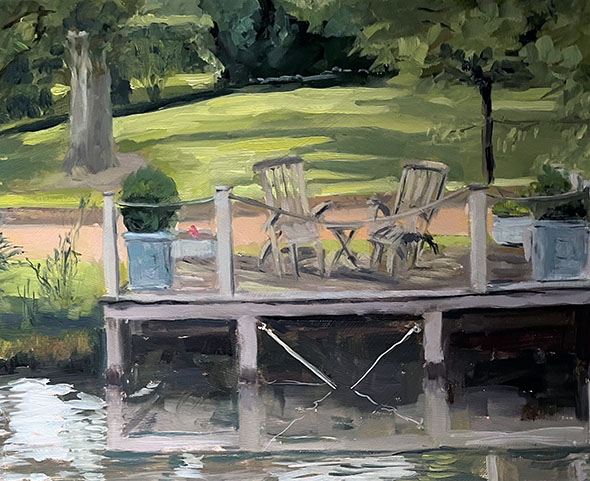 Our Society's twelve Summer outdoor sketching evenings this year were enjoyed by Members in varying degrees. This was reflected in the weather conditions encountered, which ranged from "cold/dull" to "warm/balmy". The Programme included venues around Hertford and Ware, the charming pond at Chapmore End and Walkern Village. The evening spent painting in Sacombe Park for instance was truly a welcome summer evening. Another such sunny evening was our visit to Haileybury College where we were kindly allowed to paint until 9pm.
On three evenings Members were invited to visit and paint in Members' gardens and we were all appreciative of the hospitality received. On the final evening fourteen members rounded off the Summer sketching evenings with a convivial meal at the Salisbury Arms in Hertford.
This is a selection of sketches and paintings produced by Members.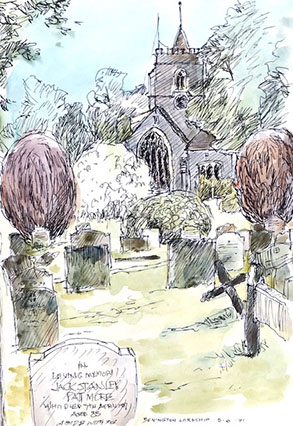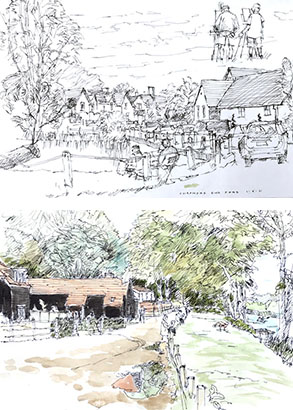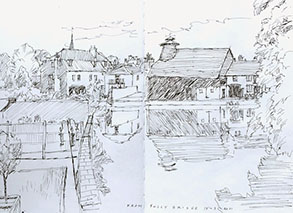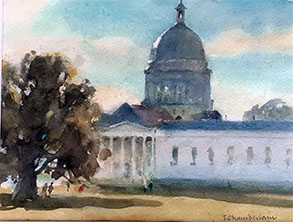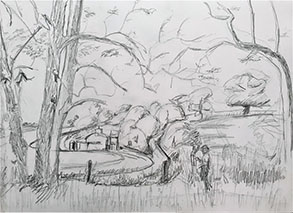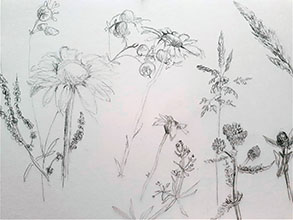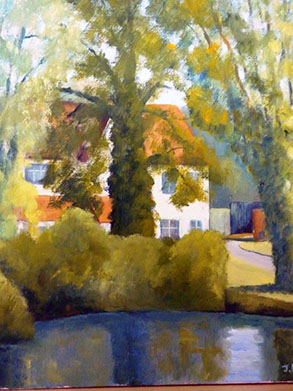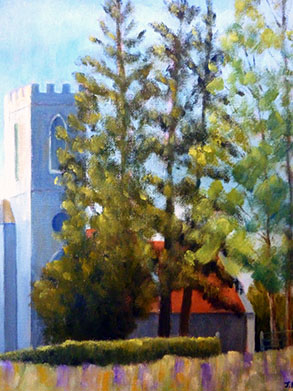 Saturday Life Workshops
WHY LIFE DRAWING AND PAINTING? – Some may say it is old fashioned, but practising Life Drawing enhances observation and accuracy. Interpreting the shape of the human body trains the artist to see almost every curve line and subtle undulation found in nature. The satisfaction of producing an acceptable image can be quite intense. It does not happen immediately and demands a great deal of practice to achieve.
Hertford Art Society runs Life Workshops in Cowbridge Halls, Hertford, SG14 1PG on the last Saturday of 9 months during the year. The only exception is the October Session which is sometimes changed when it coincides with the Members' Show. Although these are primarily run for Members we welcome enthusiastic visitors at £15.00 per session, this includes coffee, tea and biscuits, available all day. The sessions are untutored and last from 10.00am – 2.00pm with a short break midway. We work in in all mediums including prep work for sculpture. Bring whatever medium and equipment you require with you. The photographs below illustrate the exciting variety of work produced by the artists.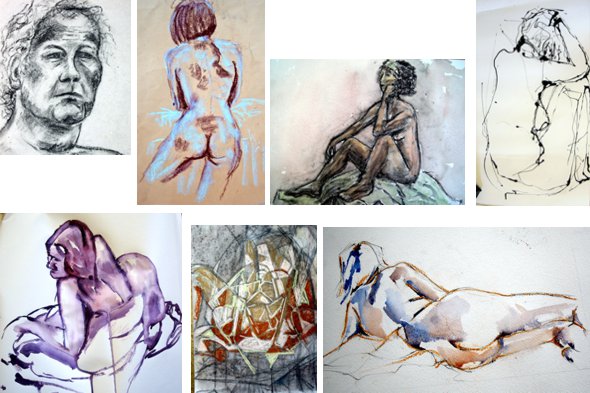 There are many different approaches to life drawing which become very obvious during the sessions. We are a very enthusiastic group of artists and in a relaxed atmosphere we learn from each other different skills and methods of working, as well as experimenting with different mediums etc. There are normally 2 models unless the group is small, when there is only one. We do not have a set programme of poses, but usually include short poses and longer poses for artists who wish to produce a more finished piece of work. So why not join us if you haven't already?
Workshops take place on the last Saturday of the month (except for October 2021) for nine months of the year. They do not take place in April, August and December due to the annual Open Exhibition and holiday periods.
Life Models Workshops within HAS Winter Programme for 2021 - 2022 - 10am - 2pm at Cowbridge Halls, Hertford, SG14 1PG
Saturday - 25th September 2021
Saturday - 23rd October 2021
Saturday - 27th November 2021
Saturday - 29th January 2022
Saturday - 26th February 2022
Saturday - 26th March 2022
Saturday - 28th May 2022
Saturday - 25th June 2022
Saturday - 30th July 2022
If you are interested please contact [email protected] for further details.