62nd Annual Open Exhibition 4th to 17th May 2014
Review of Hertford Art Society's 62nd Open Exhibition – May 2014
The Hertford Art Society Annual Open Exhibition, now in its 62nd year, continues to surprise and delight its loyal public with work of a very high standard and wide variety, from newcomers as well as locally- and nationally-known artists.
Each year we invite a new selection panel to judge the large number of submissions. This year the judges for 2D work were:
Ronald Maddox, President of the Royal Society of Painters in Watercolours, Hon RWS, Hon RBA, FCDS, Paul Curtis, Life member of the New English Art Club, practising artist and tutor, and, Davida MacDonald, BA Art, BA Textiles, distinguished teacher, designer and painter. 3D works were judged by the sculptor Angela Godfrey, ARBS.
We are grateful to our sponsors who so kindly contribute to the Society each year. This year we welcome a new sponsor, Art Van Go of Knebworth – well known for their excellent range of artists' materials, workshops and exhibitions.
The Prize Winners
The John Goss Prize is awarded by the judges to the painting considered to be the best in show, this year awarded to David Nelson for his picture 'Sennen Cove'.
The Lady Laming Award for Abstract Art was awarded to Janet Benge for her painting 'Elijah meets Matisse'.
The Bill Dale Award is chosen from among works by members who regularly support the whole of the Society's activities; this year it was awarded to Anne McCormack RI SWA for her picture 'Winter Magic'.
The Mayor's Award is presented for the best 3D work and has been given this year to Jean Langdon for her collection of outstanding ceramics.
The Edward Mason Award is chosen by the judges for the best watercolour painting and was awarded to Fiona Pruden for her painting 'Simple Pleasure'.
There is also a Visitors' Choice prize and this year it went to Rosemary Tinney for her oil painting 'Last of the Sun' which means Rosemary gets free membership to the Society for a year. Over 800 votes were cast and the runners up were: 'Autumn Morning, Overlooking Staithes' by Trevor Chamberlain ROI, RSMA, and 'The Meadow', by Heather Brown.
The following is a small selection of excellent work from a crowded field.
"Parkside in April" (No.27) by Gillian Beagley was a quiet evocation of the countryside at the end of winter. In complete contrast to this was"Last Light (84), by Nick Harrison Jones, another evocation of the outdoors but in very bold and striking colour. The beautiful brushwork and muted colours of "The Brook" (115) by Ronald H. Johnson, were outstanding.
Two dynamic but entirely different takes on figure composition were provided by "Rehearsal for the Gig" (228) by Bill Dean ROI and "Artists Still Life" (186) by Chris Pantry, a fluent line drawing with a sense of humour.
Among the many interesting artists' prints, Nicola Troll's "Thames Nocturne"(66) and "Mistle Thrush" by Liz Beardwell (240) were outstanding in their different ways – the first for its beauty and brilliant execution and the second for its charm and clever use of the linocut medium.
Two small abstracts attracted the eye: "From the Fields" (50) by Clive Patterson, a lovely composition, and Judith Moule's cool, confident piece "Beyond the Fields"(166).
Staithes continues to be a magnet for painters and there were two fine, contrasting examples in the show: "Boat House, Staithes" , a sparkling work in acrylic by Sylvia Ditch (135) and a harmonious watercolour "Harbour Buildings, Staithes" (195) by Ronald Maddox PRI, Hon RWS, Hon RBA.
Among the 3D works were two imposing stoneware vessels by Christopher Sutherland (301 & 302) which were partly glazed in shades of green and cream, two shallow stoneware bowls with incised and glazed decorations in the form of faces by Emmanuel Pitsiladis (323 & 324), small carved figures by Paul Bainbridge (316 & 317) and two beautiful turned wooden bowls (306 & 307) by Craig Morton.
The works on show totalled 251 paintings and 24 works of sculpture, 3D and ceramics. These were selected from over 600 submissions as the Society's Annual Open Exhibition continues to attract entries from artists with a wide range of talent. The Exhibition was expertly displayed and thanks go to the Members and Associate Members who assisted with setting up the show and stewarding throughout the fortnight.
Julie Harrison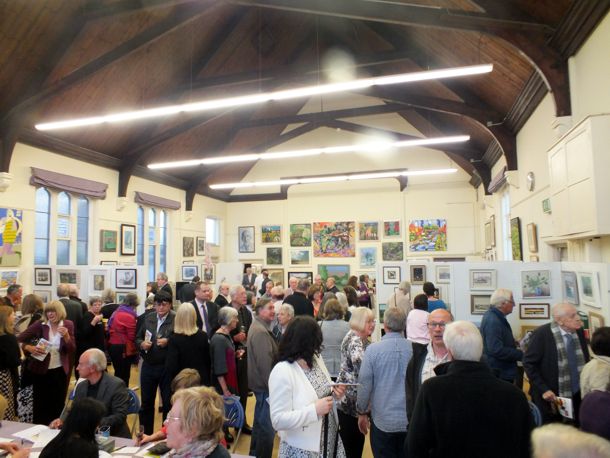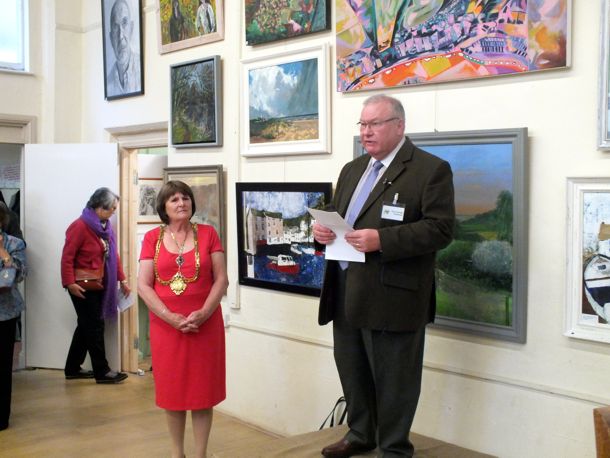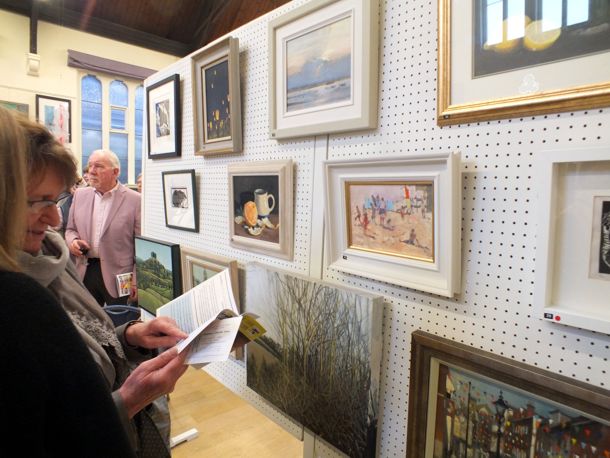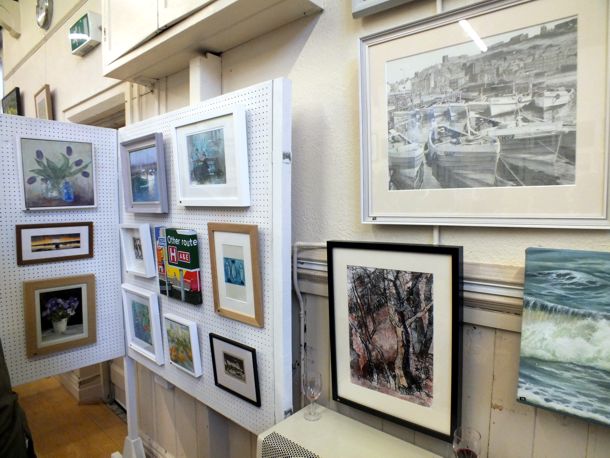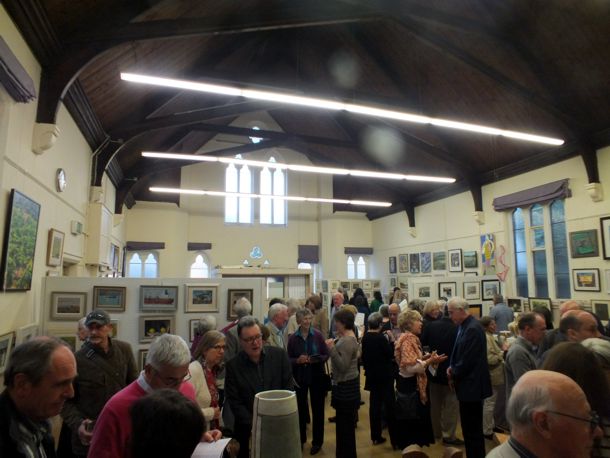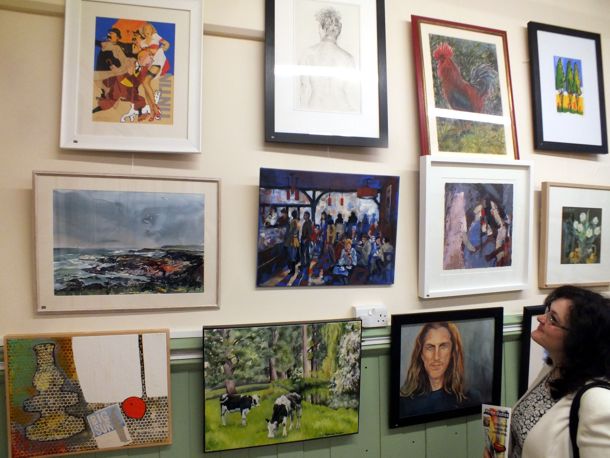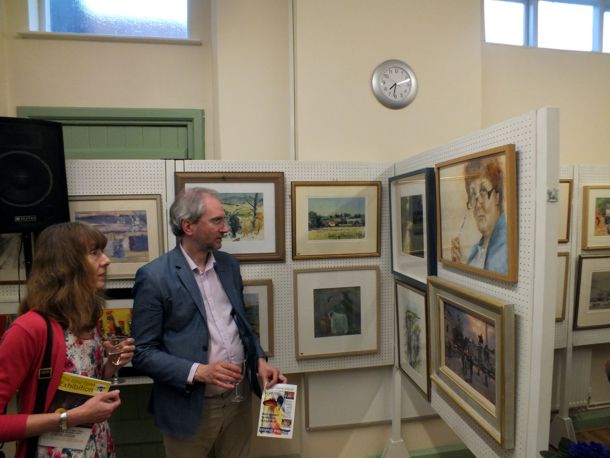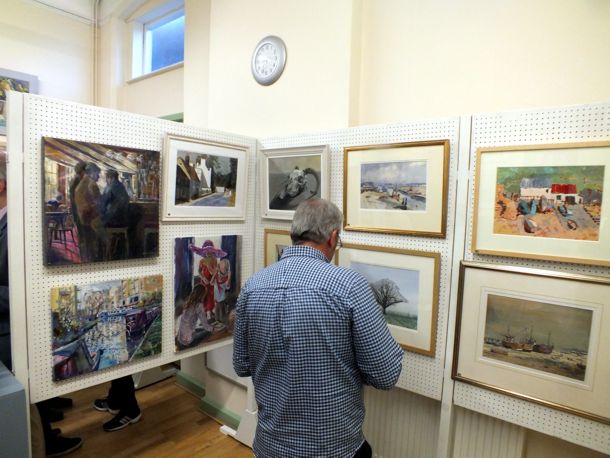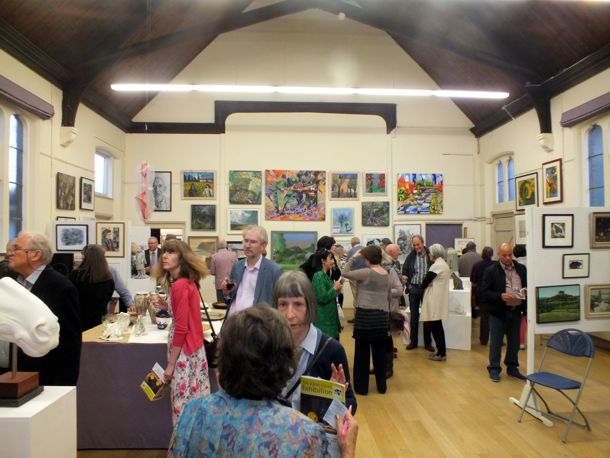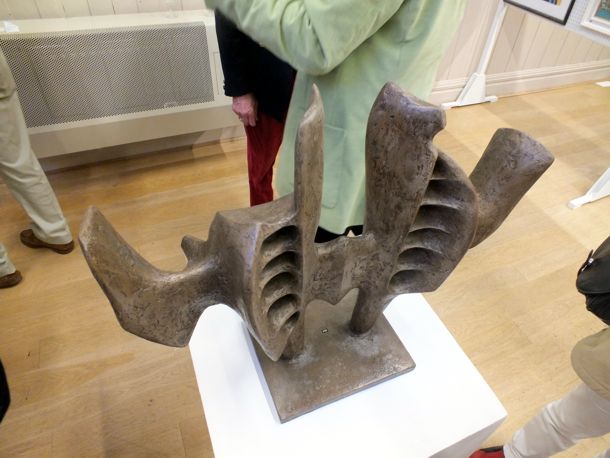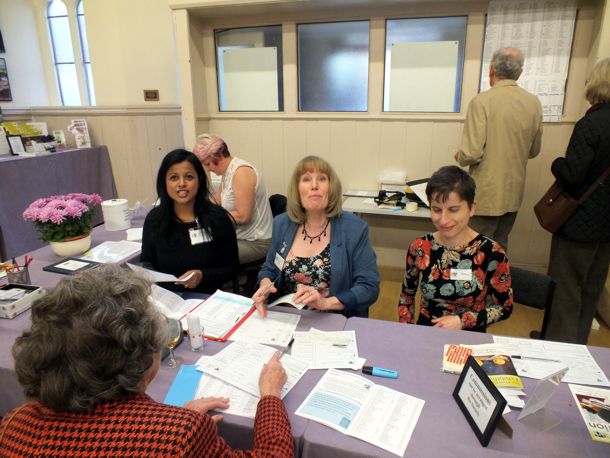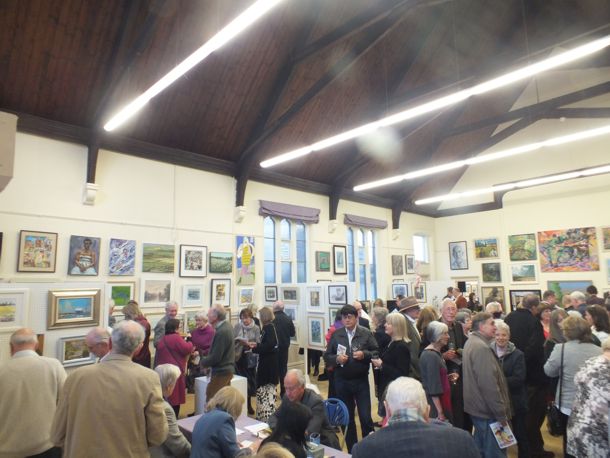 Photographs: Mark Roger Ely