Welcome to the Hertford Art Society Website
For information about the Art Society and how to become a Member click here.
Summer Painting Weekend at Maldon, Essex
24th – 26th June 2022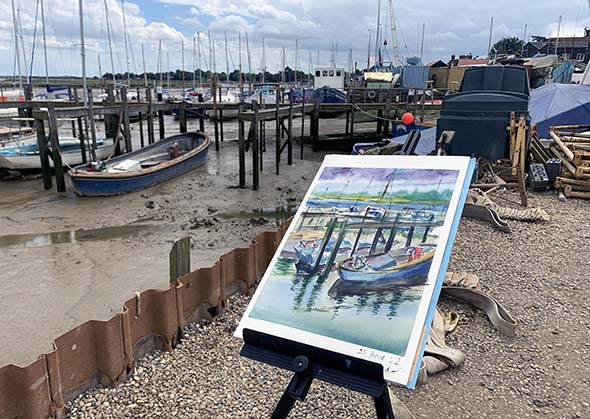 Maldon is a historic maritime town, a Saxon port and the second oldest town in Essex, receiving its Royal Charter from King Henry II in 1171. Situated on the Blackwater Estuary, it has a lively harbour and the town centre has numerous historical sites and listed buildings. One day was spend in Maldon and the next at the Heybridge Basin. There were some brilliant painting and sketching opportunities to be had and a large group of Members enjoyed great weather and produced some exciting artworks in various mediums, as can be seen in the display.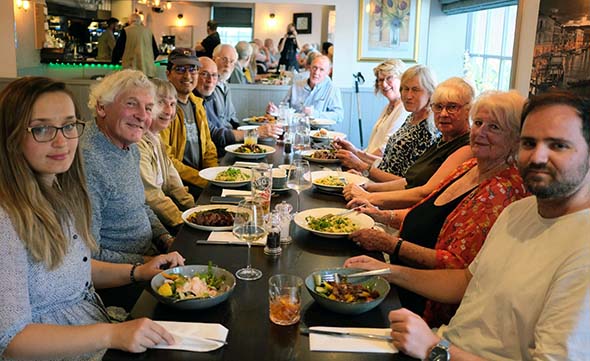 For full report, click here for more details.
Hertford Choral Society - Rehearsal of "All That Jazz" at Sele School
- Drawing and painting the Choir and Musicians - 10th May 2022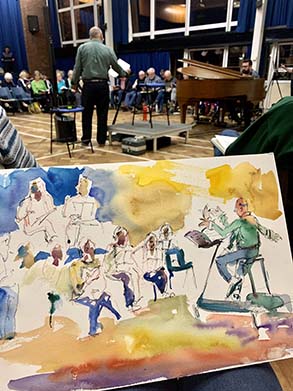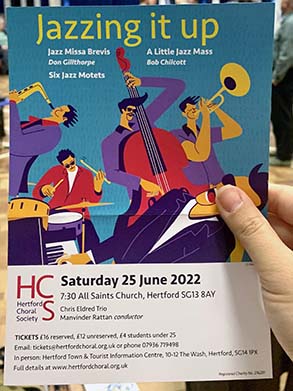 We were delighted to be invited to Hertford Choral Society's rehearsal session at Sele Farm School. Artists gathered to paint and draw the choir and musicians and to enjoy the programme of songs from "All That 'Jazz". This was the first session in the Summer Programme and was certainly rather different from the usual challenge of drawing and painting various scenes outdoors. The work produced was colourful and lively and echoed the terrific range of songs which will feature in the Choral Society's forthcoming concert. The Choir and musicians were warmly thanked for inviting us to this very enjoyable evening.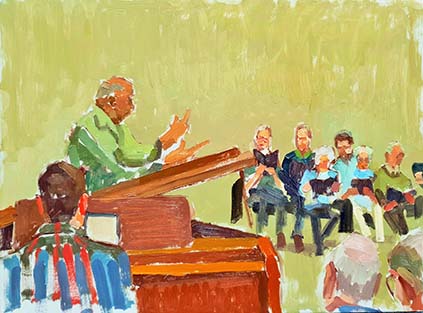 by Craig Alan Lee.
"All That Jazz" will be performed on Saturday 25th June 2022 at 7.30pm at All Saints Church, Hertford, SG13 8AY.
For full report, click here for more details.
Summer Programme 2022
Each summer following the indoor Winter Programme and the Open Exhibition, Hertford Art Society Members enjoy painting and sketching out of doors on Tuesday evenings at various venues in the Hertford area.
Members usually meet at around 7.00pm (or beforehand by private arrangement) for sketching & painting, then gather socially in the suggested public house when the light fails. Any local artists from these villages or areas are welcome to come along for most of the outdoor painting sessions at local venues. Sessions which are "by invitation" are for Hertford Art Society Members. For information on Membership, please see details on About page of this website.
69th Open Exhibition - Prizewinners
Hertford Art Society 69th Open Exhibition 2022 - 30th April to 7th May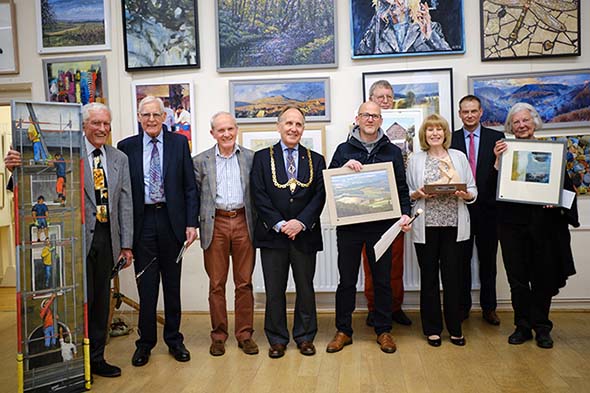 This year's Open Exhibition runs until the 7th May at Cowbridge, Cowbridge, Hertford SG14 1PG and these are the Prizewinners
The John Goss Prize Best in Show awarded to Craig Allan Lee for Across the Fields
The Bill Dale Award Best Member awarded to Geoff Bennett for Scaffolders
The Edward Mason Brushes Award Best Watercolour awarded to Colin C Clarke for 'High Rise to Let' Wells-next-the-Sea
The Mayor's Award Best 3D awarded to Kathy Burman for 'She' and 'He' jointly
The Lady Laming Award Best Abstract awarded to Judith Moule for Across the Reef
Three 3D works were Highly Commended: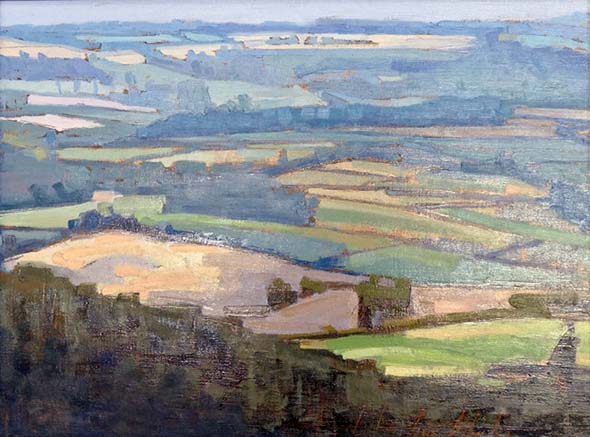 The John Goss Prize Best in Show
Sponsored by



awarded to Craig Allan Lee for Across the Fields


The Bill Dale Award Best Member
awarded to Geoff Bennett for Scaffolders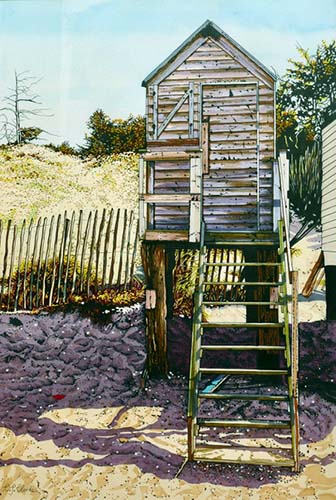 The Edward Mason Brushes Award Best Watercolour
awarded to Colin C Clarke for 'High Rise to Let' Wells-next-the-Sea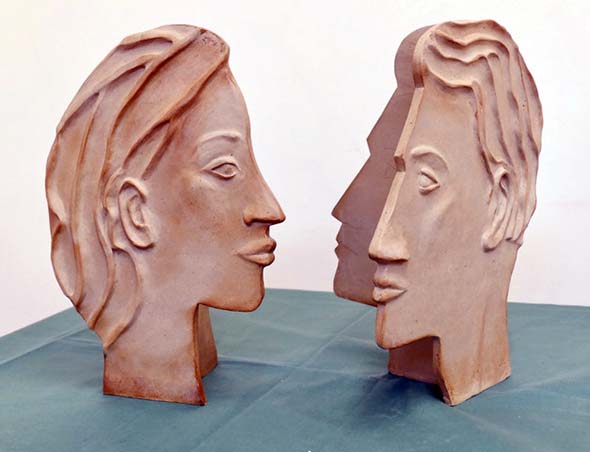 The Mayor's Award Best 3D
awarded to Kathy Burman for 'She' and 'He' jointly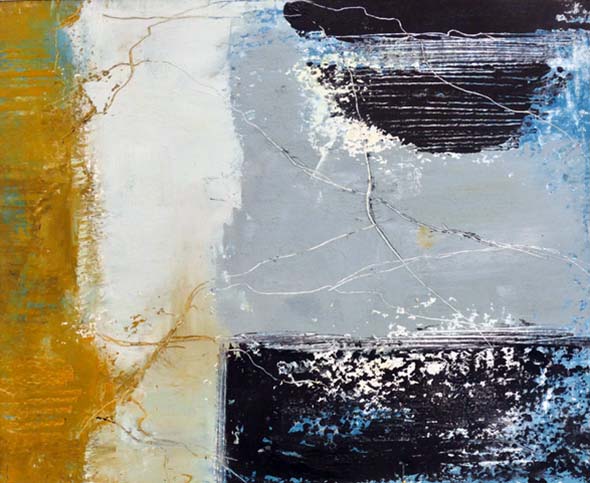 The Lady Laming Award Best Abstract
awarded to Judith Moule for Across the Reef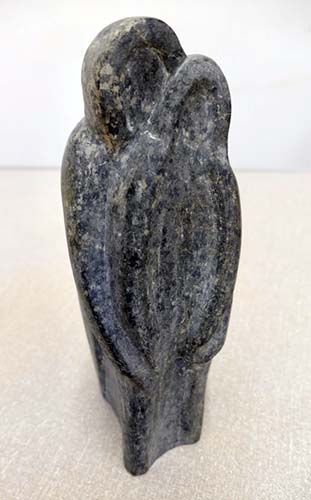 Highly Commended
Romeo and Juliet by June Pickard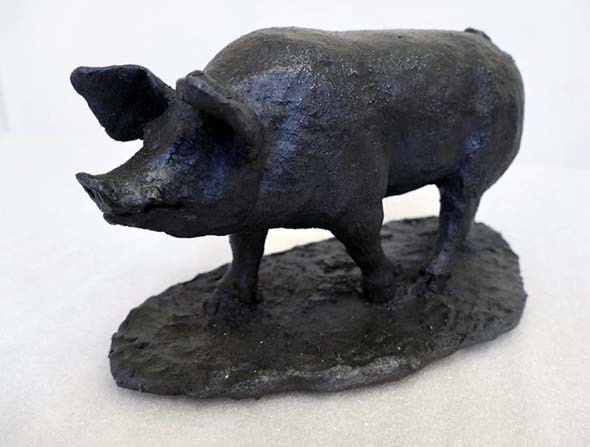 Highly Commended
Pig by Anne Gascoigne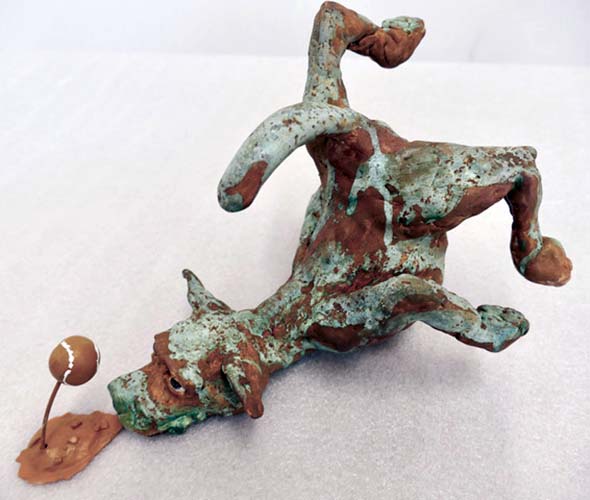 Highly Commended
Dog Fail by Martin Bushell
69th Annual Open Exhibition April-May 2022 - 68 images, click here to view.
For full report, click here for more details.
Life Workshops March - July 2022

Watercolour Demonstration of Seaside Landscape by Ian Michael McManus
19th April 2022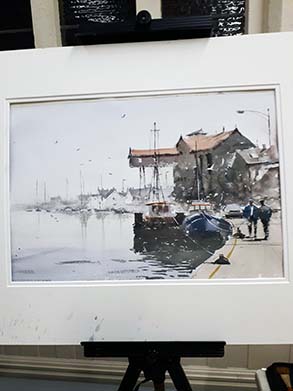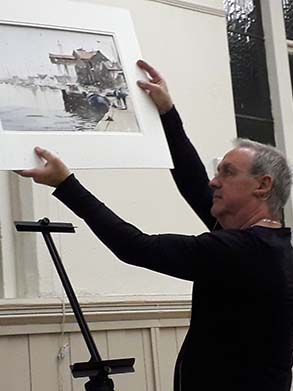 Ian Michael McManus is a Member of the Institute of East Anglian Artists and runs classes and workshops in Watercolour painting. His style is direct application of paint with no overlay of washes as he believes this gives the finished painting the quality of transparency which is so essential to watercolours. He describes himself as a "tonal" painter, working from light, through mid-tones to darks and he feels that this is more important to the success of a painting than colour.
For full report, click here for more details.
Mixed Media Semi-Abstract Workshop with Carmen Renwick
12th April 2022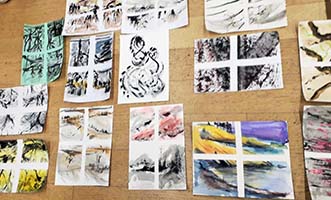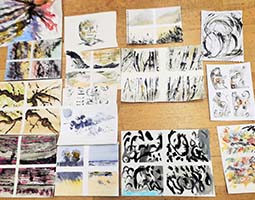 Carmen Renwick is an experienced artist and with a background in illustration & design, printmaking, painting, collage and mixed mmdia. She headed Art and Design at Swavesey Village College and taught the Arts in Special Education. She is currently enjoying working in mixed media on a larger scale. We were delighted to welcome Carmen for an experimental mixed media workshop.
For full report, click here for more details.
A musical evening with a klezmer group
Untutored drawing and painting workshop - 29th March 2022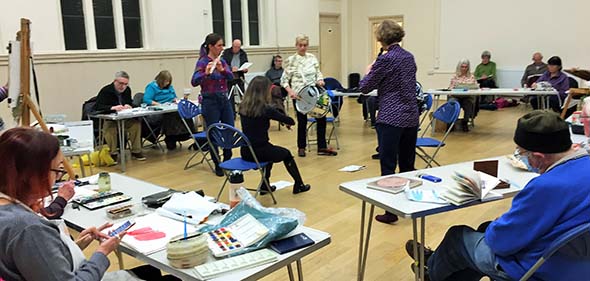 We were delighted to welcome Marianne, Adina, Jo, Karen, and Rachel for an evening of klezmer music (a variety of traditional Jewish tunes originating from Eastern Europe). There was flute, clarinet, accordion, percussion, and Marianne on violin.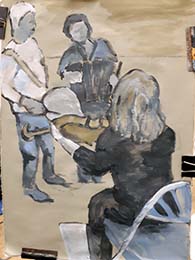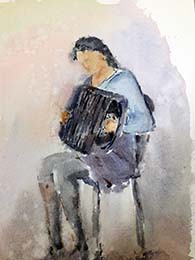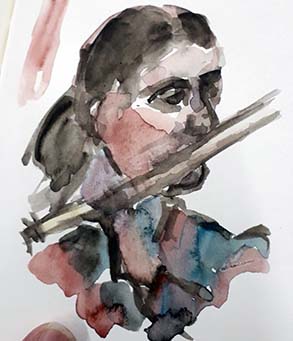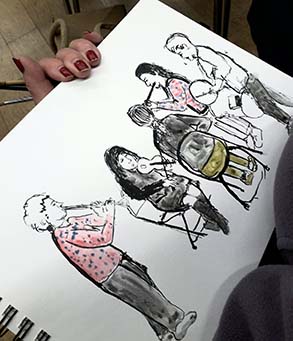 Artists were free to sketch, draw or paint in any medium of their choice. Some approached it like a clothed life drawing session, making drawings of the musicians and their instruments. Some felt like doing something rather abstract and 'painted the music', like Kandinsky. One Member was tempted to join in with a dance.
For full report, click here for more details.
Display of painting illustrating Hertford Choral Society Spring Concert
Elgar's "Dream of Gerontius" – 26th March 2022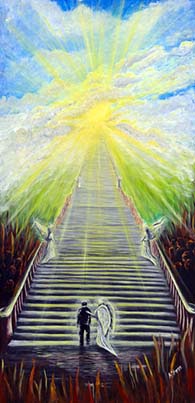 Each year Hertford Art Society illustrates Hertford Choral Society's Spring concert with large pictures hanging from the pillars lining the central aisle of All Saints Church, Hertford, where the concert is held. This year's challenge is Elgar's Dream of Gerontius - the surreal journey imagined by an old man contemplating death. There's no shortage of painterly images as Gerontius arises from his bed and is led by a guardian angel through various scenes to arrive in Purgatory.
Interpreting the scenes is not a straight-forward task. For a start it's not Gerontius who undertakes the journey, but his soul, which is a quite different kettle of fish. How does one paint a soul? Same as a living body, or something quite different? He is guided by a guardian angel of indeterminate gender. Given the times we live this is tricky stuff for us painters. For me an angel is unquestionably a young woman - flaxen-hair streaming out behind her. Moya also sees the angel as female, but choses a curly-haired brunette entirely harmonious with the picture's Arts and Crafts background. Persis by-passes the dilemma with an androgynous image; Alyson give us a neutral back-view.
For full report, click here for more details.
Creating a clay animal
Workshop with Abel Kesteven - 15th March 2022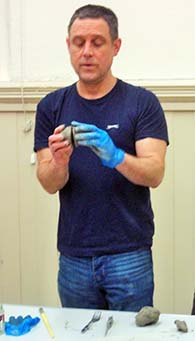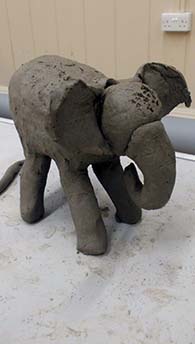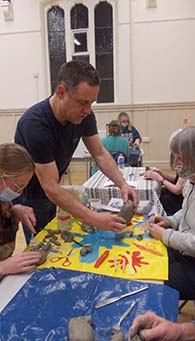 Abel Kesteven currently works in 4 different mediums. Pastel, painting/mixed media, monoprint making and sculpture, which is the topic of this Workshop. His drawing and painting is lively and he loves the challenge of drawing figures and animals in motion and trying to capture the essence of the scene in a semi abstract way. His love of animals shines through all his work and he finds using clay a very expressive medium to portray them. He exhibits and teaches extensively, focusing on therapeutic art sessions for adults with a variety of learning and health disabilities.
For full report, click here for more details.
Street Scene in Acrylics Demonstration by Hashim Akib
15th February 2022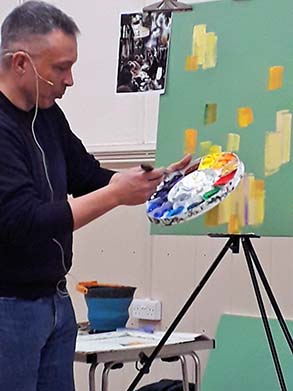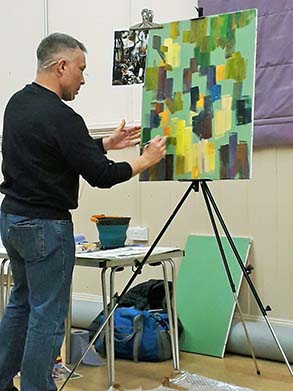 Hashim Akib started his career as an illustrator. He is an award winning artist and has published a series of books and DVDs on Acrylic painting techniques. He runs workshops and has demonstrations available to view on U-tube. Hashim is always a most popular visitor to our Society.
Hashim has prepared a canvas 24" x 30" primed with a base colour of Jenkins Green. (He always applies a base colour which can be seen, here and there, in the finished painting.) He uses Amsterdam acrylic paints (a mix of Artist and Student quality) which are set out in a large round sectional tray and a variety of large flat head brushes from the Daler Rowney Skyflow range. These brushes have a refined edge enabling fine detail to be painted with the edge of the brush.
For full report, click here for more details.
Linocut Workshop with Jude O'Sullivan
7th December 2021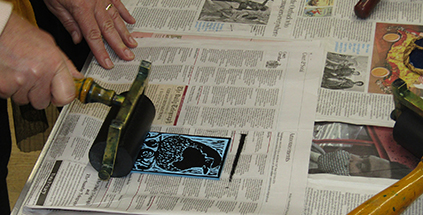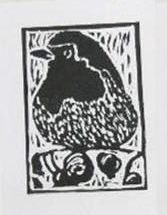 Jude O'Sullivan started her career as a graphic designer, then progressed to teaching graphics and printmaking in the Further Education sector. She currently runs classes in all forms of printmaking at Courtyard Arts in Hertford.
Jude had asked us to come prepared with a simple design drawn out to within a size of A6 (105mmx148mm) as well as an HB pencil, a biro and greaseproof paper or baking parchment to cover the wet prints for transport home. The aim of the workshop was to show how to prepare and print a simple design from soft cut Lino. We took our designs, traced them onto the blue lino (kindly suppled by Jude). There are many different colours, but blue is the softest. Jude equipped us with the soft cut lino plate, tracing paper, cutters, printing ink, roller and paper to print on.
For full report, click here for more details.
Demonstration by Roger Dellar
An Interior in Oils - 30th November 2021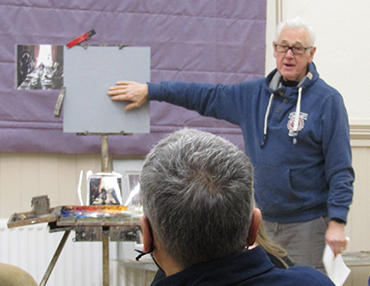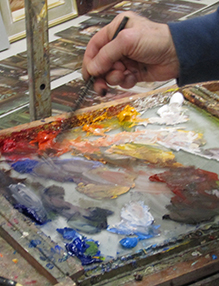 We were delighted to welcome Roger Dellar back for a further demonstration. Roger is a member of The Royal Institute of Oil Painters, The Royal Institute of Painters in Watercolour and The Pastel Society and an active member of the Wapping Group. Roger teaches students in various venues and on holiday courses. He has a keen interest in people and their behaviour and is fascinated by the way the play of light transforms a subject.
Roger introduced us to his favoured materials: a board primed with gesso tinted a mid grey, his large palette with warm and cool versions of the three primary colours, burnt umber and Titanium white, painting medium of linseed oil blended 50/50 with Damar Varnish, a range of brushes and white spirit for cleaning. Roger favours three quarter length brushes as he feels that long brushes create too much distance and "wobble" when using.
For full report, click here for more details.
Painting birds with water-based paints
Workshop with Suzy Drake - 16th November 2021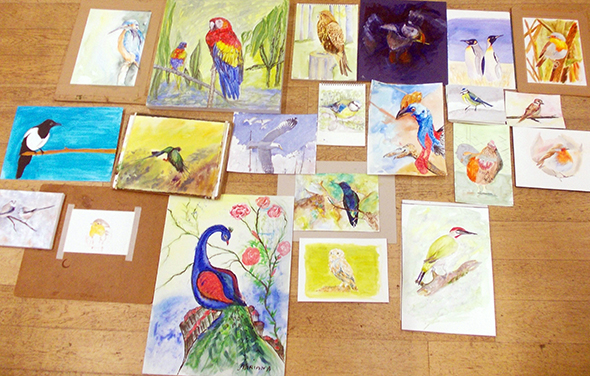 Suzy Drake is a Mixed Media Wildlife Artist who exhibits regularly, works on commissions for different clients and also teaches a wide range of art/craft subjects to different ages and abilities. Suzy has a degree in scientific illustration and her work is inspired by wildlife and landscape, using a range of technique and media which convey her love of the natural world and the abstract qualities of shape, pattern and colour in that world.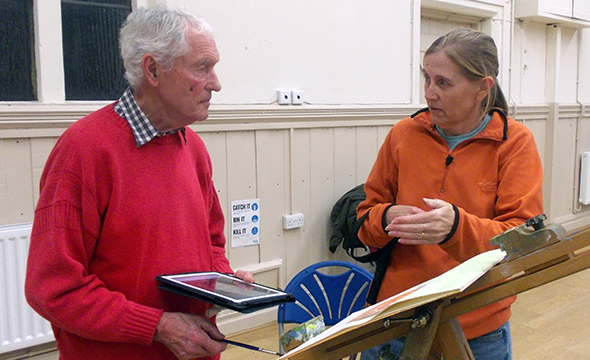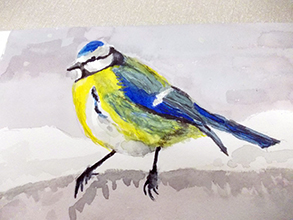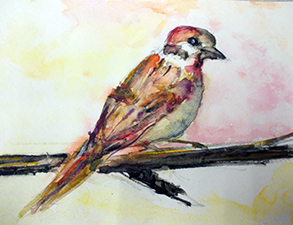 We had been asked to bring our chosen medium and prepare for the workshop with a photograph of a bird sketched on watercolour paper or a suitable surface for acrylics. Suzy began by showing us a selection of her work and talking about the importance of the space around our chosen subject. She finds it helpful to work with both the background and the subject rather than just focusing on the subject (in this instance, birds) and then "filling-in" the surrounding paper as a bit of an afterthought. Suzy also recommends plenty of thinking time both ahead of starting work and during the process.
For full report, click here for more details.
Hertford Art Society 23rd Members' Show
Prizewinners
Marie Goldsmith Award for a Member with a high standard of work who has served the Art Society well without formal recognition
The Cafe by David Stowe - Oil
Stephen Lowe Award for most intriguing work
The Grotto by Sarah Merry - Oil
Visitors' Choice Award (donated by Art Van Go)
The Daffodil by Fiona White - Oil
Enid Fairhead Award for best work chosen by Members
Joint Winner - Mother and Baby Unit by Donna Chamberlain - Watercolour
Joint Winner - Summer Fields 1 by Jill Rolfe - Watercolour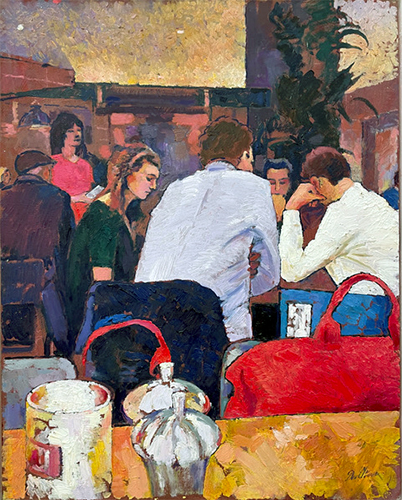 The Cafe by David Stowe - Oil

The Grotto by Sarah Merry - Oil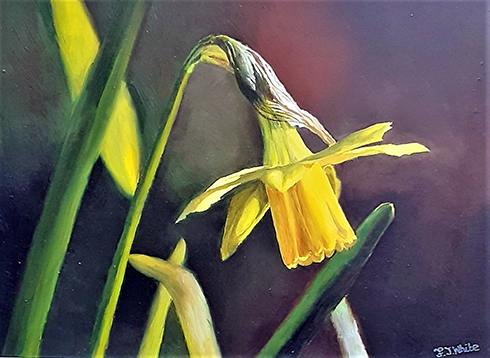 The Daffodil by Fiona White - Oil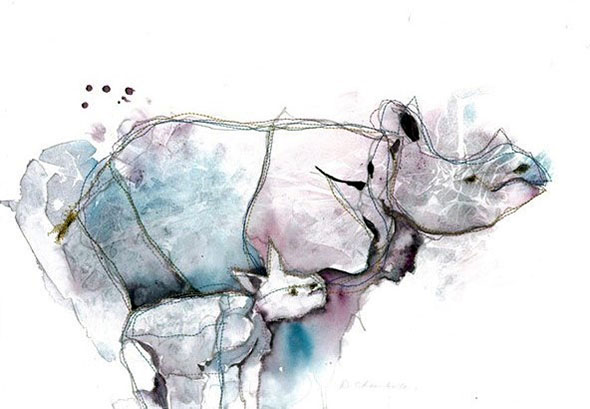 Joint Winner - Mother and Baby Unit by Donna Chamberlain - Watercolour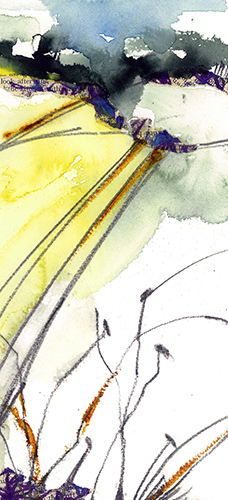 Joint Winner - Summer Fields 1 by Jill Rolfe - Watercolour
23rd Members Show October 2021 - 44 images, click here to view.
For full report, click here for more details.
Pre-Halloween Still-life workshop
Working on black paper - 26th October 2021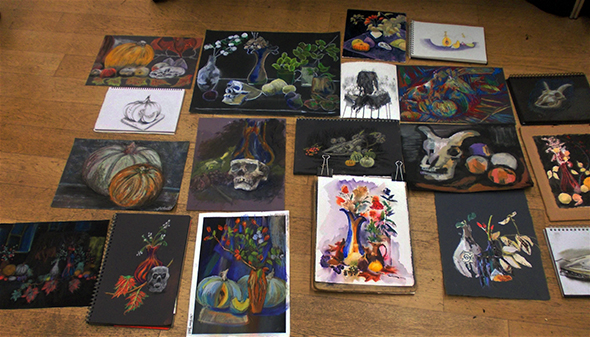 This untutored Workshop was organised by Marianne Dorn and a stunning still-life tableau was set up against a black fabric backdrop which contrasted brilliantly with bright pumpkins and autumn fruits, colourful vases, leaves and berries and, for extra drama, skulls - animal and human.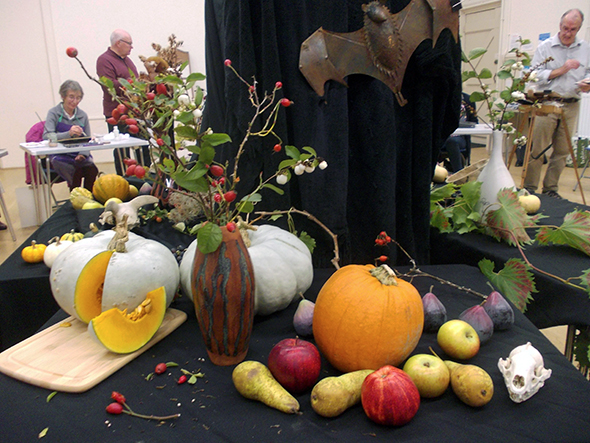 For full report, click here for more details.
Still Life Workshop with Jan Munro
28th September 2021
Jan Munro is based in Hertfordshire and works in many mediums, including acrylics and pastel. She has exhibited widely, runs workshops and on-line tutorials and is a member of the Pastel Society. She remarks on her website "It's about design for me. I love combining colours, working on placement of tone, making my marks, doing what I love, I want to look beyond the reality."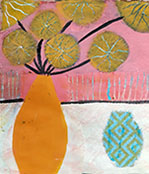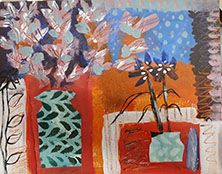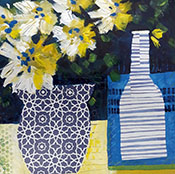 The aim of this workshop was to explore the arrangement of tones, shapes and patterns and make a simple still life from a coloured painted base and collage. The still life was imagined and the plan was to produce a still life with flowers.
For full report, click here for more details.
Summer Programme 2021
Sketching and Painting at local venues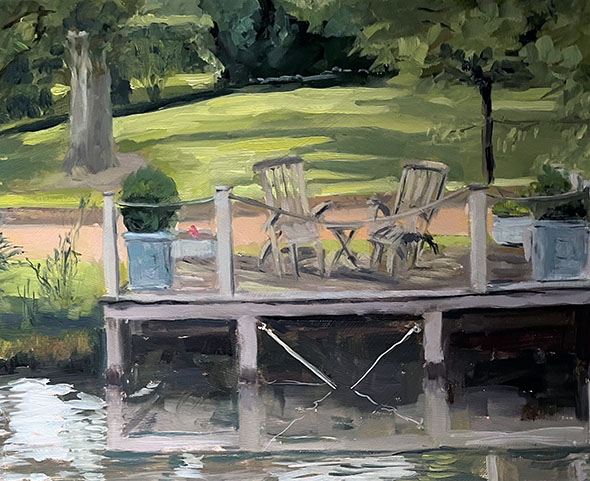 Our Society's twelve Summer outdoor sketching evenings this year were enjoyed by Members in varying degrees. This was reflected in the weather conditions encountered, which ranged from "cold/dull" to "warm/balmy". The Programme included venues around Hertford and Ware, the charming pond at Chapmore End and Walkern Village. The evening spent painting in Sacombe Park for instance was truly a welcome summer evening. Another such sunny evening was our visit to Haileybury College where we were kindly allowed to paint until 9pm.
On three evenings Members were invited to visit and paint in Members' gardens and we were all appreciative of the hospitality received. On the final evening fourteen members rounded off the Summer sketching evenings with a convivial meal at the Salisbury Arms in Hertford.
This is a selection of sketches and paintings produced by Members.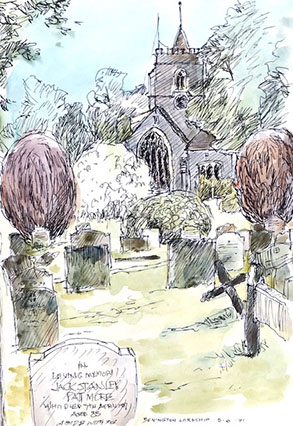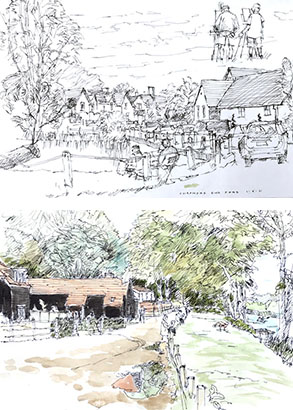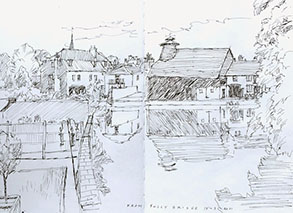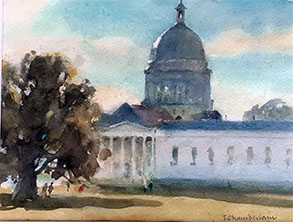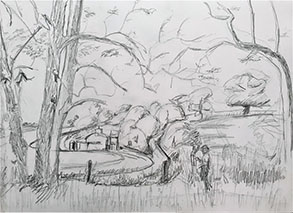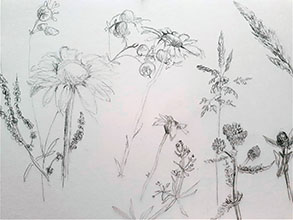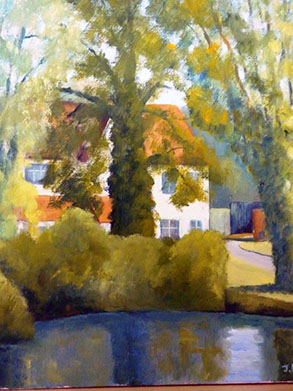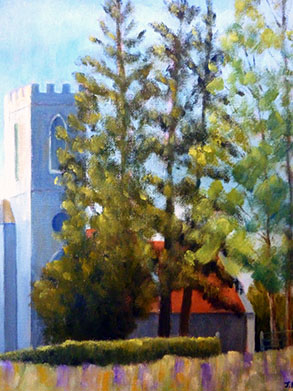 Saturday Life Workshops
WHY LIFE DRAWING AND PAINTING? – Some may say it is old fashioned, but practising Life Drawing enhances observation and accuracy. Interpreting the shape of the human body trains the artist to see almost every curve line and subtle undulation found in nature. The satisfaction of producing an acceptable image can be quite intense. It does not happen immediately and demands a great deal of practice to achieve.
Hertford Art Society runs Life Workshops in Cowbridge Halls, Hertford, SG14 1PG on the last Saturday of 9 months during the year. The only exception is the October Session which is sometimes changed when it coincides with the Members' Show. Although these are primarily run for Members we welcome enthusiastic visitors at £15.00 per session, this includes coffee, tea and biscuits, available all day. The sessions are untutored and last from 10.00am – 2.00pm with a short break midway. We work in in all mediums including prep work for sculpture. Bring whatever medium and equipment you require with you. The photographs below illustrate the exciting variety of work produced by the artists.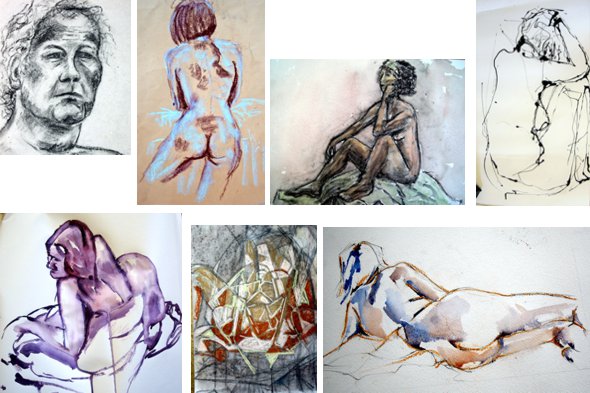 There are many different approaches to life drawing which become very obvious during the sessions. We are a very enthusiastic group of artists and in a relaxed atmosphere we learn from each other different skills and methods of working, as well as experimenting with different mediums etc. There are normally 2 models unless the group is small, when there is only one. We do not have a set programme of poses, but usually include short poses and longer poses for artists who wish to produce a more finished piece of work. So why not join us if you haven't already?
Workshops take place on the last Saturday of the month (except for October 2021) for nine months of the year. They do not take place in April, August and December due to the annual Open Exhibition and holiday periods.
Life Models Workshops within HAS Winter Programme for 2021 - 2022 - 10am - 2pm at Cowbridge Halls, Hertford, SG14 1PG
Saturday - 25th September 2021
Saturday - 23rd October 2021
Saturday - 27th November 2021
Saturday - 29th January 2022
Saturday - 26th February 2022
Saturday - 26th March 2022
Saturday - 28th May 2022
Saturday - 25th June 2022
Saturday - 30th July 2022
If you are interested please contact [email protected] for further details.
The Philosophical Painters Group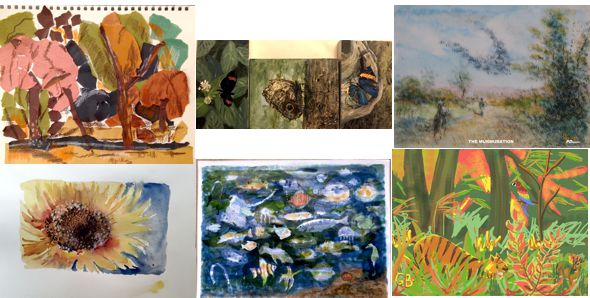 The Philosophical Painters Group (often referred to as the PP's ) Which I joined in 2011 was started by Stella Hunt with the idea of pushing the boundaries of the members work and hopefully breaking new ground by being inspired by each other and trying different techniques. The consequence of which would be improving our standard of work. The Philosophical element in the name reflects our ideas on the subject set, rather than the object(s).
When it started there was a mix of artists from Enfield area and Hertford Art Society but now the members are all members of Hertford Art Society. We keep the membership to approx. 16 as this means we have time to learn from one and other. We are given 2 weeks to think about and prepare between each meeting where we proceed to produce a painting. We meet for 3 hours on a Friday and at the end of each session we spend 30 mins looking at and discussing our piece of work. The following images were on the topic of "Patterns in Nature" and illustrate the broad range of ideas resulting from this initial theme.
Because Stella Hunt has found it more and more difficult to manage, we have become a loose collective, where we all take our turn, where we can, to help run the group.
Because of Lockdowns we have moved onto the internet with the same programme except once a fortnight we send our work to the designated member, who assembles them and sends the collection out to all members.
In the absence of a discussion, we send our comments over the internet so are still learning.
It has worked so well for all of us that it is the highlight each fortnight to receive the collection. June Pickard
Many Hertford Art Society Members work with other local groups and we hope to feature these in the future.
Society's aim
The Society's aim is to encourage interest in the visual arts and to provide opportunities to practice, study and exhibit art in Hertford and the surrounding area.
It is well regarded for the high standard of artworks on display at the annual Open Exhibition. Submissions are received from across Hertfordshire as well as other parts of the country.
Members work in a range of media and styles from traditional painting in oils, pastel, watercolours and acrylics to printmaking, collage, multi-media and digital – computer based imagery. Three dimensional work in wood, clay, stone and metal is also well represented.
This diversity and an approach to art which values traditional skills alongside contemporary art forms combine to make Hertford Art Society a leading light in the local art world.