Highlights of 2009-2010 Winter Programme
On one of the last evenings of our Winter Programme we enjoyed an illustrated talk and demonstration by Rodney Munday, a sculptor who lives and works in Hertfordshire and the Pyrenees in France. He showed slides of his work and the environments in which he works, in both England and France. He produces sculptures in bronze, bronze resin and stone resin on many representational subjects. This was followed by a demonstration during which he chatted and answered questions about his methods and productions of sculptures.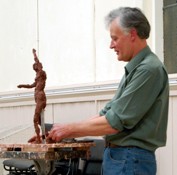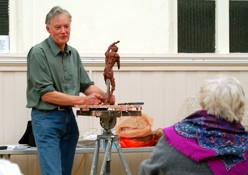 It was very enlighting on many fronts, starting with his technique of building a maquette in clay, to the processes involved in producing a large sculpture. The demonstration was of an idea for a figure of Noah cursing his sons, based on a poem which he had written and read to us before he started. By applying small amounts of clay onto an armature, miraculously a figure appeared before our eyes. When satisfied, he would enlarge the model to the size required ready for casting. He also explained the complications of casting his sculptures, many of which he undertakes himself. In all it was a fascinating and instructive evening.
Review of Open Exhibition – May 2010
"A stunning, beautiful, provocative and avant-garde collection" - "Individual and refreshing art" - "Inspiring" – "So glad I didn't miss this"
These were a few of the comments from visitors to the 58th Open Exhibition which took place during the first two weeks of May 2010. This year the Selection Committee was David Kerr, Elspeth Kemp, James Willis and John Spielman - 278 paintings, 31 sculptures, 3D and ceramics were displayed in The Cowbridge Halls – selected from submissions of over 500 works. In addition, over 14 paintings were displayed around Hertford. We would like to thank Dewing Designs, Hertfordshire Graphics, Jane Marples Florist, Vogue Hairdressers and The Woodstore for inviting us to display works in their windows. Thanks also to our sponsors, Sworders Fine Art Auctioneers, for displaying paintings in Hertford and at their showrooms in Stanstead Mountfitchet.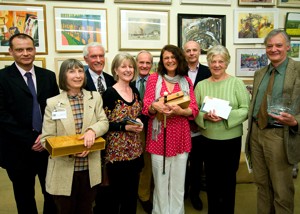 2010 Annual Open Exhibition
Running for two weeks each year, the Annual Open Exhibition is a highlight of Hertford's artistic life and attracts hundreds of visitors. This year's display featured paintings, collage, digital images, prints, sculpture and fused glass and visitors praised the high quality and great variety of exhibits.
Visitors are invited to vote for their favourite exhibit – hundreds of votes were cast and this year's winner of the Visitors Choice Prize was Deckchairs by Paul Swinge.
2010 prizewinners

The John Goss Prize for Best in Show
Sue Gay
'She tells her love'

Lady Laming Award for Abstract Art
Judith Moule
'Red Reef'

The Bill Dale Award
Maureen Batty
'White flowers with fruit and a blue bottle'

The Edward Mason Award – Best Watercolour
Margo Ward
'Gourd House'

The Mayor's Award – best 3D work
Rodney Munday
'St. George and the Dragon'

Visitors' Choice
Paul Swinge
'Deckchairs'
2009-2010 Critique Winners
From September each year Society Members and visitors enjoy a Programme of talks, critiques, demonstrations and workshops.
Critique winners of the 2009 – 2010 season as chosen by Members

Margaret Bennett
Winner Apr 09
View of North London from Mount View Road

Maureen Batty
Winner Sept 09 - Acrylic
Flowers, oranges and a blue bottle

Peter Buck
Winner Oct 09 - Watercolour
Glass Collection

Stella Green
Winner Nov 09 - Acrylic
Penny

John Scrope
Winner Jan 2010 - Acrylics
Interior with Apple


Stephen Lowe
Feb 10 winner - Acrylic
The Red Umbrella


Stella Green
Winner Mar 2010- Acrylic
Pots & Tulips
Waters Mural – The Society paints big…
… 18 metres long by 3 metres high to be exact. This was the size of the task that Hertford Art Society accepted when invited by Hertford Town Council and Hertford Civic Society to paint over part of the old Waters Garage hoardings.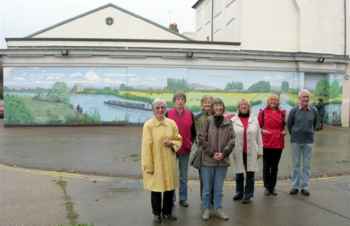 Marie Goldsmith, Brenda Reid, Pauline Dulin, Margo Ward, Sue Sanders, Yve Macartney, Geoff Bennett – Gillian Harman (not pictured) also worked on the mural
A landscape of Hertford was suggested and a panorama of Kingsmead and the River Lea was designed. The mural highlights the wildlife and activities of the river and towpath thus illustrating the importance of a Hertford asset that few recognise.
Over two months from the end of August 2009 a group of members volunteered their time to complete the mural. Numerous passers-by stopped to commend the work. Some took photographs of the mural and members painting. Lorry drivers hooted their horns and gave the thumbs-up as they drove past. We received congratulatory emails from Councillors, the Civic Society and the Town Clerk and The Hertfordshire Mercury twice reported on progress with photos in the local newspaper. A Hertford Forum website covered the topic with several comments from viewers – both good and bad. We definitely put Hertford Art Society on the map.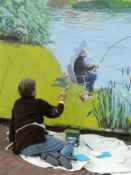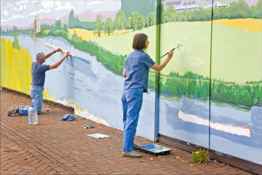 The result is not quite a Banksi effort and the style is naive but it definitely improves the previously brown wooden boards and cheers up the town. We are grateful to the Town Council for funding this project and all involved thoroughly enjoyed painting BIG.
12th Members' Show 2009
'Knockout!' so wrote a visitor in the book. Echoed by very many other visitors, the high standard and quality of work was outstanding. 68 members submitted framed paintings, work for the browser and greetings cards. Artworks ranged from exquisite botanical illustrations, figurative images, glorious landscapes and seascapes to abstracts which engaged the imagination. Set in the centre of Hertford, the show attracted hundreds of visitors over the weekend of 30th October to 1st November and, as an annual event, is one of the highlights in Hertford's calendar.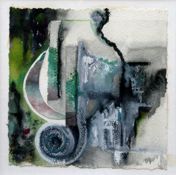 The John Godden Award for the best in Show chosen by the Members
"In the corner" by Sandra Edney Lynch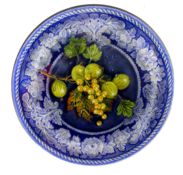 The Visitors' Choice Award
"Gooseberries" by Karen Murray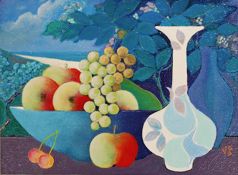 The May Bennett Award for the best Still Life
"Still Life" by Valentin Bezditko
Karen Murray's fine oil painting of 'Gooseberries' shows incredible detail in her work of a beautiful blue and white plate and a cluster of gooseberries. Even the tiny feet of the caterpillar can be seen.
Of the 289 visitors who voted at Hertford Art Society's Members Show Karen's painting received the most votes. Her reward is vouchers donated by Hertfordshire Graphics Ltd, Hertford's art shop.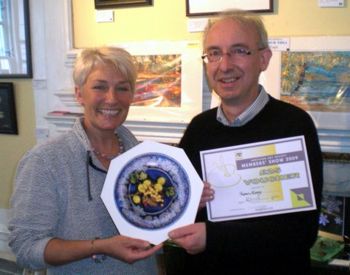 Karen Murray, Winner of Visitor's Choice, receives prize from
Rod Lewis of Hertfordshire Graphics
Enid Fairhead, Co-ordinator of the Members Show commented: "We are very grateful to Rod Lewis, Manager of Hertfordshire Graphics for his sponsorship of this prize. It is evident from the number of visitors who voted that the show continues to be a popular event in Hertford. Over 100 paintings of a high standard produced by Hertford Art Society members were on display."
MEMBERS' ART DISPLAY AT CONCERT OF ST JOHN'S PASSION 27th March 2010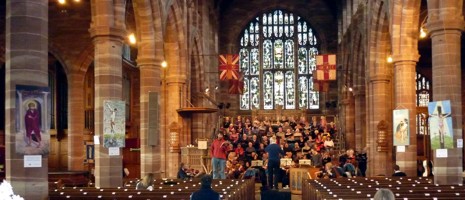 Earlier this year the Hertford Choral Society asked the Art Society if it would provide pictures to accompany their singing of J S Bach's Saint John's Passion at a concert in All Saints Church, Hertford. The Choral Society employ professional singers for the solo parts and a professional orchestra and invariably produce concerts of a very high standard. The use of a church as concert hall and, in this case, picture gallery, further enhances the audience's enjoyment.
| | | |
| --- | --- | --- |
| John Jarratt | Jean Holford | Brenda Reid |
John Jarratt: Peter denied again; and just then a cock crew
Jean Holford: Pilate washed his hands
Brenda Reid: The soldiers placed a plaited crown of thorns on his head, and robed him in a purple cloak.
Just before Easter – March 27th - while the orchestra and choir settled in their place, the concert audience was treated to a fine set of scenes representing the Passion, each painting depicting a different episode of the story.
| | | | |
| --- | --- | --- | --- |
| Geoff Bennett | June Pickard | Jim Hailey | Veronica Doran |
Geoff Bennett: There they crucified him, and with him two others
June Pickard: He bowed his head and gave up his spirit
Jim Hailey: Joseph of Arimathea and Nicodemus came and took the body away, wrapped in strips of linen cloth.
Veronica Doran: There was an earthquake, the rocks split, and the graves opened.
The paintings emphasised the drama of the Easter story and members of the audience were able to study the pictures at the interval and at the end of the performance. Tributes to the works on display flowed around, the vicar asked that the pictures stay up for the full Easter period, and both societies were delighted to have the opportunity to support each other's artistic endeavours.
Printmaking Workshop with Brian Maunders
Over forty artists braved the winter weather and attended Brian Maunders' Print- making Workshop at the end of January. Members had been asked to prepare a strong monochrome drawing to inspire their printmaking. After a short introduction, black ink was soon flowing on paper, card, and most members' hands. It was soon obvious that some members had done it before but the majority hadn't. Fortunately Brian, ably assisted by Mike Goring, was able to rush around from table to table and rescue the newcomers to this black art!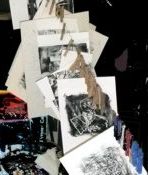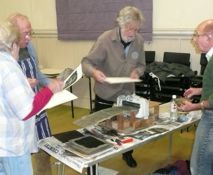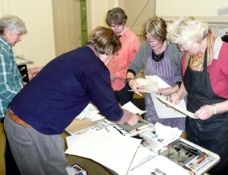 Three basic techniques were tried, the first method was monoprinting where paper was laid on an inked glass sheet and then an image was drawn, with interesting results when the paper was lifted. The second used a simple drawing with brush on a plain piece of lino. The ink could be manipulated with stiff card or tools. The last technique utilised a sheet of cardboard onto which a sketch was made, this was then cut in relief with a scalpel and inked. The latter two were taken to a vintage mangle to be pressed onto paper. These were then peeled apart to show the finished result.
Brian encouraged members to use results of this workshop creatively in future projects – there were certainly many exciting and dramatic prints and the evening was great fun.
Paint it like Piper
This year's winter programme included a couple of sessions looking at John Piper and his contemporaries, Ben Nicolson and Edward Bawden.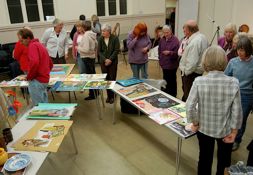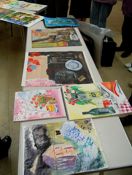 In the first session Michael Evans, a local art historian and teacher, painter and printmaker, gave an illustrated talk on Piper's changing styles and the influence on his work of Alfred Wallis. Michael also showed us prints of both his own work and those of Edward Bawden who's student he was.
The following week members were invited to 'paint it like Piper', from characteristic still lifes and church structures. Members tucked into the challenge with a gratifyingly wide array of weapons - paints, pastels, doilies (stencilling) and collages. The photographs illustrate the results of 2 hours messing about with scissors and stuff.