Hertford Art Society Members' Show 2020
This year our traditional autumn Members' Show will be held on-line, at this website, from 6 pm on Saturday 31st October 2020.
Most of the works will be for sale, direct from the artist. As well as the images the website will include a catalogue of the works and contact details of the artists.
Members' Show Gallery
Lockdown Diaries
Artworks and comments by Members of Hertford Art Society

2020 has been a memorable year. With the UK in lockdown from March due to Coronavirus Pandemic and the balance of the Winter and Summer Programmes 2020 of activities cancelled, leisure activities became restricted. Members of Hertford Art Society were invited to contribute photographs of artworks and comments to the Society's magazine in order to share their experiences. As things stand, it has been possible to launch the Winter Programme 2020-2021, with appropriate restrictions.
This is a selection of the work produced over the Spring and Summer by a number of our Members together with their comments on the impact of the lockdown.

47 image gallery, click here for more details.
London Road Underpass, Hertford Murals
by Members of Hertford Art Society - Formally opened 8th October 2020
Ten Hertford Art Society artists have helped the transformation into an art gallery of the London Road subway near the fire station in Hertford. Their pictures, considerably enlarged, line one side of the subway. This project supports the Hertfordshire Year of Culture 2020.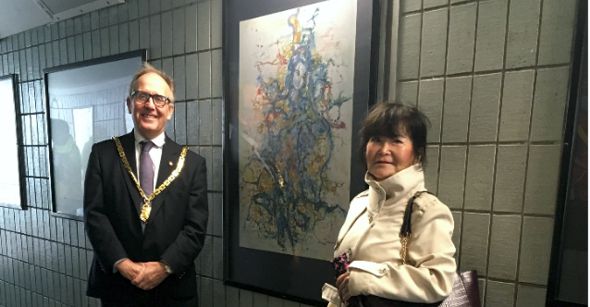 This mini-show was formally opened on 8th October by Hertford Mayor Bob Deering, seen here with Mitiko Murata and her picture 'Mother Earth.
The other artists and their pictures are:
Porto - Kathy Burman


Mother Earth - Mitiko Murata


The Mount - Diane Loan


Water Lily 3 - Sally Steele


Poppies - Lynne Lawrence


Calm Glade - Diane Warburton


Towards Ware - Chris Hewitt


Colourful Bird - Laura Blight


Venice - Oksana Melenevska


Relaxing - Angela Roberts

Congratulations to all ten artists.
Lining the wall opposite the HAS pictures are works by Alan Davie, an internationally acclaimed artist who for 50 years lived and worked at Rush Green, Hertford.
The refurbishment of Hertford's subways is part of a County Council led programme to encourage more walking around Hertford.
Pastel Demonstration by John Tookey
22nd September 2020
East Anglian artist John Tookey resides in the picturesque market town of Saffron Walden, Essex. John trained in Graphic Design and Fine Art at the Sir John Cass School of Art in London during the Sixties. He is justly famous for his dynamic, bold watercolours and pastels that sparkle with light. He has exhibited work with many prestigious galleries, is an author and tutor and a Member of the Pastel Society. John works in all mediums and trys to capture the essence of the subject rather than a very topographical likeness. He will frequently work on-site or from sketches completed at the scene, the effects of light and atmosphere on a subject particularly interest him.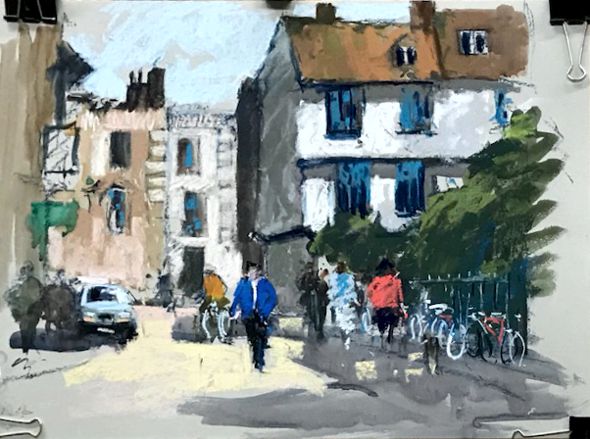 For full report, click here for more details.
Winter Programme 2020 - 2021
From September each year Society Members and visitors enjoy a Programme of talks, critiques, demonstrations and workshops.
The Society plans to start the Winter Programme from 8th September 2020 subject to a number of social distancing and precautionary measures in accordance with Government regulations. Chairs will be set out 1.5m apart and we will expect attendees to wear masks, make full use of sanitizers and avoid grouping. More precise guidelines will be published on our website and sent to Members nearer to the start date.
These sessions are on Tuesday evenings from 7.30pm to 9.30pm at Cowbridge Hall, Cowbridge, Hertford SG14 1PG. Approximately half the evenings in the Winter Programme are for Members to paint or draw either from still life arrangements or a life model. The remaining evenings are taken up with talks, critiques of paintings brought along by Members, demonstrations from a professional artist or workshops. The Programme for 2020 - 2021 may be subject to change at short notice, due to the current circumstances.
Visitors are welcome to enjoy the non-practical evenings (marked with an asterisk).
It is also hoped to restart our monthly Saturday Life Classes commencing 26th September 2020 and to hold a Members Show at the end of October (29th October - 1st November), subject to precautions and the prevailing situation.
Saturday Life Workshops
WHY LIFE DRAWING AND PAINTING? – Some may say it is old fashioned, but practising Life Drawing enhances observation and accuracy. Interpreting the shape of the human body trains the artist to see almost every curve line and subtle undulation found in nature. The satisfaction of producing an acceptable image can be quite intense. It does not happen immediately and demands a great deal of practice to achieve.
Hertford Art Society runs Life Workshops in Cowbridge Halls, Hertford, SG14 1PG on the last Saturday of 9 months during the year. Although these are primarily run for Members we welcome enthusiastic visitors at £17.00 per session (£9.00 per half day), this includes coffee, tea and biscuits, available all day. The sessions are untutored and last from 10.00am – 4.00pm with a break of 1hr at lunchtime. We work in in all mediums including prep work for sculpture. Bring whatever medium and equipment you require with you. The photographs below illustrate the exciting variety of work produced by the artists.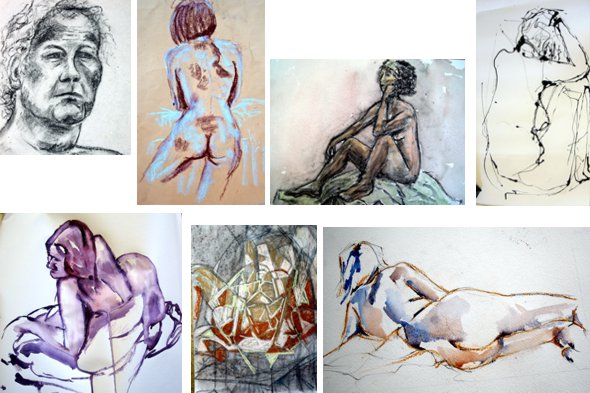 There are many different approaches to life drawing which become very obvious during the sessions. We are a very enthusiastic group artists and in a relaxed atmosphere we learn from each other different skills and methods of working, as well as experimenting with different mediums etc. There are normally 2 models unless the group is small, when there is only one. We do not have a set programme of poses, but usually include short poses, mostly in the morning and longer poses for artists who wish to produce a more finished piece of work. So why not join us if you haven't already.
Workshops take place on the last Saturday of the month for nine months of the year. They do not take place in April, August and December due to the annual Open Exhibition and holiday periods.
Life Models Workshops within HAS Winter Programme for 2020 - 2021
Saturday - 26th September 2020
Saturday - 24th October 2020
Saturday - 28th November 2020
Saturday - 30th January 2021
Saturday - 27th February 2021
Saturday - 27th March 2021
Saturday - 29th May 2021
Saturday - 26th June 2021
Saturday - 31st July 2021
If you are interested please contact workshops@hertfordartsociety.co.uk for further details.
Summer Programme 2020 - Cancelled
Following Government Guidelines (Issued on 22nd May 2020 which state that all public gatherings are prohibited by law, the Hertford Art Society Summer Programme 2020 has been cancelled.
To see Guidance, click here for more details
Should the Guidelines alter, it may be possible to reinstate events later in the Summer at which time a revised programme will be published.
The Society's Winter programme of Talks, Demonstrations and Workshops is scheduled to begin on Tuesday 8th September 2020 at Cowbridge Halls, Cowbridge, Hertford and it is hoped that it will be possible for this to commence from this date.
Please refer to this website www.hertfordartsociety.co.uk for updates.
28th May 2020
Demonstration by David Hyde - Landscape in loose watercolours
10th March 2020
David Hyde lives and works in St. Ives, Cambridgeshire. He has exhibited widely, demonstrated at national art shows and runs and teaches watercolour painting. For David to choose to do a demonstration in loose watercolour was exceedingly brave. Not least is the issue of drying but also the fact that David was working with his board upright on the easel. Normally he would work on a shallow slant. He opted for a snowy landscape of a bridge, river, trees, reeds and a couple of small figures. The photograph had been taken somewhere in Cambridgeshire and David had already stretched the paper and lightly drawn in the view. He used Bockingford watercolour paper which is his normal choice for demonstrations, Arches being his preference for commissions etc.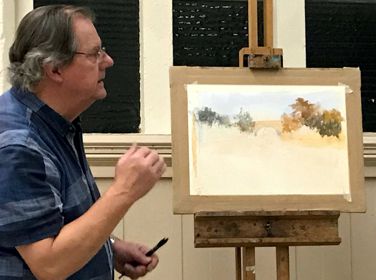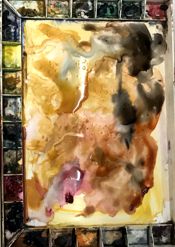 For full report, click here for more details.
Still Life Workshop inspired by Old Masters
With artist and author Susie Hodge - 25th February 2020
Susie Hodge MA FRSA is a UK author who has written over 100 books on art, art history, history and artistic techniques. Susie's other activities include lectures, talks and practical workshops, plus television and radio talks and documentaries about art. We were delighted to welcome her for this Workshop.
The theme for this evening was Still Life painting inspired by Old Masters and Susie illustrated her introduction with a series of paintings from the earliest still life images produced by Caravaggio in the 16th Century up to the early 20th Century - Cezanne and Van Gogh among others.
For full report, click here for more details.
Indian Classical Dancing
Workshop - Demonstration by Fabrizia Verrecchia - 18th February 2020
Fabrizia Verrecchia's love for dance began as a child attending Bharatanatyam classes at a Krishnamurti School in Southern India. Returning to England she continued her training and now teaches and performs this traditional dance form which originated in the Temples of Tamil Nadu over 2000 years ago, and alternates between:
pure dance - rhythmical footwork, intricate hand gestures, shaping the body into a symmetry of triangular lines and spaces, and
expressive dance - each hand gesture is given a meaning and facial expression portrays the lives and legends of Hindu deities.
For full report, click here for more details.
The Mayor's Portrait
Hertford Art Society artists invited to The Mayor's Parlour at Hertford Castle
7th February 2020
The longstanding tradition of Hertford Art Society painting the portrait of the Mayor of Hertford was upheld on 22nd October 2019 with the current Mayor, Rosemary Bolton agreeing to sit for the Society.
The session was well attended with many members, obviously well versed in the demands of painting the portrait of such an important local dignitary, quickly settling down to work.As this was a new experience for Mayor Rosemary Bolton the Society was delighted to receive her comments on how it felt to sit still for two hours whilst a group of artists worked away creating their masterpieces.
"Although I knew it was a tradition for the Mayor of Hertford to have their portrait painted by the Hertford Art Society, I was honoured and quite apprehensive to be invited to join them on a dark and damp evening in October.I had had a very busy day and was a little late and felt more than a little awkward. I don't like having my photo taken, the thought of being immortalised in paint was daunting.

However, I had nothing to worry about. The lovely Linda Radford (a former Mayor of Hertford and also a former Chairman of the Art Society) was there to help me, and everyone made me feel welcome.

It is an odd sensation sitting on a grand chair on a platform, dressed in full robes and chains, and having to sit still without moving or talking for 2 hours is an alien concept for me (I should apologise to anyone who has ever sat behind me in a concert or play!).

The Hertford Art Society artists are very talented, and I was in awe of their skills as I looked at how the works were progressing in the break. All the paintings and drawings were very different from each other, and it is interesting how perception differs between the different artists. I am looking forward to seeing the final results in due course.

Best wishes,
Rosemary Bolton"
Artists were invited to join the Mayor at Hertford Castle on the evening of 7th February and to bring along any finished paintings.The Mayor was delighted to view several finished portraits and selected two to keep - painted by Stephen Lowe and Ray Ward. Mayor Bolton was thanked for her hospitality and those artists present enjoyed the historic atmosphere of Hertford Castle on this occasion.
Seeing things differently
Workshop with Marianne Dorn - 28th January 2020
Participants were intrigued by the interesting list of materials required for this multi-station Workshop which was run by Member, Marianne Dorn. Three areas were set up, one with animal skulls, bones and animal figures (from Marianne's collection) and two with still life objects on fabric which had been chosen for their interesting shapes and forms. Marianne described the approach to each of these drawing tasks and, split into three groups, Members spent approximately 30 minutes on each. Fortunately, Marianne had provided notes on each and these are shown below together with images of some of the sketches and drawings which resulted from this very stimulating exercise. (Members who were unable to attend will be able to try out these drawing exercises from the notes.)
For full report, click here for more details.
Painting in Gouache - Demonstration by Paul Fennell
10th December 2019
Paul Fennell is a professional artist who teaches Watercolour, Gouache and Oil Painting, Mixed Media and Drawing Media, mainly adults and currently at Courtyard Arts among other venues. His influences include The Renaissance, Pre-Raphaelites, Abstract Expressionism, a rather intriguing mix.
Gouache is a little known medium, sometimes referred to as "Body Colour" and although a full range of colours is available as Gouache Paints, Paul achieves the same result by using an artists' quality Titanium White mixed with watercolour paints (in tubes) in his chosen colours. (He advises not to use Zinc White as this has poor coverage.) Rather than working light to dark, as in watercolours, gouache can be used rather like oils and acrylics, from darks to lights as it is an opaque medium.
For full report, click here for more details.
Mixed Media Workshop with artist Vanda Campbell
19nd November 2019
Before we actually got to the Art Workshop we were given a list of things that would be required for that evening: - Sketchbook with good quality paper - Watercolour paper - Watercolour paints - brushes several different sizes - palette or plate for mixing - water pot - kitchen roll and masking tape - water soluble pencils - two square pieces of sand paper - felt tip pens - normal pens - wax crayons - oil pastels - pencils - rubber - ruler - sharpener - water spritzer bottle - photographs of landscapes or views of choice plus small objects we might like to paint.
This made me wonder what we were going to achieve from such a variety of things to bring. Surprisingly, we used most or all of the above and to amazing results under the guidance and watchful eye of our guest artist teacher Vanda Campbell. Vanda is a Fine Art graduate with an MA in Applied Art and she loves to work in mixed media in a free style which was the main focus of the workshop.
For full report, click here for more details.
Painting the Mayor's Portrait
22nd October 2019
The longstanding tradition of Hertford Art Society painting the portrait of the Mayor of Hertford was upheld on Tuesday evening with current Mayor, Rosemary Bolton agreeing to sit for the Society.
The session was well attended with many members, obviously well versed in the demands of painting the portrait of such an important local dignitary, quickly settling down to work. I for one, as a novice portrait painter, found the task somewhat unnerving and I wondered how it felt to be the person forced to sit still for two hours whilst a group of artists worked away creating their masterpieces.
For full report, click here for more details.
22nd Members' Art Show & Sale
1st - 3rd November 2019
Our 22nd Members' Show attracted a good number of visitors, in spite of the poor weather and there were many comments on the variety and excellent quality of the artwork. There was great variety of paintings, in a range of media - something to suit every taste. 58 Members contributed 211 pieces of artwork and 3D, plus 3 browsers of unframed work and many cards.
The prizes this year were as follows:
The May Bennett Award for best Still Life went to Brenda Thompson for her acrylic painting, "Autumn Harvest of Gourds"
The Marie Goldsmith Award for service to the HAS went to Ray Ward for his watercolour painting, "River Lea, Bircherley Green".
The Enid Fairhead Award for the Members' choice went to Sandra Edney-Lynch for her oil and pastel painting "Quinbury with Snow".
The Visitors' Choice Award went to Shuli Han Dulley for her watercolour sheep dog portrait "Waiting for his Master".
This year we had no entries for the new prize, the First Time Exhibitor Award. Hopefully we can encourage some shyer artists to exhibit their work next year.
Finally, our thanks go to all those Members who worked hard for their Society's Show, whether setting up or dismantling, stewarding or making teas (and cakes!). This is a show which involves a great many members in its production. Once again, it was a great success and provided a vibrant and exciting show for the many visitors who called into Cowbridge Halls over the weekend.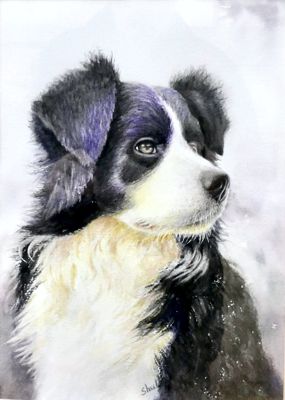 The Visitors' Choice Award:
'Waiting for his Master' byShuli Han Dulley - Watercolour.

The May Bennett Annual Award for the best still life:
'Autumn Harvest of Gourds' by Brenda Thompson - Acrylic.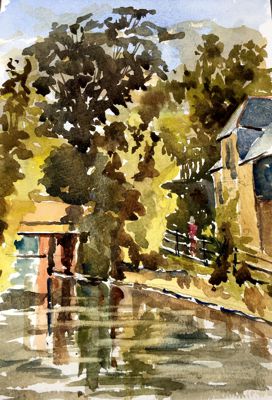 The Marie Goldsmith Annual Award:
'River Lea, Bircherley Green' by Ray Ward - Watercolour.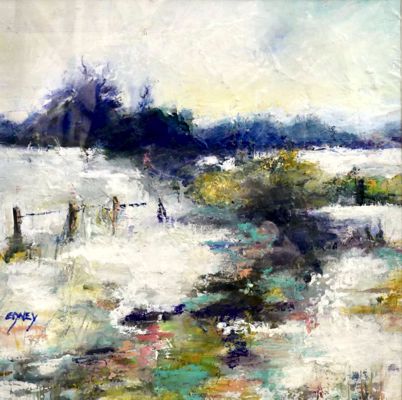 The Enid Fairhead Award:
'Quinbury with Snow' by Sandra Edney-Lynch - Oil and pastel.
The Joy of the Unexpected
Printmaking workshop with Jude O'Sullivan
15th October 2019
Jude O'Sullivan's knowledge of printmaking is extensive. Her background is in design and she began her career in advertising and as a freelance graphic designer. She has 25 years plus experience in teaching and was formerly Head of Art at Oaklands, St. Albans. Luckily for us she moved to Hertford and is still teaching classes and workshops.
For full report, click here for more details.
Print Workshop at Hertford Museum
25th September 2019
Hertford Museum sponsor practical arts workshops for the general public and these are tutored by Hertford Art Society Members in their well-appointed studio at 18 Bull Plain, Hertford SG14 1DT. September was print time and the workshop was run by artist Geoff Bennett. Attendees got a brief introduction to the prints held by the museum and were then invited to look at the displayed exhibits for likely subjects to print. They were shown how to draw their chosen subjects onto polystyrene sheets, creating indentations similar to gouges in a woodcut or linocut. They rolled printing ink onto the polystyrene images, to produce a print plate able to create good looking prints.
For full report, click here for more details.
Summer Sketching Evenings 2019
The 2019 Summer Evening Open-Air Sketching Programme opened on 21st May with a visit to an indoor venue. Hertford Art Society Members were invited once again to sketch at one of the Hertford Choral Society's rehearsal evenings. This was an evening full of music and movement and was greatly enjoyed.
The following week saw us enjoying the bright evening sunshine on Hartham Common and the Folly Allotments. This particular evening turned out to be probably the best evening weather of the Programme.
Painting the villages of Bayford and Brickendon on 4th May was disappointingly cloudy, and the following week was no better at Sawbridgeworth Maltings with only 4 Members attending. However, the painting weekend at Aldeburgh on 7th to 9th June was enjoyed by about 19 Members.
For full report, click here for more details.
Pastel Demonstration and Workshop with Artist, Jan Munro
17th September 2019
Jan Munro is a Member of the Pastel Society, has won many awards for her contemporary paintings and has recently exhibited at the Mall Galleries. She paints in pastels, watercolour and acrylics and runs workshops and classes.
Jan brought examples of her vibrant work, sketch books, irresistible cards and an array of pastels to make your mouth water.
The evening began with a quick and lively still life demonstration on Sennelier pastel card. This 400gsm ph neutral board has a slightly abrasive fine tooth surface. Jan much prefers this to regular pastel paper.
For full report, click here for more details.
Encaustic Art - Demonstration by Phil Madley
10th September 2019
Phil Madley is an experienced graphic artist and photographer and has developed his own style of working with encaustic wax. Encaustic painting, also known as hot wax painting, involves using heated beeswax to which colored pigments are added. The liquid or paste is then applied to a surface using a small iron or other heated tools. He brought along various examples together with the kit needed to demonstrate this unique medium.
Phil explained that the ancient Egyptians had used beeswax and minerals with hot tools to decorate objects and tombs.
For full report, click here for more details.
HERTFORD ART SOCIETY OPEN EXHIBITION
May 5th to 18th 2019
"Wonderful Exhibition - never disappoints!!" "Some spooky things here" "Always a good variety & high Standard. It's a joy to see." "Brilliant - so many styles." "Fantastic artwork, such a high standard." "Really impressive collection of works. Great Show. Thanks." "Artist talents alive and well in Hertford. Glad I made it over from the Isle of Wight."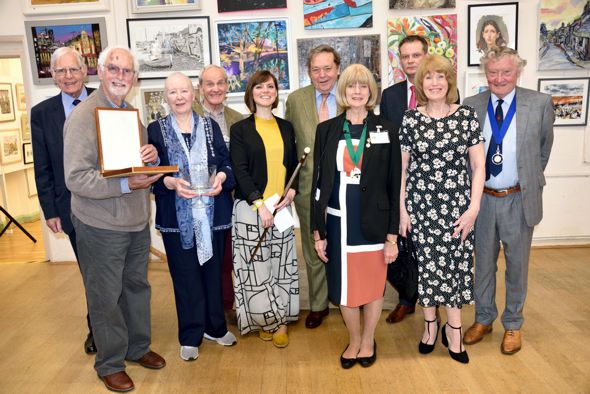 left to right: Lord Laming, Bert Wright, June Pickard, Gerald Dale, Nicola Dobrowolski, Marquess of Salisbury, Linda Radford, Craig Morton, Kathy Burman, Peter Ruffles, Deputy Mayor of Hertford.