Summer Programme
Every summer following the indoor Winter Programme and the Open Exhibition, Hertford Art Society Members enjoy painting and sketching out of doors on Tuesday evenings at various venues in the Hertford Area.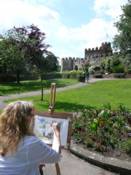 Painting in the grounds of Hertford Castle
Any local artists from the villages or areas to be visited are welcome to come along for the outdoor painting sessions etc. Parish dignitaries or councillors are also invited to join Members socially later.
July
18th Private function for Members only - Walkern Hall Estate, Nr Walkern SG2 7JA (by kind invitation of Mr & Mrs David de Boinville). See www.walkernhall.co.uk and afterwards at White Lion, Walkern, SG2 7PA
25th Carnwell Farm, Blackridge Lane, Off Widford Hill Rd (B1004) Much Hadham SG10 6BB (by kind invitation of Rodney Munday). Old barns, carts etc and afterwards at The Bull, Much Hadham SG10 6BU
*29th Saturday, life workshop. June Pickard.
August
1st Newgate Street Village & Ponsbourne Park, Nr. Cuffley and afterwards at Coach & Horses, Newgate Street SG13 8RA
8th Ware Town & River Lea and afterwards at Saracen's Head SG12 9BS
15th Hertford - Port Hill/The Warren/Hartham Common area and afterwards Private function for Members.
Painting weekend 8th, 9th & 10th September
Painting weekend for Members based at Rye, Sussex to paint the town and harbour. Organised by Stephen Lowe. Members to organise their own travel and accommodation. For more details contact Stephen on 01438 860363 / stephenwilliamlowe@gmail.com
Programmes