Prize Winners for Hertford Art Society 65th Open Exhibition - April 30th - May 13th 2017
Award Winners
The John Goss Prize is awarded by Judges to the painting considered to be the best in show. This year it has been awarded to Roger Dellar ROI RI PS for his picture 'Sunday Morning, Wexford'.
The Lady Laming Award for Abstract Art is awarded for the best abstract picture in the exhibition. This has been awarded to Stella Green for her picture 'Storm over St. Ives'.
The Bill Dale Award is for the picture deemed by the Judges as showing the most merit chosen from among works by Members who regularly support the whole of the Society's activities. The picture is by T John Jarratt for his picture 'Late Snow near Ayot St. Lawrence'.
The Mayor's Award is presented for the best 3D work. This year's award goes to Nigel Earle for 'After GR'.
The Edward Mason Brushes Award, as deemed by the Judges, is for the best watercolour painting in the exhibition. This has been awarded to Trevor Chamberlain ROI, RSMA for his watercolour 'Evening Shade, Archers Green'.
Visitors' Choice Award - Trevor Chamberlain, ROI, RSMA 'Rainclouds over Malden' Watercolour.

John Goss Prize for Best in Show,
Roger Dellar ROI RI PS,
'Sunday Morning, Wexford'.

Lady Laming Award for Abstract Art,
Stella Green,
' Storm over St. Ives'.

Bill Dale Award,
John Jarratt,
'Late Snow near Ayot St. Lawrence'.

The Mayor's Award – best 3D work,
Nigel Earle,
' After GR'.

The Edward Mason Award – Best Watercolour,
Trevor Chamberlain ROI RSMA,
'Evening Shade, Archers Green'.

Visitors' Choice Award,
Trevor Chamberlain, ROI, RSMA
'Rainclouds over Malden' Watercolour.
2017 Hertford Art Society Open Exhibition Review
I have to say that I am totally awe inspired as to how people can find the words to form a review of an exhibition. With so many varied and intriguing pictures to look at and then somehow describe them will always amaze me. So when I was asked to write a review of the 2017 Open Exhibition I was daunted but definitely up for the challenge.
On thinking how to start I decided that the best way was to be as if entering the exhibition and ambling around as I would if just viewing.
On entry to the exhibition I noticed straight away "The Bubbles" by Sharon Wright, this item brought on great feelings of serenity and calm. The colours were moderate and the subject thought provoking, as well as very well executed. As I continued to shuffle around the pictures I was very impressed with the overall standard, as always. The mix of colour, shape and form was mind boggling.
Next to take my notice was "Holkham Bay, Norfolk" by John Rhoda. He had submitted two pictures in this style, which were very eye catching. These pictures brought to mind a likeness to that of Edward Seago, with its bright, high contrasting colours and very relaxed and free brushstrokes. Then not far from John's picture I found Gillian Flack's "French Farmhouse" which just oozed a wave of Mediterranean warmth. It provoked thoughts of eating French bread and drinking wine in the sun. The colours were harmonised and subtle and pleasant to look at.
Intriguing additions to the exhibition were three entries by Paul David Bell, "Alcalali", "Jalon Church" and "Lafranca", all of which produced memories for me of works by Paul Gauguin, with their use of bright reds and oranges contrasting with the different hues of green all composed around large areas of light and dark. Continuing on as I moved around the screens I immediately noticed "New York", by Carol Mountford, a well-produced picture that contained lots of colour, busy movement and imaginative thought provocation; typical of a busy city centre, all set in a semi abstract format that was none too heavy on the imagination.
Moving round to the large wall I saw another, very atmospheric John Rhoda picture, "Setting Sail, Snettisham, Norfolk. What an atmosphere, I felt as if I were to get soaking wet at any moment. I looked forward to entering the rear room where yet again there were a fine selection of exhibits. Immediately I took a shine to Anne McCormack's, "Foreign Affairs". Although the title sounded formal, the composition and style were definitely relaxed and pleasing to the eye. I almost cleaned my glasses as if mistaking them for producing a subtle image.
It was a joy to see Craig Alan Lee's, "Spring is Near" this simple yet effective picture brought out all the pleasing colours of spring, in a nice simple format. It was becoming very obvious that simplicity in art can produce some of the best works. On seeing "Sunlit Harbour" by Ronald H. Johnson I felt as if I wanted to don my sun hat and sunglasses and kick my shoes off, because of the warming seaside feeling it portrayed, nicely bright and cheerful.
Denise Allen has entered a totally colourful picture with "Cosmic". This picture draws the eye into a swirling cosmos of light and colour that keeps one affixed for a long time. This style of picture is fast becoming a must have and always draws attention. The picture "Urban Dusk" once again showed the keen and inventive mind of Kathy Burman, with meticulous attention to detail and a corresponding view to colours and composition. Full of hectic urban life.
John Killens, "Shed with the Blue Window" showed a mix of detail and impressionism, again a picture that required some serious studying. I then came across a very surprised rabbit that looked as surprised as I did, and then he gave me that steely look with just a glint of mischief and I knew straight away we were friends, lovely picture by Martin Payne, "Caught in the Headlights".
The next works to take my attention were the two pictures by Anthony Parke – "The Jewels of Ms Kingfisher, Preened" and "The Strange Face of Mr Owl in Delightful Flight". These were very precise and the colours intense but so realistic they could be mistaken for photographs. The amount of work put into these pictures must have been enormous. I next spotted the detailed and what seemed the most contentious picture, that of "Coke" by Brian Young, I thought this a masterful piece of art work in keeping with modern poster style pictures. It would appear that some visitors, though very, very few, did not think this picture appropriate. All I ask is – in the art world, what is appropriate?
I would like to touch on the abstract exhibits. These are not my forte, but there are some that do take my notice. "Forest Floor" by Malini Croxson was a fine example of abstract art being understandable to the ordinary person. It was bright and colourful with the titles meaning being in plain sight and an enjoyment to behold. On the other hand there is Jean Noble's, "Spirit of Autumn". One had to use one's imagination and back this with the wonderful autumnal colours and behold a view which did appear though the mists of an autumn day.
I must touch on the 3D collection, as is good to see, the numbers submitted were up on last year and the standard is still persistently high. The two items that took my eye were "The Zebra Crossing" by Maria-Luisa Wilkings, this is a follow on from last year's entry and very joyful to look at and admire. Also, of interest was "Dancing Smoke (Indiana Limestone)" by Mary Spencer, impression giving forms of fluid movement and sweeping shapes, very pleasing.
The prize winners were true to form and represented the best of the forms and styles submitted. Well done to those winners; Roger Dellar, Stella Green, T. John Jarrett, Nigel Earle and Trevor Chamberlain.
In conclusion this was yet again a very successfully arranged and organised exhibition (well done Michael Radley) that was full of variation, colour, size and subjects. A delight to see, perhaps it would be even more pleasing to see some new names appearing in future catalogues, to add more spice to this already "spicy" exhibition.
Paul D. Swinge
Hertford Art Society 64th Open Exhibition 2016 - May 1st - 14th
Award Winners
The John Goss Prize for the painting the judges considered best in show - 'Hydrangea', Stella Green.
The Lady Laming Award for Abstract Art - 'River Bank', David Quantrill.
The Bill Dale Award is chosen from works by Members who regularly support the whole of the Society's activities - 'Old Bluecoats School Hall', Trevor Chamberlain.
The Mayor's Award for the best 3D work - 'Queue of Life, Bus Stand 7 figures 7 stories', Maria-Luisa Wilkings.
The Edward Mason Brushes Award for the best watercolour - 'Instant Colour', Anne McCormack RI, SWA.
Visitors' Choice Award - 'Show me the way to go home', Jill Rolfe.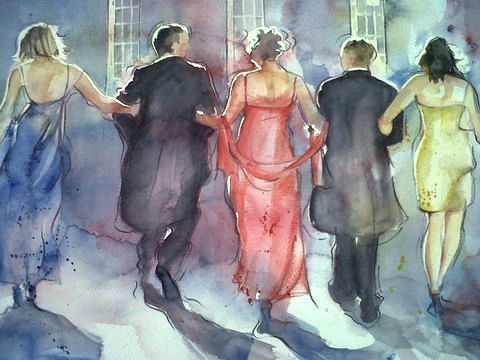 Visitors' Choice Award
Show me the way to go home by Jill Rolfe - Watercolour
The Exhibition was decidedly Representational this year although there are some abstracts and near abstracts but they are well dotted around.
I love 'kitchen-sink' type art. Top for me was 'Broken Road' by Andrew Naish a close-up of decaying double yellow lines with damaged kerbstones, pitted tarmac, all blues and dull ochres. Yummy! Other delights were John Hardy's steam-engined 'Country Terminus' and the vessel 'P.S.Waverley' by Bill Dean.
I also enjoy striking pictures, ones that are colourful, clever, masterful or even just prettier. My visitor's vote was , 'Down to the Sea, St Ives' by Gillian Flack. Wonderful, gentle colouration in yellows, oranges, palest greens balanced by delicate purple, blue and brown shadows.
Then 'Holkham Beach' by Daniel Hutchings, 'Fish Restaurant' by Roger Dellar, Trevor Chamberlain's 'Old Bluecoat School Hall', a lovely evocation of evening light. The simplicity of fine pen work 'Olive Tree' by Chris Hewitt stood out as restful and delightful. These five high on my Best of Show list.
I find abstracts rather difficult. A couple, very clever in their execution, seemed quite cold to me. More to my taste are semi-abstracts like Terry Bedford's 'The Gate' a Cezanne-ish park scene with a convoluted orange gate to one side. Was it there or not? A semi-abstract sculpture by Heather Jukes called 'Mother and Child', showed a curled female figure with a Henry Moore hole in the centre containing a small child figure with a hole and an even tinier figure within that. Thought provoking. In the 3D works there are a number of ceramic vases and plates beautifully made and finished. 'Purple Vase' a real tour-de-force, brightly coloured in purples, greens and pinks with added flowers, some laid on the surface others sat at the end of deep blue stems, painted leaves and birds. Beautifully made wooden objects, in particular from Dr Waring Robinson whose, 'Flower Stand Mahogany' was the strangest piece of work I have seen for a long time and displaying the highest craft skills.
The Mayor's Award for 3D work went to 'Queue of Life', a bus stand and seven figures. Separate pieces arranged on pavement plus tiny booklets with each story. I couldn't help thinking 'what about the dusting!'
A couple of odd items. Firstly Richard Saunder's 'My Dear Watson'. Surreal in every aspect, a nightmarish, surreal scene with stars, brain coral, bones with blood and stuff, wisps of blue ectoplasm! In the 3D section two tiny little perspex boxes by Diane Loan contained musicians and instruments – 'Fab 4' and a golfer with bag – 'Fore' neatly made from tiny electronic components.
The Open Exhibition was up to the usual high standard and I could happily describe the whole thing but space is short.
The Exhibition results, as always, from the hard work of many members over several preceding days. LOTS of thanks to you all.
T John Jarratt.
East Herts Decorative and Fine Arts Society
For the last five years sponsorship of the award judged to be the best piece of 3D work at the Open Exhibition has been provided by EHDFAS – East Herts Decorative and Fine Arts.
The 2016 winner was "Queue of Life" Bus Stand - 7 Figures 7 Stories by Maria-Luisa Wilkings. Actually it's 8 figures, I think Maria got carried away when she was submitting her figures. Each one comes with a short back-story documented in a mini-booklet accompanying the figure. Their future stories have yet to unravel: Maria says we may well be seeing what happens to at least some of them at a future exhibition. This saga could run and run.
EHDFAS Members enjoy monthly talks at the Spotlight Centre in Broxbourne on a wide range of arts subjects well beyond the decorative and fine. Among other things we also go on visits to outstanding buildings and galleries, hold Special Interest days and sponsor Young Art in local schools. Our most recent success has been this batik abstract ('Lollipops') entered by a 14 year old Sele School pupil into a National competition where the subject was 'Edibles'. It won first prize in the 14-16 year age group.
Several members of the Hertford Art Society are members of EHDFAS. For more information on EHDFAS please visit their website.
Annual Open Exhibition Reviews
Open Exhibition Awards
We are grateful to our Sponsors for their Awards.
Each year the following Prizes are awarded:
The John Goss Award for the Best in Show, sponsored by Sworder Auctioneers of Fine Art.
Lady Laming Award for Best Abstract work.
Bill Dale Award, Best Work by an active Member.
The Mayor's Award, for the best 3D Work, sponsored by Hertford's Art Shop, Hertfordshire Graphics.
The Edward Mason Prize for the Best Water Colour, donated by Edward W Mason Ltd, Brush Makers.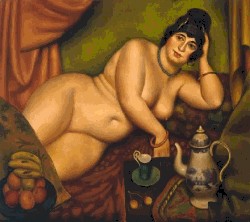 "The Queen of Sheba" by Mark Gertler
In 1963 the Hertford Art Society sold a large nude painting "The Queen of Sheba" by Mark Gertler, to the Tate Gallery.
Background
The Open Exhibition is a celebrated part of the Hertfordshire art scene. Quality is maintained by a panel of three independent judges selecting from the wide range of more than 500 artworks presented by artists both amateur and professional. About half of these are accepted and shown. A number of major prizes are generously awarded by our sponsors.
The exhibition has a national reputation for showing exciting collectable artwork with many buyers returning each year to extend their investment in art.
This prestigious exhibition runs for two weeks at the beginning of May with Private Viewings, by invitation only, for collectors and patrons prior to opening to the public.
A Members' folio illustrates more about the work of our Members, and we are pleased to take details of commissioned works and to put buyers in touch with their favoured artists.