Pictures at an Exhibition - 17th April 2011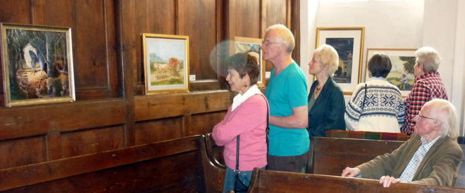 The Art Society was asked by the Hertford Music Club if it would like to illustrate Moussorgsky's Pictures at an Exhibition for a forthcoming concert. This was a challenge we were very happy to accept. The venue for the concert was the Friends' Meeting House in Hertford, the oldest Quaker House in the world. Its venerable wood panel walls provided a fine backdrop to the 10 pictures created by our members to illustrate Moussorgsky's music.
| | | |
| --- | --- | --- |
| John Jarratt | Marie Goldsmith | Maureen Batty |
John Jarratt: The cabin on the legs of chickens
Marie Goldsmith: Limoges Market
Maureen Batty: The Great Gate of Kiev
The concert was given by Alexander Ardakov, born in Samara, graduate of the Moscow Conservatoire, prizewinner at the Viotti International competition, Italy and currently Professor of Piano at Trinity College of Music, London. He can now add Hertford to this glittering career, the icing on the cake.
| | | | |
| --- | --- | --- | --- |
| Jim Haley | Janet Benge | Margo Ward | Paul Swinge |
Jim Haley: Bydlo – A cart with huge wheels drawn by a couple of oxen
Janet Benge: TheTuileries An avenue in the garden of the Tuileries
Margo Ward: Catacombs
Paul Swinge: Samual Goldenberg and Schmuyle - Two Jews
Mr Ardakov gave us a flawless performance of works by Tchaikovsky, Chopin, Liszt and Scriabin as well as the Moussorgsky piece with which he ended the concert. As the music swirled around the Friends' Meeting House we were able to rest our eyes on splendid pictures from Veronica Shaw, Brenda Reid, John Jarratt, Jim Hailey, Maria Goldsmith, Maureen Batty, John Scrope, Janet Benge, Paul Swinge and Margo Ward.
| | | |
| --- | --- | --- |
| Brenda Reid | Veronica Shaw | |
Brenda Reid: Ballet of the Unhatched Chicks
Veronica Shaw: Gnomus
My thanks to them and to the Hertford Music Club for the opportunity to put on a combined event that added to the Hertford cultural scene.
2010-2011 Critique Winners
Critique winners of the 2010 – 2011 season as chosen by Members

John Jarratt
Winner Apr 2010
Across the River Blyth to Walberswick - Oils

Peter Kelly
Winner Sep 2010
Rainy Day - Pastel

Celia Sanders
Winner Oct 2010
Summer Meadow - Pastel

Stella Green
Winner Nov 2010
Sarah - Acrylic

Ray Ward
Joint Crit Winner Jan 2011
Autumn Woodland - Pastel

Maureen Batty
Joint Crit Winner Jan 2011
Still life with red flowers - Mixed Media

Les Smith
Winner Feb 2011
Dell Quay, Chichester Harbour - Oil

Bill Dean
Winner Mar 2011
Borough Market Chefs - Oil
13th Members' Show 2010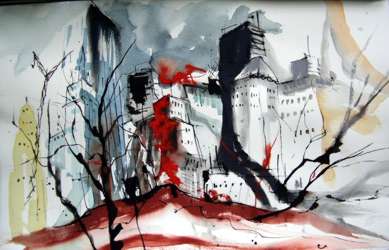 VISITORS' CHOICE AWARD
won by Carol Mountford for 'View from Central Park , New York '.
The 13th Members' Show – 29th – 30th October 2010 The 13th was lucky! The weather was kind and John Moss's cheerful music in the foyer welcomed about 400 visitors over the weekend, including our wheelchair friends from the St Albans Resource Centre and the Mayor and her companion. Once again, many were the appreciative comments on the high standard. Everything was hung, everyone had a chance and sales were the highest ever.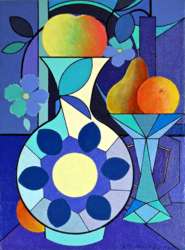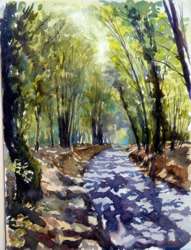 JOHN GODDEN AWARD - for Members' Choice
a tied win by Ray Ward for 'Intriguing Shadows' and Valentin Bezditko for 'Still Life'.
We presented 3D for the first time and thanks to Mark Humphrey, kindly lending us his very neat slim stands, we were able to display 3 pieces in our small space and two on the window sills. It certainly added a new dimension to the whole show. Additionally, there was a colourful range of greetings cards for sale which were exceedingly popular.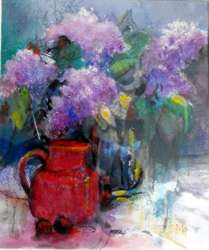 MAY BENNETT AWARD - for the Best Still Life
won by Marianne Handford for 'Lilac'.
AWARDS
The John Godden Award for the best in Show chosen by the Members, donated by the Godden family - won jointly by: Still Life by Valentin Bezditko and Intriguing Shadows by Ray Ward.
The Visitors' Choice Award supported by Hertford's Art Shop, Hertfordshire Graphics - won by View from Central Park NY by Carol Mountford.
The May Bennett Award for the best Still Life, donated by the Bennett family - won by Lilac by Marianne Handford.
The Most Intriguing/Innovative Artwork - a free website design & hosting for 1 year, donated by Mark Ely of SG7.biz - won by The Cruise by Dorothy Day.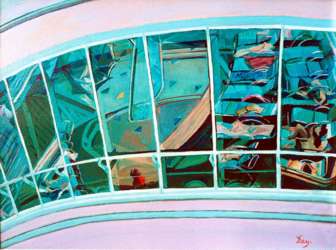 MARK ELY AWARD - for the most innovative/intriguing work.
won by Dorothy Day for 'The Cruise'.
Review of 59th Open Exhibition - 1st-14th May 2011 - The Hertford Art Society puts on another outstanding Exhibition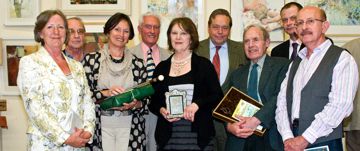 From left to right: Diana Dale: sponsor/donor of the Bill Dale Award; Glanfyll Lewis: Award winner for best Abstract; Jean Noble: Award winner, John Goss award for Best in Exhibition; Geoff Bennett: Chairman of HAS; Janet Benge: Award winner, best Member's submission; Lord Salisbury: President of HAS; Ronald Maddox: Award winner, best Watercolour; Craig Morton: Manager of Edward Mason Ltd, sponsor/donor of award for best Watercolour; Emanuel Pitsiladis: Award winner, Mayor of Hertford Award for best 3D work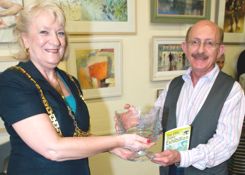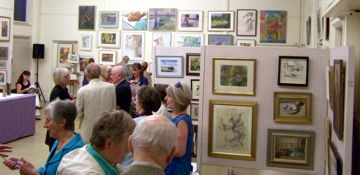 Left: Mayor of Hertford, Mrs Brenda Haddock presenting 3D prize to Emmanuel Pitsiladis
The Hertford Art Society Open Exhibition is widely considered to be one of the best showcases for both amateur and professional artists outside London. This year, the 59th year of the exhibition, was no exception. Every year there are over 500 submissions from a wide geographical area, not just Hertfordshire, from which only some 250 are selected. Selection is by an independent panel of judges, from both 2D and 3D works of art, in the full range of recognised contemporary media including oils, acrylic, watercolour, gouache, pastel, printmaking, linocuts, sculpture, pottery etc. Prospective buyers have the chance to purchase, at reasonable prices, works by many nationally and internationally recognised artists who regularly show at this exhibition.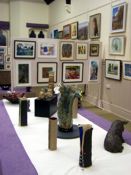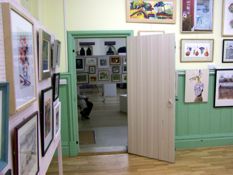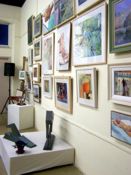 Five awards are given and the winning artworks are displayed with due prominence in the exhibition:
The John Goss Prize, awarded to the picture considered by the judges to be the 'best in show' was this year won by; Jean Noble for her picture 'Dockside' (acrylic);
The Mayor of Hertford's Award for the best 3D work was won by Emmanuel Pitsiladis for his work 'Aphrodite de Mylo' (stoneware);
The Lady Laming Award for abstract art was won by; Glanfyll Lewis for his picture 'Dividing Space' (the first time digital art has won an award in this exhibition);
The Bill Dale Award is for Hertford Art Society members only and was this year won by Janet Benge for her picture 'A Frenzy of Flowers' (acrylic and pencil)
The Edward Mason Award for the most outstanding watercolour was won by Ronald Maddox PRI HonRWS HonRBA for his picture 'Landforms, Barton Hills'.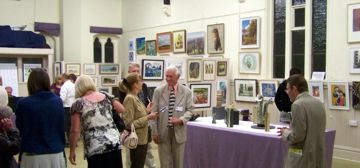 The Cowbridge Halls is an excellent space for an exhibition such as this, and one never fails to be pleasantly surprised by the wealth of talent on display, and this year's successful submissions did not disappoint. The paintings are always sensitively presented, and the first impression on entering the hall is of spaciousness and calm. There is no indication of the frenzy of activity and hard work that the organisers and their helpers have put in to make this show the success that it is.
Art at the Castle – 4th July 2010
Hertford Town Council invited Hertford Art Society to take part in an Open Day at Hertford Castle on 4th July. Seven of the Society's members displayed artworks in the Conservatory which provided a delightful, bright environment for an exhibition of paintings, prints, collage, ceramics and sculpture. Exhibitors were Maureen Batty, Kathy Burman, Paul Christie, Stella Hunt, Emmanuel Pitsiladis, Brian Young and Stephen Lowe, who gave two demonstrations of painting in acrylics.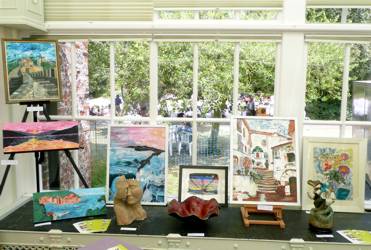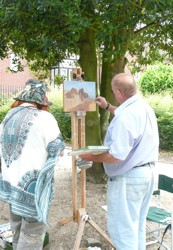 On a beautiful summer afternoon visitors also enjoyed an open air concert by the Richard Hale School band and a Teddy Bear's Picnic for younger visitors.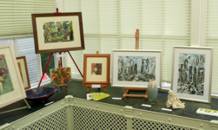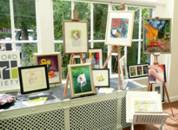 Summer Sketching Evenings 2011
The 2011 Programme of sketching outdoors begins on 24th May. Members usually meet at around 7.00pm (or beforehand by private arrangement) on Tuesday evenings for sketching & painting, then gather socially in the suggested public house when the light fails. Any local artists from these villages or areas are welcome to come along for the outdoor painting sessions etc.
Summer Programme 2011 (pdf) - click here for more details.
Tuesday sketching evenings 2010
British weather being what it is, each Tuesday's trip out to sketch or paint is always going to be problematical. In 2010 we didn't fare too badly although warm jackets were essential on a couple of occasions. The first Tuesday session was at Chapmore End Pond and it was a little bleak – necessitating a fairly swift departure for the pub. I found myself alone on the Ware riverside session and had nearly finished my pen and wash sketch when a bird, obviously an art critic, relieved itself on the picture. So it's not just weather to watch out for. Rain, whilst completing my ink and watercolour sketch at Roydon, added a delightful texture to the painted areas!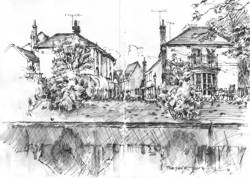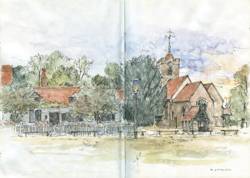 Generally we find it best to look around quickly and then settle down in what may not be the very best position but given time and light constraints drawing anything is better than doing nothing. The recycled Maltings buildings at Sawbridgeworth was a lucky find for me with my interest in old buildings and the way light and shadows fall. Northaw Village, however, was just a view down a road, adequate but really more an exercise than a work of art.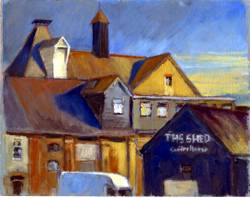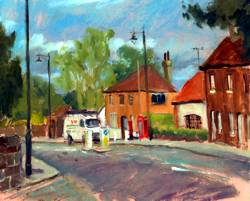 | | |
| --- | --- |
| I was most impressed that evening by a beautiful little watercolour that Ray Ward had produced of a gate post beneath some trees at the edge of an unremarkable road. | |
| | |
| --- | --- |
| | Equally, when doing oil sketches of the same country view at Aston as Andy I was delighted by how well he had captured the essence of the scene compared with how badly I had. |
| | |
| --- | --- |
| Being a group in more or less the same area can be a very useful learning time. - John Jarratt | |
Work from the sketchbooks of John Jarratt, Andy Clarkson and Ray Ward
Highlights of the 2010-2011 Winter Programme
Demonstration by Heather Brown – Landscapes in mixed media
Heather Brown, a Member of Hertford Art Society, works in a variety of media and began the session by showing a variety of images created with watercolour, pastel & inks – some with texture created by tissue applied to the paper. For this demonstration she chose to focus on a watercolour underpainting with pastel used for drawing the image.
Heather initially mixed the colours needed for a bold underpainting of a sky at sunset – one of her tips is to always mix more than you think you need. She wetted the paper, allowed this to soak in and then re-wetted the surface to ensure even coverage. Having allowed this to dry slightly she applied a wash of golden yellow to the sky and foreground with bright salmon pink over part of the sky area. A dark blue/purple followed for parts of the sky. Once this had dried a little she used a rich dark green to indicate the trees and foreground foliage. The paper was then dried off with a hairdryer.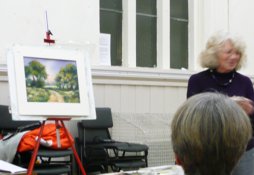 Heather used primarily soft pastel to further develop the painting, working around the lights and shades created in the underpainting. The sky area was pleasing in its own right so this was left as watercolour only. Using a large variety of warm and cool colours, gradually the picture came to life with trees and foreground detail – this included hints of poppies and wildflowers. Harder pastels were used where sharp lines were required. None of the pastel was blended as Heather prefers to let the marks and overlayering form the painting.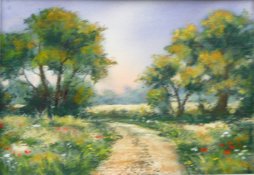 Throughout this enjoyable demonstration Heather gave advice on selecting materials, choosing the correct colour/tone and answered many questions on her approach. The final image beautifully illustrated the compatibility of watercolour and pastel.
Workshop with Paul Curtis 18th January 2011
The title of the evening was 'Drawing in preparation for a painting, with tone and composition in mind'. The reality was a very lively and interesting session! 40 – 50 of us gathered, on a cold January evening, bringing with us the required equipment – paper, charcoal and pastels. The hall was quite crowded as you can imagine as most of us were sat at tables surrounded by our 'gear'. The temperature soon warmed as we got into the subject!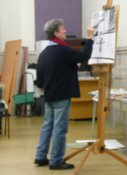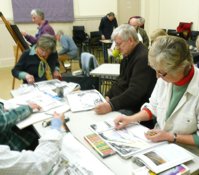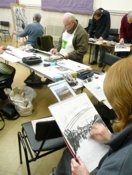 Paul, a very energetic and charismatic artist who has led many workshops and critiques for the Society in the past, clearly wanted to put us through our paces! He started by talking us through the basics and showing us examples that he had produced and then started on his demonstration. It never ceases to amaze me how easy it is when the 'expert' does their thing! We were invited to choose an image from a pile of newspapers from which we were to do our own monotone drawing. Choosing is always difficult and why does the person sitting next to you always have a better image?
Well, we all produced a drawing with guidance from Paul and when they were all laid on the floor they looked terrific. We were encouraged to go forth and produce a painting from our drawing and it makes me wonder how many of us will!
The Importance of Drawing – Workshop with Roger Cowen – 30th November 2010
We had all been asked to bring drawing equipment for this workshop PLUS an A4 photograph of ourselves. This was a bit unusual – what were we going to do? Our lecturer, Roger Cowen soon explained and showed us on the screen.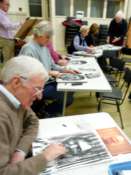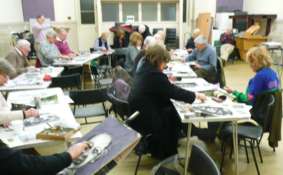 The first half of the evening centred on Picasso. We heard about his self-portraits and saw many paintings depicting himself at various stages of his life. As most of us don't naturally draw like Picasso, we did some loosening-up exercises involving charcoal and a lot of scribbling and scrubbing to achieve different textures and tones. Then we were encouraged to do a portrait of ourselves in the style of Picasso concentrating on feelings. It felt exhilarating not having to be accurate on proportions. The extraordinary thing was that most people produced an image that was easily recognizable as themselves. Roger Cowen moved around his "class" guiding us affably and showing us deftly but firmly if we had not grasped the aim of exercise. The portraits made a terrific gallery for all to enjoy.

We then moved on to preparing a portrait in the style of Matisse. This required the opposite approach – minimal marks. After viewing some of Matisse's portraits we practiced drawing in black biro without taking the pen off the paper and then with eyes closed – again surprisingly successful! Then half an hour to attempt our own "Matisse" portrait. This was much harder. It felt so strange not to be putting in light, shade or texture. Again, there were some excellent results.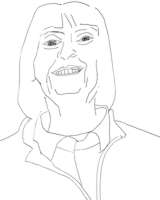 At the end of the evening there was quite a buzz of excitement at the work produced – it was a very enjoyable workshop.
Mural for Morgans Infant School, Hertford
Earlier in 2010 a representative from Morgan's Infant School contacted Hertford Art Society requesting a design for a mural. On visiting the school it turned out, three murals would be required to decorate a small storage building at the front of the school. Members were asked to come up with designs for the school to select.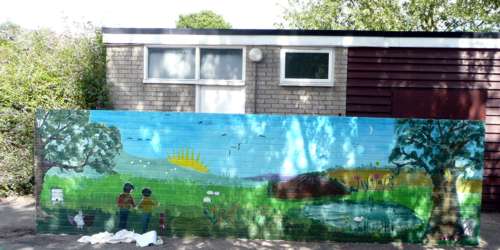 Margo Ward's farm design, landscape, barn/tractor and cottage was chosen and team members Margo Ward, Gillian Harman, Geoff Bennett, David Knights, Brenda Reid, Pauline Dulin , with a few parents from the school, started work on the murals at the end of August 2010 finishing in just three and half days.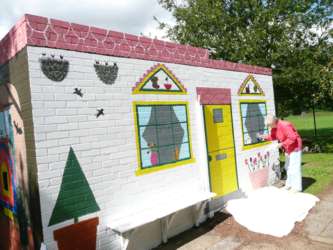 We were so lucky -, the weather was beautiful the whole time. We all enjoyed painting the mural and were amazed to finish in such a short time.
We are pleased to hear from the school that the mural is useful as a teaching aid and that it helps new children by distracting them enough for parents to leave without the children being upset.
Summer Sketching Evenings 2011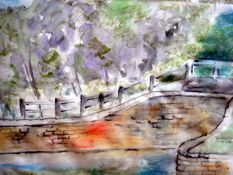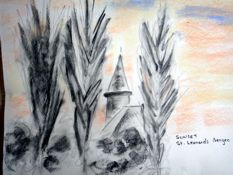 Although the weather hasn't been too kind to us this year, we have managed to get out and about for a few very enjoyable Tuesday evening painting sessions. The Egyptian Goose very obligingly posed for me at Dobbs Weir, and the Horse was so curious he had his head out of the stable for almost all the time. Most people came to the Pub afterwards, so these were very sociable occasions – ending on the last Evening with an excellent meal for members organised by Trevor Chamberlain. - Paintings by Yve Macartney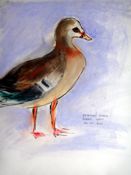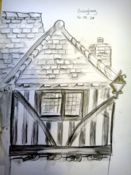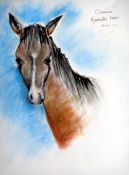 HERTFORD TOWN COMMUNITY DAY – 17th July 2011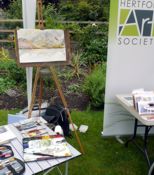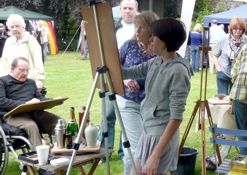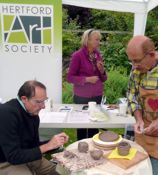 Hertford Art Society was invited to take part in this event which took place in the grounds of Hertford Castle on the afternoon of Sunday 17th July. Despite a few showers, there were many visitors enjoying the Hertfordshire Concert Band, performances from a local group of Morris Dancers, refreshments and, for the children, a bouncy castle. There were many stalls representing local Clubs, Charities and Churches to showcase local groups & organisations which cover a variety of interests, hobbies and charities.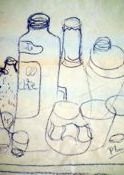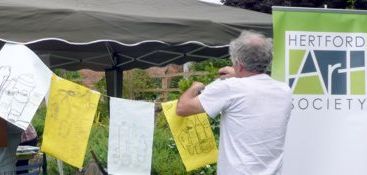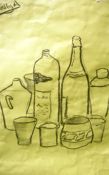 Among the attractions on the Hertford Art Society stall were demonstrations by Fiona Pruden and Ray Ward (watercolour painting) and Margo Ward (acrylics), modelling in clay with Emmanuel Pitsiladis and drawing from a still life with Kathy Burman. Visitors were encouraged to make a small clay item or produce a free drawing in charcoal or graphite to take away with them. The resulting talent was impressive with families joining in the activities. Many found talent they didn't think they had and enjoyed chatting to Margaret Crooks and other team members about the many opportunities for enjoying practical art workshops, talks and demonstrations hosted by the Art Society at Cowbridge Halls, Hertford.
The Society thanks Mobile Stationery & Printing Centre Ltd of Stanstead Abbotts for their donation of materials for use on this occasion.