Review of Hertford Art Society's 62nd Open Exhibition – May 2014
The Hertford Art Society Annual Open Exhibition, now in its 62nd year, continues to surprise and delight its loyal public with work of a very high standard and wide variety, from newcomers as well as locally- and nationally-known artists.
Each year we invite a new selection panel to judge the large number of submissions. This year the judges for 2D work were:
Ronald Maddox, President of the Royal Society of Painters in Watercolours, Hon RWS, Hon RBA, FCDS, Paul Curtis, Life member of the New English Art Club, practising artist and tutor, and, Davida MacDonald, BA Art, BA Textiles, distinguished teacher, designer and painter. 3D works were judged by the sculptor Angela Godfrey, ARBS.
We are grateful to our sponsors who so kindly contribute to the Society each year. This year we welcome a new sponsor, Art Van Go of Knebworth – well known for their excellent range of artists' materials, workshops and exhibitions.
The Prize Winners
The John Goss Prize is awarded by the judges to the painting considered to be the best in show, this year awarded to David Nelson for his picture 'Sennen Cove'.
The Lady Laming Award for Abstract Art was awarded to Janet Benge for her painting 'Elijah meets Matisse'.
The Bill Dale Award is chosen from among works by members who regularly support the whole of the Society's activities; this year it was awarded to Anne McCormack RI SWA for her picture 'Winter Magic'.
The Mayor's Award is presented for the best 3D work and has been given this year to Jean Langdon for her collection of outstanding ceramics.
The Edward Mason Award is chosen by the judges for the best watercolour painting and was awarded to Fiona Pruden for her painting 'Simple Pleasure'.
There is also a Visitors' Choice prize and this year it went to Rosemary Tinney for her oil painting 'Last of the Sun' which means Rosemary gets free membership to the Society for a year. Over 800 votes were cast and the runners up were: 'Autumn Morning, Overlooking Staithes' by Trevor Chamberlain ROI, RSMA, and 'The Meadow', by Heather Brown.
The following is a small selection of excellent work from a crowded field.
"Parkside in April" (No.27) by Gillian Beagley was a quiet evocation of the countryside at the end of winter. In complete contrast to this was"Last Light (84), by Nick Harrison Jones, another evocation of the outdoors but in very bold and striking colour. The beautiful brushwork and muted colours of "The Brook" (115) by Ronald H. Johnson, were outstanding.
Two dynamic but entirely different takes on figure composition were provided by "Rehearsal for the Gig" (228) by Bill Dean ROI and "Artists Still Life" (186) by Chris Pantry, a fluent line drawing with a sense of humour.
Among the many interesting artists' prints, Nicola Troll's "Thames Nocturne"(66) and "Mistle Thrush" by Liz Beardwell (240) were outstanding in their different ways – the first for its beauty and brilliant execution and the second for its charm and clever use of the linocut medium.
Two small abstracts attracted the eye: "From the Fields" (50) by Clive Patterson, a lovely composition, and Judith Moule's cool, confident piece "Beyond the Fields"(166).
Staithes continues to be a magnet for painters and there were two fine, contrasting examples in the show: "Boat House, Staithes" , a sparkling work in acrylic by Sylvia Ditch (135) and a harmonious watercolour "Harbour Buildings, Staithes" (195) by Ronald Maddox PRI, Hon RWS, Hon RBA.
Among the 3D works were two imposing stoneware vessels by Christopher Sutherland (301 & 302) which were partly glazed in shades of green and cream, two shallow stoneware bowls with incised and glazed decorations in the form of faces by Emmanuel Pitsiladis (323 & 324), small carved figures by Paul Bainbridge (316 & 317) and two beautiful turned wooden bowls (306 & 307) by Craig Morton.
The works on show totalled 251 paintings and 24 works of sculpture, 3D and ceramics. These were selected from over 600 submissions as the Society's Annual Open Exhibition continues to attract entries from artists with a wide range of talent. The Exhibition was expertly displayed and thanks go to the Members and Associate Members who assisted with setting up the show and stewarding throughout the fortnight.
Julie Harrison
Large gallery of 60 images along with this report, click here for more details.
62nd Open Exhibition Prizewinners

The John Goss Prize for Best in Show
David Nelson
'Sennen Cove'

Lady Laming Award for Abstract Art
Janet Benge
'Elijah meets Matisse'

The Bill Dale Award
Anne McCormack RI SWA
'Winter Magic'

The Mayor's Award – best 3D work
Jean Langdon
Ceramic Collection

The Edward Mason Award – Best Watercolour
Fiona Pruden
'Simple Pleasure'

Visitors' Choice Award
Rosemary Tinney
'Last of the Sun' - Oils
Members' Show – 8th–10th November 2013

Visitors' Choice Award
Donna Chamberlain
Snowy Sheet - Watercolour

John Godden Award - Members' Choice
Geoff Bennett
Lawn & Fields - Acrylic
This year we had the opportunity to celebrate the centenary of Alfred Russell Wallace who was educated at Hertford Grammar School. Members responded with a display of excellent work reflecting his great pioneering gift to mankind of knowledge of the magnificent natural world around us. Best Wallace picture was chosen by the Curator of Hertford Museum and awarded to Janet Benge for 'The Wallace Line'.

May Bennett Award
George Garbutt
English Delight - Acrylic

Alfred Wallace Prize
Janet Benge
The Wallace Line - Mixed Media
In all 130 framed pictures were submitted and hung, more than in any of the previous 5 years. George Garbutt's 'English Delight' was selected by the Mayor of Hertford for the May Bennett prize. The visitors' choice was' Snowy Sheep' by Donna Chamberlain (no relation to the illustrious Trevor) and the Members chose 'Lawn and Fields' by Geoff Bennett. This year three selections were made for the Most Intriguing Work – Celia Sanders 'The Herb Seller', Stella Hunt 'Gone Fishing' and Caryl Beach 'Wallace 100'. As Celia is unable to make use of the award (creation of an artist's web site) this will be taken up by Stella Hunt.

Most Intriguing Work (Winner)
Celia Sanders
The Herb Seller - Pastel

Most Intriguing Work (Runnner-up)
Stella Hunt
Gone Fishing - Acrylic
The weather was kind for two of the three days, less so on the Saturday. The gallery was well attended by the public: 236 people voted for the Visitors' Choice and considerably more would have come through our doors. Eighteen pictures were sold, which is about the going rate for the Members Show, together with 127 cards. Financially we did a little better than break even, which is all we look for in the Members Show. The traditional Friday evening party went well with plenty of food and drink. So a good show, providing all Members an opportunity to exhibit their work.
Summer Sketching Evenings 2013
Members and visitors turned out in record numbers for the best Summer Programme weather we have had for many years. We also enjoyed sociable apres-painting drinks in some very pleasant pub gardens. This year the meetings took us to several new venues including a riding school, a nursery and the delightful Cedars Park at Waltham Cross, which many of us had never even heard of.


by Lorenzo Rizzi
I produced one oil sketch and lots of scribbly charcoal/watercolour sketches, while Lorenzo really got down to it, completing 5 oils + one he kicked into the long grass and one he abandoned when chased out by a grumpy farmer.

by Julie Harrison
Just as we were all getting into the swing of it, the last evening of the programme was upon us and most participants came along to the end-of-season supper at the Salisbury. Now we must turn our attention to the pleasures in store in the forthcoming Winter Programme.
Julie Harrison
Winter Programme 2013 – 2014 Commencing Tuesday 10th September 2013
Last year there were seven talks in the programme and there was a good attendance at all of them. So this year the number of talks has been increased to reflect their popularity. Some of the talks are linked to a demonstration of the speaker's work. Many are new visitors to the Hertford and they come with good recommendations from certain members and other Societies so we anticipate another successful year on Tuesday evenings in Cowbridge Hall. Two of the speakers come from neighbouring art galleries – The Fry Gallery in Saffron Walden, and The Higgins Gallery in Bedford, and no doubt members will be encouraged to go and see their collections. Two notable contributors this year are Cary Akroyd and Bruce Pearson. Both are successful wildlife artists and they are included in our programme to reflect the fact that this year is the centenary of Alfred Russel Wallace. He was the co-discoverer of 'evolution' with Charles Darwin but few people know much about him and he grew up in Hertford and attended the local Grammar School. The Members Show in November will include a category on Wallace. Every month we have a critique which enables members to bring along their work for a friendly assessment by a professional tutor or artist. Visitors are welcome to the talks, critiques and demonstrations – please see the separate programme.
As usual there are practical sessions in the programme for members only and these include life drawing, still life, and drawing or painting a clothed model. Following a demonstration on portrait painting by Tony Rothon there will be an opportunity to paint a self portrait. There will be three workshops one of which is on monoprinting – always a popular subject.
Additionally, there are Life Workshops involving a whole day's untutored drawing or painting at Cowbridge Halls on the last Saturday of September/October/November 2013 and January/February/March/May/June and July 2014. Non-members are welcome.
Summer Programme 2014
Each summer following the indoor Winter Programme and the Open Exhibition, Hertford Art Society Members enjoy painting and sketching out of doors on Tuesday evenings at various venues in the Hertford Area.
Members usually meet at around 7.00pm (or beforehand by private arrangement) for sketching & painting, then gather socially in the suggested public house when the light fails. Any local artists from these villages or areas are welcome to come along for the outdoor painting sessions etc.
Summer Programme 2014 (pdf) - click here for more details.
"Troubled Waters – Trailing the albatross, an artist's journey" by Bruce Pearson, wildlife artist – 5th November 2013
Bruce Pearson is an artist fascinated by wildlife and the natural world. Over a period of almost 35 years he has travelled widely in search of subjects from the Arctic and Antarctica, to Africa, much of Europe, and the Americas. He works as often as the opportunities arise out in the wild where the rhythm and restlessness of wildlife and elemental landscapes - and sometimes people – interact, creating powerful images and dramatic themes. Recently he has been involved with BirdLife International in observing the effects of long-line fishing on seabirds (and most particularly the albatross) in the Southern Ocean, which he first visited 35 years ago. He described the plight of the albatross and the efforts being made to minimise losses by altering the approach of the fishing industry.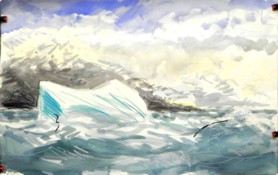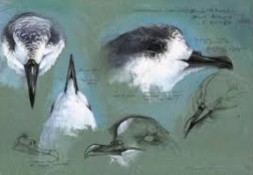 It was fascinating to hear of the working practice he has developed to deal with the harsh environments aboard ship and the swiftly changing seascapes and skies. He spend much time on small sketches, working towards large bold paintings on thick watercolour paper which is mounted using strong clips to a robust plastic sheet. His kit included a fold-out sheet with six A4 size plastic palettes. He mixes up good quantities of fresh colours using watercolour and white gouache and the multiple palettes enable him to keep the colours separate and fresh (often in driving winds and spray). He uses large soft varnish brushes and bold marks and often needs to lash his work to rails. He aims to distil in his work something of the day's experience. A work straight from the field can sometimes be framed and exhibited as it is; what's left is taken back to the studio to be viewed in a new light and the snatched ideas worked through in different mediums - relief printing, mono and screen printing, or oil painting.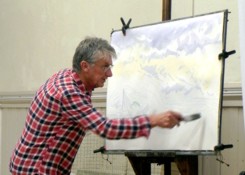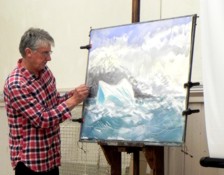 Bruce then gave a demonstration, working swiftly, laying in broad areas of sky and sea and developing an image with a floating iceberg. As the work progressed he continued to enthrall the audience with anecdotes from his travels and experiences. He has obviously become adept at capturing a scene in minutes – his sketches and studies of birds are beautifully observed.
Bruce was thanked for his excellent talk and demonstration – his energy and passion for his work were truly inspiring.
Kathy Burman
Demonstration – Mixed media landscape by Rick Holmes – 7th January 2014
It was a pleasure to watch Mr Holmes demonstrate his mixed-media approach to landscape painting. With infectious enthusiasm ("I just love to paint") he rapidly created an image that was both impressive and thought-provoking.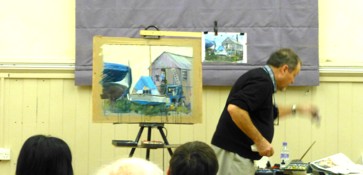 The picture seemed to unfold rather magically before our eyes, but I did take notes on methods, materials and techniques and shall share them with you here:
The support was the smooth side of a sheet of mid-tone stretched Hanson paper. Working from a photo of an Essex coast boatyard, Mr Holmes used the edge of a small rectangle of mount-board as a drawing tool, dipping it in dark acrylic ink and then marking out bold structural lines. He pointed out the importance of starting to draw at the centre point of the image before working outwards.
As underpainting, Mr Holmes then blocked in broad areas of the landscape using unmixed acrylic inks, smearing them across the page using the cardboard rectangle as a painting tool. Definite shapes of blue, a pinky-red and a rich yellow were allowed to drip down the page and encouraged to run into one another.
Why underpaint in ink? Mr Holmes described how this process of loose underpainting helps him to "get involved" with the image early on. He certainly made some delicious colour choices at this early stage. Secondly, glimpses of ink remain visible in the finished image, creating curious contrasts of colour and tone.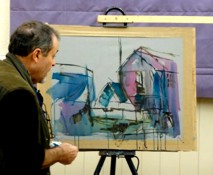 After drying the initial stages with a hair-dryer, Mr Holmes switched to using Unison pastels. Generally avoiding blending techniques, he prefers to follow the maxim, "Put it on and leave it on", when applying pastel marks. The chunky soft pastels were used to create bold hatching strokes, or turned on their sides for broad, sweeping marks. Strong shapes and lines of colour were added, and we watched as the structures of boats and building appeared before our eyes. A skilled draughtsman, Mr Holmes knew just what to leave out of the image, adding just the lines and shapes required to let the picture be "read" as a boatyard.
Even in the final stage of the painting process, Mr Holmes used just a few marks to suggest all necessary detail. As he said: "You don't have to put everything in- let the [viewer's] brain do that job". Details were suggested by adding little shapes or lines of light pastel against dark, and of dark pastel against light. With just a few horizontal and oblique creamy pastel strokes against the darker ground, a convincing set of steps was created and, with a few further simple marks, Mr Holmes added two figures.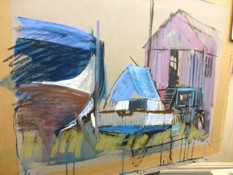 The simplicity and rapidity with which this painting was created seemed incredible. However, Mr Holmes answered all questions with a complete lack of mystique and inspired us with his refreshingly practical, straightforward explanations. In these days of dark mid-winter, this positive approach, and Mr Holmes' palpable enjoyment of the whole painting process, is all we need to get us reaching once again for our own paints and pastels.
Gustav Klimt – "Not just bling"
Talk by Davida MacDonald – 18th February 2014
Painting & drawing in the style of Klimt – 25th February 2014
On 18th February Davida McDonald, a University lecturer, gave a wonderful talk to the HAS about Gustav Klimt's life. Klimt, of course, being instantly recognizable for his sensuous, erotic and beautiful women, with that decorative gold detail that he did so well. As Davida's title points out he was not just about bling, and she outlined the history of Klimt with slides of his work. We watched Klimt's life and art evolve before our eyes.
Klimt was the second of seven children, and his father was a goldsmith, which clearly influenced his work. Without any formal training he joined, at the age of 14, the Venice equivalent of our Royal Academy, where he learnt a broad spectrum of art and design. It is often overlooked that Klimt was remarkably talented at drawing (website klintgallery.org has a large amount of his drawings and paintings).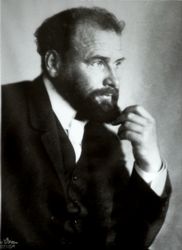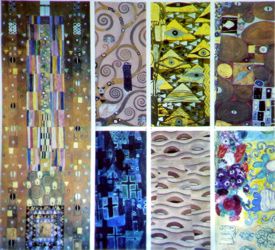 With the training he was receiving he obtained a variety of commissions where he was creating works in the classical style, which was still very much in fashion at that point. He was working with the artists Max Ernst and fellow pupil Franz Matsch on commissions and they got a major break when asked to create the ceiling and wall paintings for two of the newly erected building of Vienna's celebrated Ringtrasse. One of them was the auditorium of the Burgtheater, where they created a series of Classical panels depicting the history of theatre, scenes from Ancient Apollo to Shakespeare's Globe in London.
Klimt then began in his commissions to create classical works mixed with elements of the modern of the times. If you look at the Frescoes in the Kunsthistorisches Museum (1890-91) this is clearly evident.
In Klimt's portrait work, as well as in his other works, he had started out classical in nature, then evolved towards abstraction, Expressionism and Symbolism. In his portraits, as Davida pointed out, the background and clothing are very much 2D, with small defined strokes or patterns which look full of energy. The faces and other body parts are in contrast 3D with a natural likeness.
What is clear from his later works was that he loved women as he draws and paints them with such caring and sensuality. He often looks at the lifespan of man via his paintings of women from birth to death as in the Beethoven Friezes. Freud and Psychoanalysis was an influence in his art. And of course not forgetting the wonderful design patterns that feature so much in his works: from flowers to linear patterns to swirls, and the wonderful gold leaf.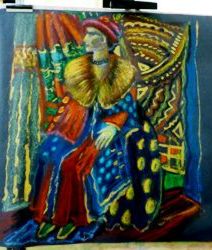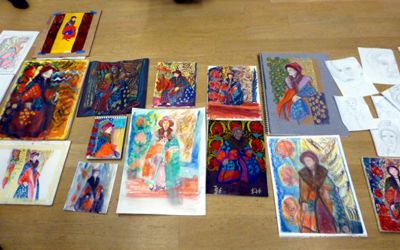 Davida concluded that though Gustav Klimt did not influence art per se, say like Picasso and the cubism movement, his work since the mid 20th century has cropped up in places from posters to cards, his patterns on bottle of hairspray to fashion design, to films, such as Francis Ford Coppola's Dracula: Klimt's work has become iconic. Davida ended the session by saying that having looked at the history of Gustav Klimt, his love of women and his private but bohemian lifestyle that she was a little in Love with him, and I have to say I think I am too!
Inspired by this glimpse into the life of this artist, members brought paints and pastels to the following session with a view to creating an image in the style of Gustav Klimt. Our model was positioned with glorious swathes of colourful fabric behind and dressed in a patterned robe. The look was completed with a luxurious fur collar and a velvet hat. As you will see from the selection of images below, the members present enjoyed a break from present reality and came up with some gorgeous images. All agreed that this was a great follow-up to a very enjoyable talk.
Mad March Collage Workshop with Paul Curtis – 25th March 2014
Tuesday, March 25th, gave us another 'great value for money' evening under the expert tuition of Paul Curtis (NEAC). Cowbridge Hall was packed to the gunnels with 30 members attending. Eager artists over-spilled the available tables and easels were called into play. From the depths of Paul's trusty motor, treasure after still life treasure was lovingly brought into the hall and thoughtfully arranged on three centrally placed tables. A challenging composition began to take place incorporating an enamel watering can and long necked pitcher, jugs and mugs, a spray of teasels and a vase shrouded in sweetheart wrapping paper holding a clutch of flowers. Another vase supported a twist of pale brown wrapping paper and two red lines on a tea towel spread across a rumpled white sheet that formed a ground for the entire assemblage.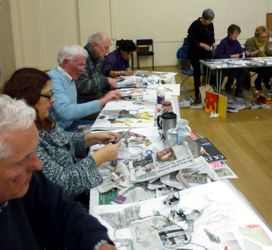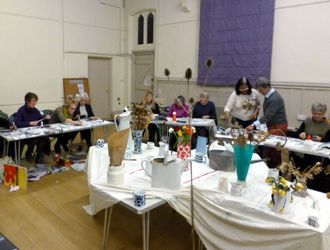 The arrangement was predominantly white, but, as Paul pointed out, a vast range of whites from pale beige-grey to subtle creamy mauve, creating a sea of tonal qualities. There were three small concessions to colour, the red of the hearts and the lines on the tea towel, and the flowers.
The first part of the task was to select a compositionally pleasing section of the still life and draw it, in line only, in charcoal, on big paper. Tones were to be ignored at this point and rubbers were banned. Sleeves and fingers, as a form of erasure, could be used if absolutely necessary and a dollop of household white paint, another of Paul's favourite commodities, did not go amiss as a quick drying obliteration that could be easily worked over again.
This accomplished, the magazines and newspapers we had been asked to bring along were brought into play. Suddenly, there was a gnashing of scissors as members eagerly entered into the second part of the task by slicing into yesterday's tabloids and last week's weekend glossies. Adverts, articles and beautifully photographed exotic cuisines were up for the chop and lanky models got cut down to size as we began to make our next decisions, cutting, pasting, gluing and getting stuck, sometimes in more ways than one. Some members kept their collage essentially monochrome concentrating on tonal values, some added colour, others introduced paint. Many adhered to their original drawing; others disregarded much of their preliminaries and linked up shapes to create a more abstract composition. Wonderful concoctions of freedom and invention began to take shape.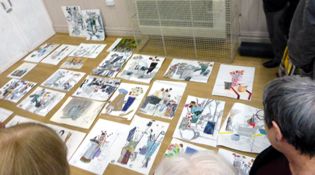 Paul circulated and suggested, encouraged and bestowed praise. Masterpieces, as never before, spread across pages. The room was a hive of activity; a cocktail of concentration, a buzz of fun.
Paul inspired the confident and coaxed and encouraged those of a less adventurous disposition and the end results were superb. Not a dud in sight. The works were displayed across the floor, resplendent in their diversity, individuality, composition, variety of scale and choice of application of shapes. We paused for reflection and comment before the evening drew to an end with a round of applause for Paul who, once again, had generously shared his expertise in bringing us a most engaging and productive evening.
As we trundled into the cold of the night, there was a pervading air of satisfaction in an evening well spent.
Janet Benge
Print Workshop with Abel Kesteven on 22nd April 2014
This evening turned out to be a very pleasant surprise. We had been warned to "wear our rags" as it was likely to get messy. The hall had been set up and groups of people were in place at their tables and chairs surrounding roughly in a horse-shoe shape with a young smiling artist full of enthusiasm in the centre.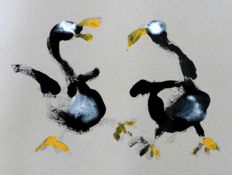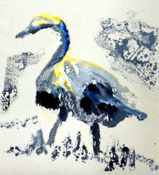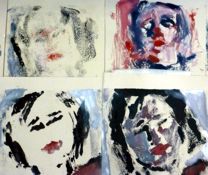 He said "Hello" and started a demo rolling black ink on to a perspex square - very thinly spreading it then placing a sugar paper sheet over and drawing an outline of a face - this had a mirror effect and peeling back the paper was a be-spectacled man's face that appeared like magic. It looked great fun and ever so easy to do. So I found myself a corner space at one of the tables and was generously given all the equipment needed to copy his instructions and create my own versions of monoprints. It took a while and several trial sheets before something half decent appeared in print. An abstract form in vibrant colours was the end result for me - most satisfying and fun thing to do. Though messy, they were watercolours and washable. At our table was a lady who successfully made a variety of prints in the shape of tulips. Various other people did monoprints of animals and birds and flowers too.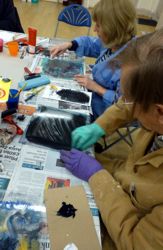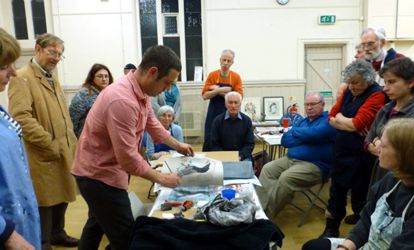 For general information Abel Kesteven is a Tutor and Artist who used to paint in Acrylics and now prefers Pastels and Sculpts active figures often described as grotesque - as the shapes are rough. He is currently at "Cross Gate" galleries in Lexington US of A. He has won "Best Sculpture Piece" and "People's Choice" at the London Potters annual exhibition at the Morley Gallery. His pastel pictures capture rapid movement and outlines with ease - most recent of which are "Live Music" and "Life Drawings" which are exhibited at the Pastels Society exhibition at The Mall Galleries.
The Monoprinting area that he covered for us this evening was a taster of how quickly one can create a piece of art work worth putting into a frame or poster given time and thought.
He had various originals on display of penguins, dogs, cats and funny people too. He is an outstanding and multi-talented artist and we were extremely lucky to have an enjoyable evening workshop with him. So many, many thanks to Mr Abel Kesteven for a fun evening - and I am so glad I made the effort to turn up.
Persis Limbuwala
Art at Morgans Primary School, Hertford
During the Summer Term 2014 several Members of Hertford Art Society spent an enjoyable few hours assisting with art projects at Morgans School. Working with Year One students, one artist encouraged a group to fashion mini-Henry Moore sculptures using air-drying clay while another assisted in creating a life-sized figure using plastic bags and masking tape in (something of) the style of Anthony Gormley. This was part of an art project focusing on Sculpture.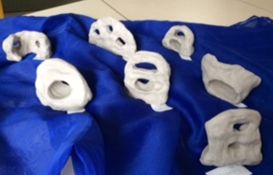 On another occasion one artist continued with the Year Ones, to reproduce smaller versions of the Andy Galsworthy designs they had made in the playground and another worked with Year Five students experimenting with watercolour, painting landscapes of The Needles from sketches done when visiting the Isle of Wight.
The children were delightful and the artists involved really enjoyed this opportunity to work on these projects. It is hoped that the Society will be able to continue to give support to Art at Morgan's School in the coming year. If any member is interested in taking part in this incentive please have a word with a Council member.